Coronavirus: Dr Anthony Fauci 'given security detail after receiving threats from far-right extremists'
Doctor has been reassuring presence to many during pandemic – but others say he is undermining president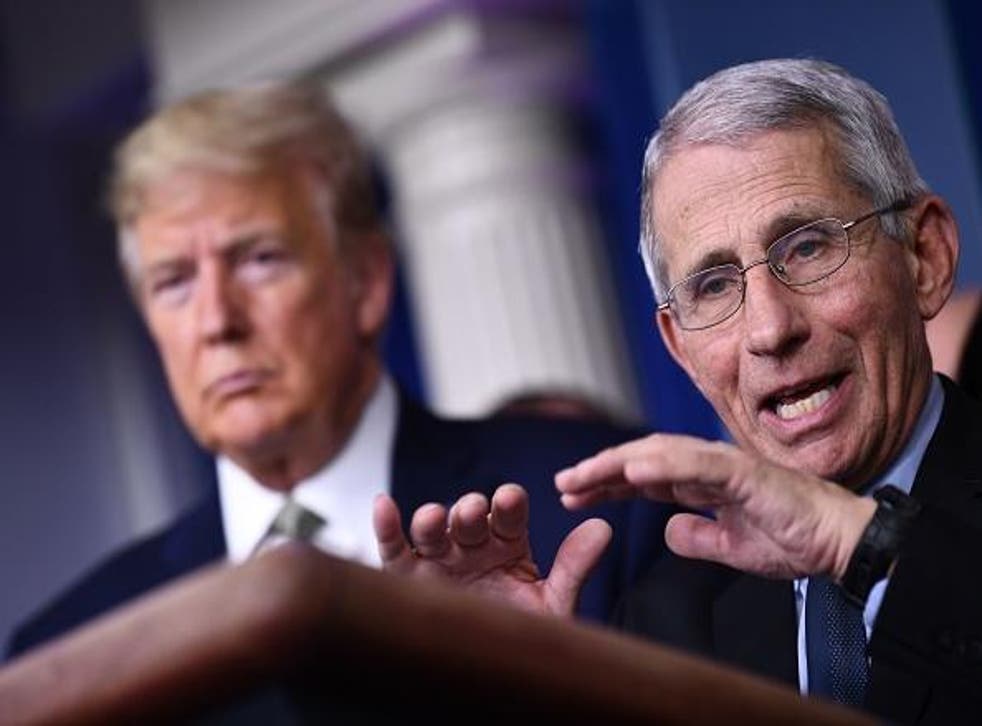 He is the 79-year-old infectious disease expert who has become a calm and comforting presence to Americans during the coronavirus crisis.
Dr Anthony Fauci's appearances alongside Donald Trump at White House press calls have reassured many that there are adults in the room dealing with the Covid-19 outbreak.
Now, it seems, while he attempts to save lives, his own has been threatened.
The doctor has reportedly been given a security detail after he received a number of menacing messages from right-wing extremists apparently antagonised by his habit of publicly correcting the president.
Dr Fauci himself declined to comment on the increased protection when asked about it, instead deferring questions to the health department's inspector general.
But President Trump interjected telling reporters that Dr Fauci – head of the National Institute for Allergy and Infectious Diseases – didn't need security because "everybody loves him".
He added: "Besides that, they'd be in big trouble if they ever attacked him…He was a great basketball player, did anybody know that? He was a little on the short side for the NBA but he was talented."
Tesia Williams, spokeswoman for the Department of Health and Human Services, confirmed that agents were providing protection for several health officials, but would not comment specifically on the claims - initially reported by The Hill website - on whether that included Dr Fauci.
The immunologist has earned a reputation as a truth-teller in the fight against coronavirus, noted for his blunt but somehow assuring manner in the face of the administration's often bellicose or plain inaccurate rhetoric.
When Trump called the State Department the "deep state department" during a news conference – a nod to far-right conspiracy theories – Dr Fauci could be seen putting his head in his hands.
But he has also become a public target for conservative pundits and bloggers who say he is undermining the administration. One article in the right-wing outlet American Thinker called him a "Deep-State ­Hillary Clinton-loving stooge."
Join our new commenting forum
Join thought-provoking conversations, follow other Independent readers and see their replies