Pennsylvania protests against stay-at-home order
Coronavirus lockdown protests sweep across US with 'Operation Gridlock' reaching Pennsylvania
Facebook begins censoring organisers 
As protesters continued to defy coronavirus quarantine across the country on Monday, Facebook moved to censor groups organising anti-lockdown demonstrations on its platform.
Hundreds converged on Harrisburg as part of "Operation Gridlock Pennsylvania" to demonstrate a statewide stay-at-home order. Video footage shows crowds waving flags and honking car horns at the state capital building urging officials to lift the excessive quarantine.
The demonstration was organised by the "Pennsylvanians Against Excessive Quarantine" Facebook group, which had almost 70,000 members by late Monday.
"Politicians are on a power trip, controlling our lives, destroying our businesses, passing laws behind the cover of darkness and forcing us to hand over our freedoms and our livelihood!" the group said on its member page.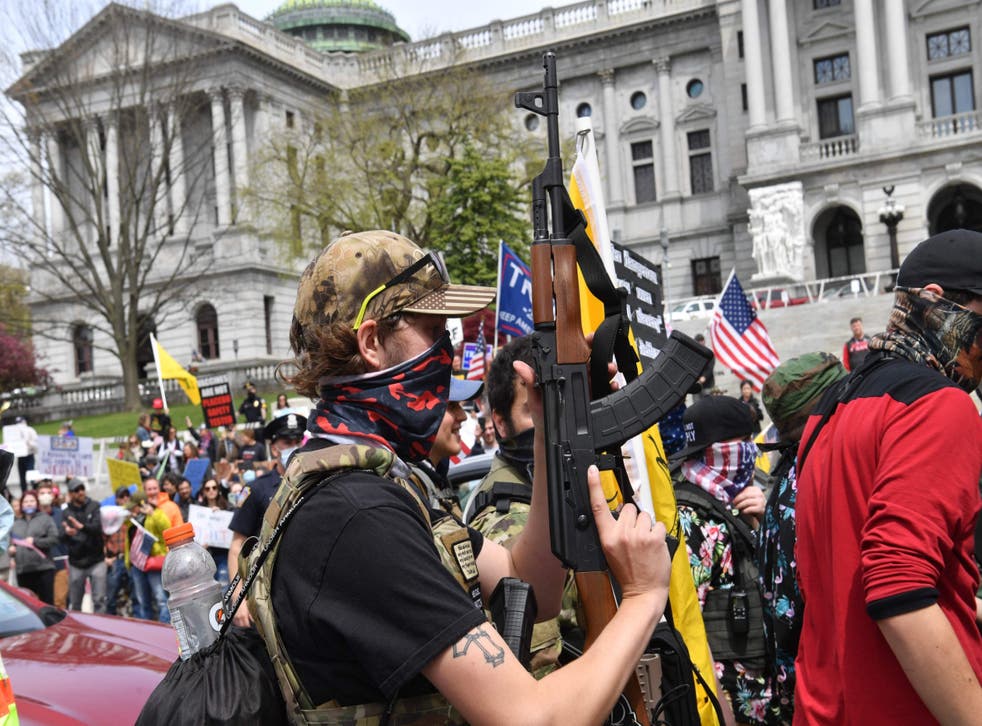 Pennsylvania is home to a reported 32,991 Covid-19 cases and has seen 1,276 deaths, according to Johns Hopkins University.
Last week, Donald Trump used his White House press briefing to defend protesters ignoring social distancing guidelines, saying some state's shutdown orders were "too tough" and Tweeting his support to "LIBERATE" Minnesota, Michigan and Virginia.
Rallies have been developing in state capitals across the country, including in Trenton on Friday where attendees shouted: "Open New Jersey Now".
Similar messages have been seen in Indiana and Maryland, where members of the group Reopen Maryland blared horns through the streets of Annapolis.
The Facebook event Gridlock Buffalo called on residents to circle the two square in cars, trucks and other vehicles on Monday to send a message to New York governor Andrew Cuomo.
"WE ARE NOT NEW YORK CITY! Buffalo and W NY are ready to get back to business and work, we are dependent on it for our survival. Stop dictating the Cities policies for the whole state," the group said.
Facebook spokesman Andy Stone said the company was consulting with government officials to understand the scope of their stay-at-home orders, which would inform their actions on posts organising protests in California, New Jersey and Nebraska created through their Facebook Events feature.
"We reached out to state officials to understand the scope of their orders, not about removing specific protests on Facebook. We remove the posts when gatherings do not follow the health parameters established by the government and are therefore unlawful," a Facebook spokesperson told The independent.
"Unless government prohibits the event during this time, we allow it to be organised on Facebook. For this same reason, events that defy government's guidance on social distancing aren't allowed on Facebook."
Join our new commenting forum
Join thought-provoking conversations, follow other Independent readers and see their replies