Coronavirus: New York police officer filmed beating up bystander during social distancing arrest
Mayor Bill de Blasio condemned the footage after it circulated Twitter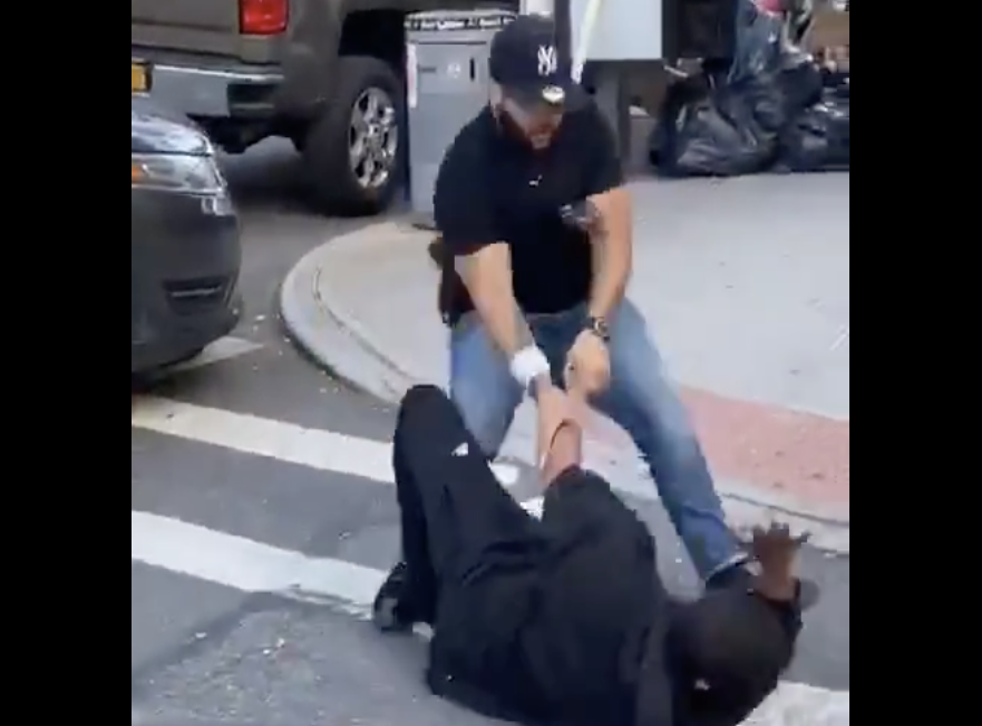 A New York police officer was placed on desk duty and stripped of his badge pending an internal investigation after video footage showed him beating a bystander during a social distancing arrest.
Several plainclothes NYPD officers broke up a group of people who were reportedly ignoring social distancing measures in East Village, New York City, near East Ninth Street and Avenue D on Saturday.
Shakiem Brunsom and Ashley Serrano allegedly resisted arrest, according to police, and a scuffle broke out as cops attempted to cuff one of them.
Video footage showed onlookers gathering near the incident, which was when Officer Francisco Garcia broke away from the altercation and addressed one bystander, later identified by cops as Donni Wright.
"Move the f**k back right now!" The officer shouted while holding out a taser. "What you flexing for? Don't flex!"
He then holstered his Taser before making a grab for Wright and bringing him down to the ground.
Footage showed the officer slapping and punching the 33-year-old before another officer came over to assist him in cuffing the man.
NYPD said Officer Garcia felt threatened because the man took a "fighting stance", but that moment was not captured on camera.
Wright now faces charges of assaulting a police officer and resisting arrest, but the incident will be reviewed internally after the footage of the altercation was published on NYC Scanner's Twitter page.
Brunsom, 31, and Serrano, 22, also face resisting arrest charges.
New York City Mayor Bill de Blasio commented on the incident on Sunday after the video footage went viral.
"Saw the video from the Lower East Side and was really disturbed by it. The officer involved has been placed on modified duty and an investigation has begun," he wrote on Twitter. "The behaviour I saw in that video is simply not acceptable."
Warm weather over the weekend brought more people out of their homes in NYC, the country's current epicentre for the coronavirus pandemic.
The city has placed more cops to monitor popular areas and parks, hand out masks, and issue summons for people not following social distancing guidelines during Covid-19. But the officers are also expected to wear face masks when performing these duties, which, it appeared, none of the officers involved in the Saturday incident were doing.
In total, 51 summons were issued against residents who failed to maintain social distancing guidelines on Saturday, Police Commissioner Dermot Shea said during a joint press conference with Mr de Blasio on Sunday.
"New Yorkers are exhibiting extreme patience for the last few months," he said. "We're going to ask for a little more of it."
Join our new commenting forum
Join thought-provoking conversations, follow other Independent readers and see their replies