'Look at my child': Furious mother shares images of daughter, 9, fighting Covid as she pleads for masks and jabs
'This is why people beg for you to wear a mask. Who are you hurting by wearing one?'
Shweta Sharma
Thursday 12 August 2021 16:26 Comments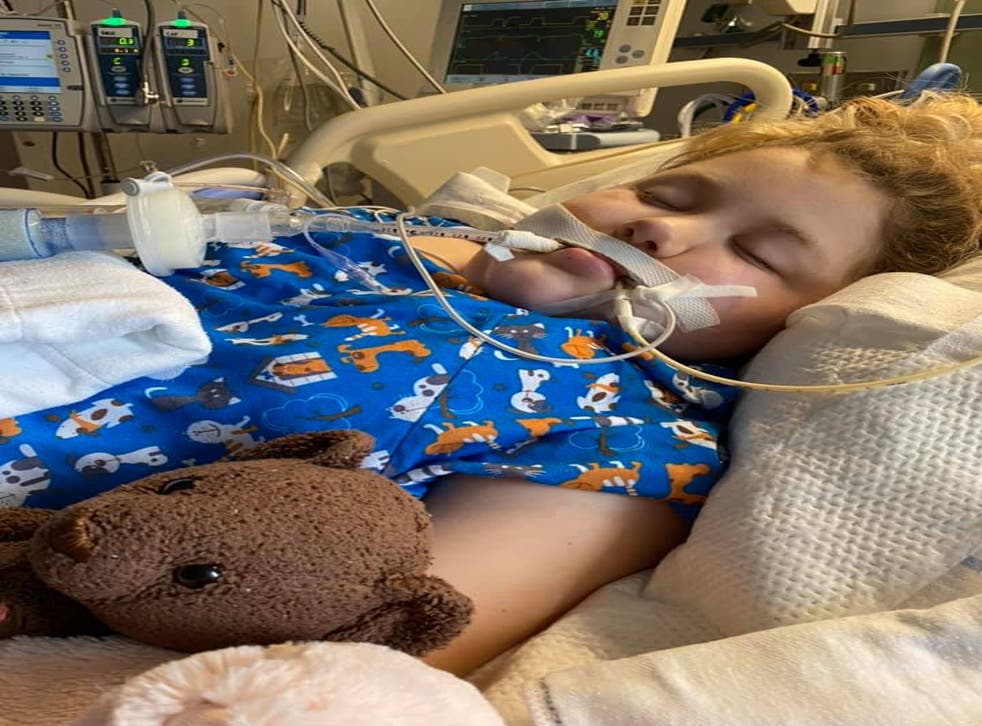 A distraught mother from Tennessee has shared the story of her nine-year-old daughter, who has been fighting severe Covid-19 complications from last 14 days, in a direct plea to Americans to get vaccinated.
Mirsada Muric, 26, whose daughter Blair was put on a ventilator for a brief time and a feeding tube later, has lashed out at people refusing to wear masks and spreading Covid misinformation.
"LOOK AT MY CHILD. THIS is why people are afraid. THIS is why people beg for you to wear a mask. Who are you hurting by wearing one? What freaking rights are you losing?!" she said in one of the angry Facebook post on 31 July, sharing the picture of her daughter on ventilator.
An alarming number of children have been infected with Covid across the US, straining pediatric hospitals in certain areas as schools begin to reopen for in-person learning.
More than 1,400 children have been hospitalized with Covid-19, according to the most recent data from the Centers for Disease Control and Prevention (CDC). Some children's hospitals in Louisiana and Texas are reporting bed shortages.
Ms Muric said she is anguished to see people "complain about the possibility of another mask mandate" or are making jokes while she is praying for her daughter to pull through.
"Because, while I sit here and watch a machine breath for my baby, you are out living", the mother of three said.
"I can't visit with my other child because I am here.. you think it's funny that people are so "afraid of a harmless virus"??? Watch yourself around me. This is the harm you cause because you couldn't bring yourself to wear a freaking mask," she said.
Blair was diagnosed with a brain tumour in February which was successfully removed during surgery but left "permanent damage," the family said on the GoFundMe page.
After days of worrying updates of Blair's high fever, the nine-year-old was taken off the ventilator on 7 August and her feeding tube was also taken out.
She remains in the intensive care unit showing signs of recovery
Blair contracted Covid and Respiratory Syncytial Virus in July. She was discharged from the hospital before she was again admitted with severe pneumonia-causing fluid build-up and her left lung not to function.
Her illness is not the only hardship for the family lately. Her father unexpectedly passed away in the same month in July.
Her mother also tested positive for Covid while Blair was in hospital, leaving her unable to visit her.
Register for free to continue reading
Registration is a free and easy way to support our truly independent journalism
By registering, you will also enjoy limited access to Premium articles, exclusive newsletters, commenting, and virtual events with our leading journalists
Already have an account? sign in
Join our new commenting forum
Join thought-provoking conversations, follow other Independent readers and see their replies