GoFundMe for actor blinded in attack over Covid mask tops $15,000
A doctor informed Will Keenan that he was suffering from a detached retina, caused by the strangulation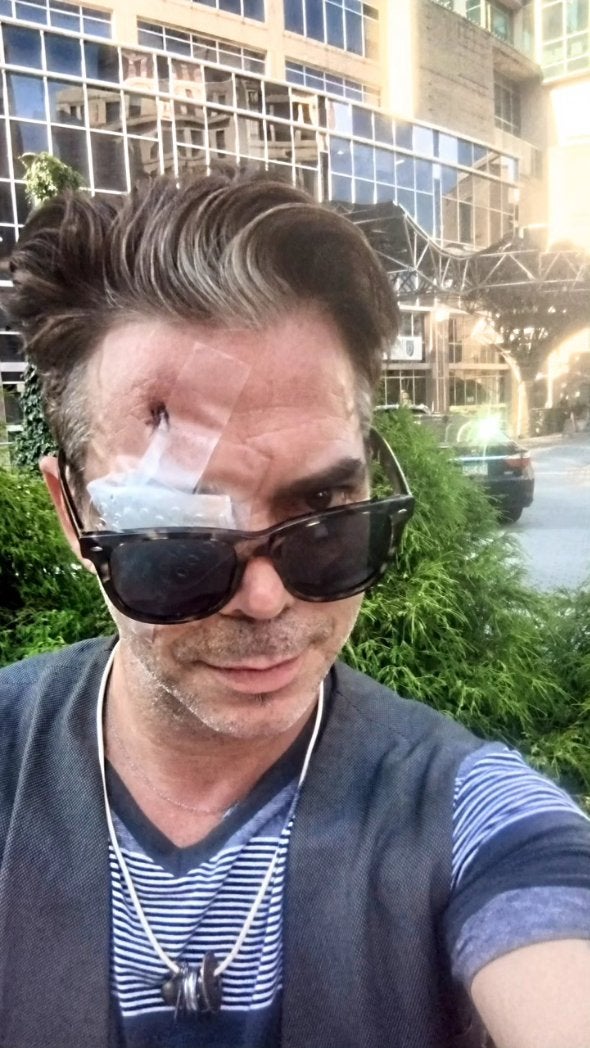 A man who was left permanently blinded in one eye by an attack last month for wearing a Covid-19 face mask now has a booming GoFundMe page in support of him and his recovery.
In the wake of the incident, a friend of Will Keenan, the former actor who was attacked, created a GoFundMe page, with a goal of raising $10,000. By Wednesday afternoon, that fundraiser had earned more than $15,000.
Mr Keenan was reportedly assaulted on 27 August at a townhouse in Jersey Cape, New Jersey. He explained the incident to Newsweek. He was at a townhouse in New Jersey, where a man had often remarked on Mr Keenan's mask-wearing habits during the pandemic. Mr Keenan told the outlet that he was a big mask wearer, largely to protect his young daughter from contracting the virus.
While sitting at a dining room table at a townhouse last month, the former Tromeo and Juliet actor suddenly felt something around his neck. He told Newsweek: "At first I thought it was a joke but it kept getting tighter and yanked me off the chair."
It was a nylon rope, he later discovered, which he said he was eventually able to remove from his neck.
When Mr Keenan asked the assailant what was going on, he recounted to the outlet: "He screamed at me and said, 'I told you never to wear a mask in this house,' and I replied immediately back, even louder, 'What the f*** are you talking about? I've been here five or six times with a mask every time, you've never even seen my face.'"
In the days following the attack, Mr Keenan reportedly noticed that his vision was getting fuzzy — with vision in his left eye eventually going completely dark.
The former actor told Newsweek that a doctor informed him that he was suffering from a detached retina, caused by the strangulation.
He shared his post-operation photos on X.
Many people who donated to the GoFundMe page expressed their concerns about the current political climate that contributed to the attack. One person commented, "Shame on us all that we have devolved into this barbaric social contract encouraged by the recent ex-president. People need to step up and do the right thing…We must stop making atrocious and lethal behavior accepted as commonplace and inevitable."
In the same vein, another donor wrote: "As an American, I'm deeply embarrassed & saddened that you have been disabled due to a coward full of hatred. I applaud you for protecting your daughter, despite the insanely unnecessary consequences that come with it."
Another wrote, "The Pandemic is not over. No one should be attacked for wearing a mask, or anything else to keep themselves and others safer that does not harm others."
Mr Keenan previously told Newsweek that he was approached by police a few days after the incident, who apparently said that possible charges against his attacker could include "attempted murder by strangulation."
Join our commenting forum
Join thought-provoking conversations, follow other Independent readers and see their replies