CPAC 2017: Trump advisor Steve Bannon says President is 'maniacally focused' on keeping his campaign promises
Despite earlier disavowals, the inclusion of the former Breitbart editor indicates a full embrace of the alt-right by US conservatives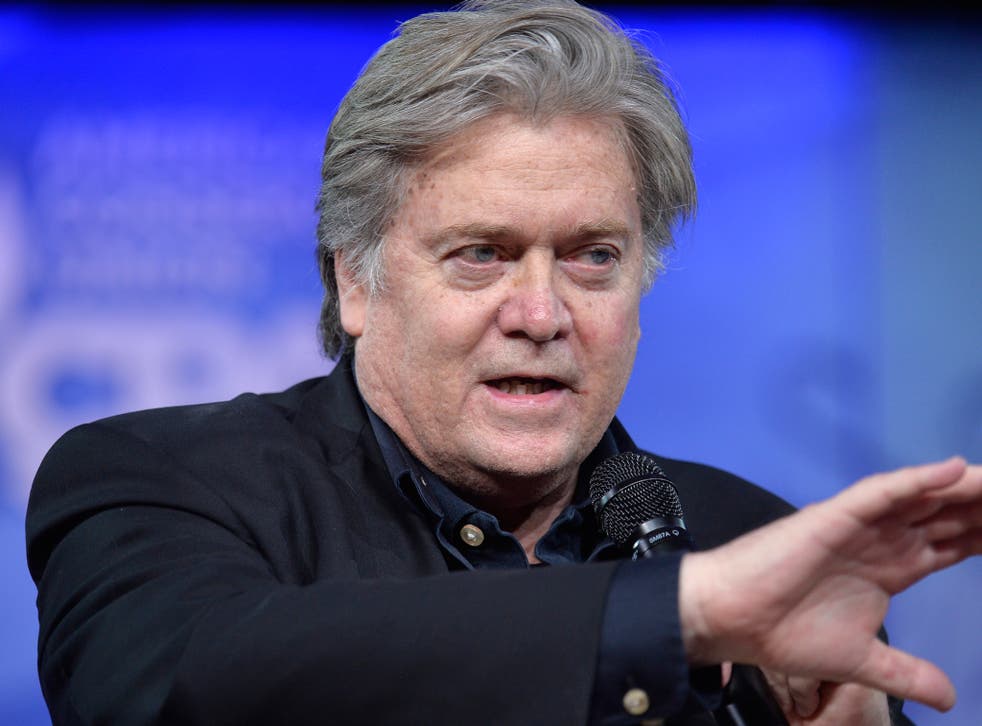 In a rare public appearance, President Donald Trump's most senior adviser said the administration is "maniacally focused" on implementing all of his campaign promises.
White House chief strategist Steve Bannon chided the press – to whom he referred as the "opposition party" — and offered a counter-narrative to what has been largely reported as a tumultuous first month for the billionaire's administration. He assured conservatives that White House operations were running smoothly and more "methodically" than portrayed.
Mr Bannon appeared with White House chief of staff Reince Priebus at the annual Conservative Political Action Conference in Washington, where thousands of conservatives have gathered to toast the President's unfurling agenda.
"The corporatist globalist media is adamantly opposed to an economic agenda like Trump has," Mr Bannon told moderator and American Conservative Union chair Matt Schlapp. "If you look at the opposition party and how they portrayed the campaign ... It's always wrong,
"The campaign was the most chaotic, most disorganised, most unprofessional ... Then you all saw them crying and weeping [on Election Night]."
Mr Bannon explained that Mr Trump's policies were expressed in his campaign speeches, and went on to describe their agenda as a "deconstruction of the administrative state".
The controversial orders Donald Trump has already issued

Show all 9
"All he's doing right now is he laid out the agenda with the promises that he made. ... He's maniacally focused on that."
Mr Bannon is the former CEO of Breitbart, a news site which he has described as the platform for the once-fringe alt-right white supremacist subculture. However, his connection to the movement that was galvanised with Mr Trump's has been swept under the rug by conservatives; mere hours after the conference chair's disavowal of the group at the onset of the sessions.
"There is a sinister organisation that is trying to worm its way into our ranks and we must not be duped," American Conservative Union director Dan Schneider told attendees on Thursday morning.
'Hail Trump, hail our people, hail victory!'
"Just a few years ago, this hate-filled left-wing fascist group hijacked the very term 'alt-right'.
"That term has been used for a long time in a very good and normal way."
The term "alternative right" is credited to a 2008 blog post Richard Spencer, director of the white supremacist think tank the National Policy Institute.
Mr Spencer made national headlines in November for hosting a meeting in Washington where he shouted, "Hail Trump, hail our people, hail victory," as audience members gave the Nazi salute.
But CPAC quickly ejected the white nationalist from the conference shortly after Mr Schneider's talk.
The inclusion of Mr Bannon, the most powerful adviser in the White House, indicates that conservatism has moved in a more radical-right direction – despite the expulsion of Mr Spencer and the cancelling of Milo Yiannopoulos's invitation last week.
"I want to thank you for finally inviting me to CPAC," Mr Bannon quipped.
After resisting years of excluding most Breitbart-style fringe politics from CPAC, Mr Schlapp acquiesced: "We decided to say that everybody's part of our conservative family."
Register for free to continue reading
Registration is a free and easy way to support our truly independent journalism
By registering, you will also enjoy limited access to Premium articles, exclusive newsletters, commenting, and virtual events with our leading journalists
Already have an account? sign in
Register for free to continue reading
Registration is a free and easy way to support our truly independent journalism
By registering, you will also enjoy limited access to Premium articles, exclusive newsletters, commenting, and virtual events with our leading journalists
Already have an account? sign in