Ahmaud Arbery: Travis McMichael weeps on the stand as he seeks to 'give my side of the story' in shooting
'He had my gun. He struck me. It was obvious that he was attacking me, if he would have gotten the shotgun from me, it was a life or death situation'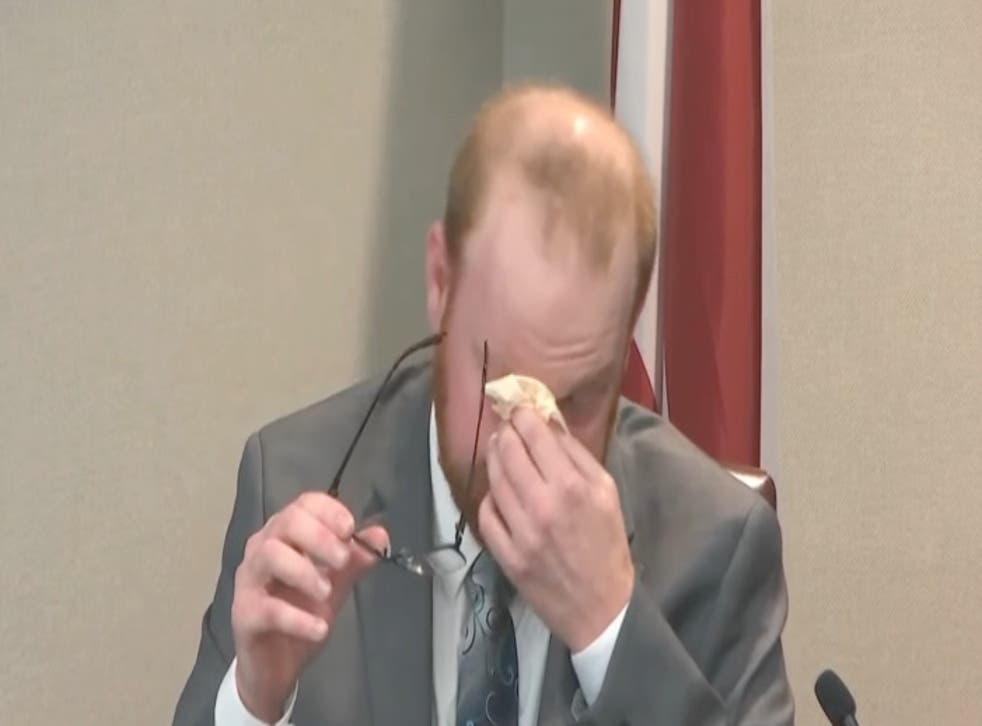 Travis McMichael has taken the stand in his murder trial saying he wants to "give my side of the story" of the shooting of Black jogger Ahmaud Arbery.
The 35-year-old white man was the first witness called by the defence when he testified on Wednesday afternoon. He said that it was a "life or death situation" when he shot the 25-year-old dead on 23 February 2020 in the Satilla Shores neighbourhood near Brunswick, Georgia.
"I want to give my side of the story," he told the court about his decision to take the stand.
"I want to explain what happened and to be able to say what happened the way I see it."
Travis McMichael gave a tearful account of Mr Arbery's death, claiming he "was thinking of my son" when he opened fire three times - striking the Black man twice and killing him.
"I shot. He had my gun. He struck me. It was obvious that he was attacking me, if he would have gotten the shotgun from me, it was a life or death situation," he said, as he wiped tears from his eyes with a tissue.
"And I'm going to have to stop him from doing this," he said.
Travis McMichael said the aftermath of the shooting was "a blur" as he realised he had killed Mr Arbery.
The 35-year-old is accused of murdering Mr Arbery alongside his father Gregory McMichael and neighbour William "Roddie" Bryan Jr.
The McMichaels jumped in their pickup truck armed with firearms and chased Mr Arbery through the Satilla Shores neighbourhood.
Mr Bryan joined in the pursuit in his own pickup truck, while filming the encounter on his smartphone.
The smartphone footage, which ultimately led to the arrests of the three men, showed Travis McMichael shooting Mr Arbery twice with his shotgun - striking him in the chest and wrist with one bullet and then under the armpit with a second. A third shot missed.
The three white men all face nine charges in the death of Mr Arbery, including malice murder, four counts of felony murder, two counts of aggravated assault, false imprisonment, and criminal attempt to commit false imprisonment. They have all pleaded not guilty to the charges.
If convicted, they each face life in prison.
Travis McMichael claims 'real quiet community' witnessed an uptick in crime
Travis McMichael told the court that he had moved to the mostly-white neighbourhood in the autumn of 2018, when he moved in with his parents who had lived there since 2013.
He described the area as a "typically small town neighbourhood" and "real quiet community" where "everyone was friendly" with children riding their bikes, retirees driving golf carts and people walking their dogs.
He said there was an uptick in crime in the area around the time he moved in with "car break-ins" and "suspicious persons" in the area.
He said his truck was broken into almost as soon as he moved in there and by around February 2019 it was increasingly common.
"It was going on so much in the neighbourhood that it was usually the topic" of conversation between neighbours, he said.
He said crime was "beginning to become a problem" by the spring of 2019 and his family would often discuss the issue and remind each other to lock up their cars and belongings.
"It was concerning that nothing was done," he said.
"Concerning that you have to have that constant presence [of law enforcement]."
Defendant claims US Coast Guard training taught him to 'de-escalate' situations
Travis McMichael's attorney Jason Sheffield questioned him about the law enforcement training that he had gone through when he served in the US Coast Guard from 2007 to 2016.
He described how he had been trained in de-escalation and control techniques, describing the different levels of control techniques for a "passive" or "aggressive" individual.
Part of this he said was how to show your weapon to deescalate a situation and encourage compliance.
"If you pull a gun on someone... from what I've learned that usually caused people to back off or realise what's happening. Compel compliance," he said.
He said he also underwent use of force training and training in "retaining your weapon", which he said was "how to keep your weapon from going into the hands of someone who would take it from you".
He said the concern with someone taking his weapon was that someone would "use it on you or others".
The defendant said he had never had to use deadly force while serving in the Coast Guard but described two occasions as a civilian where he had used his deescalation training and shown his firearm as a deescalation tactic.
In January 2020, Travis McMichael said his pistol was stolen out of his truck.
Around that time, he said he was also aware of people being spotted on surveillance footage breaking into a home under construction in the area belonging to Larry English.
Travis McMichael claims he encountered Ahmaud Arbery two weeks before shooting
Travis McMichael testified about an incident on 11 February - 12 days before Mr Arbery's death - where he said he saw a Black man "lurking" and "creeping in shadows" while he was driving his car past Mr English's property.
He testified that when the man saw he had spotted him, he "pulls up his shirt and reached into his pocket or waist band area".
He said "it freaked me out" and he feared the man was armed so got back into his car and headed home to tell his father.
The court heard a 911 call made by Mr McMichael, which the defendant said he was "breathing heavy" and "scared".
When he then watched the surveillance footage showing the man - identified as Mr Arbery - inside the property that night, he said it was "alarming" how "nonchalantly" he was walking around even after he knew he had spotted him.
"It startled me a little bit having that just happen and catching him creeping through that yard and trying to avoid detection ... then walking round in there like it was no big deal was alarming. I don't think anyone normal would do that," he added.
"The way that he was acting was a bold move."
The defence claims that the three white men were attempting to carry out a citizen's arrest of Mr Arbery because they suspected him of being responsible for break-ins in the area after he was spotted on Mr English's surveillance footage in the months leading up to the shooting. They say Travis McMichael then opened fire on Mr Arbery in self-defence.
The prosecution claims that Mr Arbery was "under attack" by the three men who chased him for five minutes to stop him leaving the neighbourhood before shooting him dead.
Witnesses for the prosecution testified that the defendants did not know whether Mr Arbery had been at the construction site or whether he had committed any crime before they chased him that day.
Police bodycam footage also revealed that the McMichaels had been told weeks earlier that the homeowner Larry English did not believe Mr Arbery had taken anything from the property.
Defendant gives tearful display of day he shot and killed the Black man
Travis McMichael went on to testify about the day he is accused of murdering Mr Arbery.
He claimed that the 25-year-old "looked angry" and "mad" with "clenched teeth" when he first pulled up alongside him in his pickup and asked him "what's going on?"
The 35-year-old said he was in his house with his mother and sister and was trying to get his son to take a nap when his father Gregory McMichael came into the home in "a frantic state".
"He said 'Travis, the guy that has been breaking in down the road has just ran past the house - something's happened'," he said.
"'Something's happening, grab your gun'," he said his father told him.
Travis McMichael said he was "under the assumption" that it was the man he had seen at Mr English's property two weeks earlier.
He said he grabbed his shotgun, walked out of his home and looked down the road to the home under construction where he saw neighbour Matthew Albenze who looked at him and pointed down the road.
Travis McMichael said he had a "reasonable thought" that the man he had seen on 11 February may have been seen "breaking in" to the construction property or that "god forbid, there may have been an altercation or something".
He said he put his shotgun in his truck and climbed in and his father was "stuffed" in on his son's car seat. He said he pulled up alongside Mr Arbery and recognised him as the man he had seen at Mr English's property.
Travis McMichael said he was "watching his hands" to "make sure he's not armed" and asked him to stop.
He told the court he told Mr Arbery: "'Hey what are you doing? What's going on? I want to talk to you.'"
He claimed he was trying to "de-escalate" the situation but that Mr Arbery's demeanour appeared "angry" and was "not what I expected for just coming up and talking to him".
Travis McMichael said he pulled up alongside Mr Arbery two other times and tried to speak to him. On each occasion, Mr Arbery said nothing in response, he said.
He said he did not summon Mr Bryan to join them and did not realise the neighbour had joined in the chase.
However, a couple of minutes later, he said Mr Arbery was running alongside a black pickup and appeared to be "grabbing the truck".
Travis McMichael told the court soon after he pulled up in the road and got out of his vehicle. He said he thought his father had called 911 but realised he hadn't so reached into his car to get his phone.
He said he then noticed Mr Arbery running toward him.
Travis McMichael said he believed Mr Arbery was "dangerous" and yelled at him to "stop", taking out his shotgun.
He claimed Mr Arbery turned and ran from him after he reached into the truck for his shotgun but then turned back again seconds later.
Travis McMichael testified that the two men were making "eye contact" and he was "pretty sure [Mr Arbery] was going to attack".
He claimed Mr Arbery was "closing in" and so he used his law enforcement training to determine what action to take.
He said he raised the shotgun and pointed it at Mr Arbery "to deter him to do not come at me".
At this point, he claimed Mr Arbery "darted" round the truck and he thought he would run across a nearby property away from him.
Instead, he said Mr Arbery ran up the right side of the truck and so was blocked from his view.
The 35-year-old said he stepped to the centre of the road in the direction of the right side of the car because he was "still under the impression he might be armed" and was near his father - who at this point was in the trailer.
He claimed that Mr Arbery grabbed his shotgun at this point and a struggle broke out.
"He is on me immediately on me. He grabs the shotgun and I believe I was struck in that first instance when we made contact," he said.
He said was "thinking of my son" in that moment and "we were together, we were locked up, he was on that shotgun".
"I know that if I would have tripped or he got a lucky strike on my head or if he got the shotgun then I could have been shot," he said.
When asked what he did next he told the court: "So I shot."
He said he then "shot again to stop him" and Mr Arbery "let go and turned and continued to run".
The defendant said that "at that point, I was in shock" and "after that is blur".
Following a brief recess, cross-examination began.
Earlier on Wednesday, before the defence called Travis McMichael to the stand, the judge denied another request from Mr Bryan's attorney Kevin Gough to declare a mistrial.
Mr Gough filed the motion this week claiming that his client will not get a fair trial because civil rights activist Rev Jesse Jackson was present in the courtroom, in support of Mr Arbery's family.
The attorney has been mired in controversy after he has repeatedly complained about Black pastors being present in the courtroom.
He gave his opening statements on Wednesday morning where he argued that Mr Bryan "had no intent to strike or injure Mr Arbery" when he joined the McMichaels in the chase of Mr Arbery.
While the prosecution and the defence attorneys for both Gregory and Travis McMichael gave their opening statements at the start of the trial, Mr Gough had made the unusual move to request to give his opening statement after the state rested its case.
Register for free to continue reading
Registration is a free and easy way to support our truly independent journalism
By registering, you will also enjoy limited access to Premium articles, exclusive newsletters, commenting, and virtual events with our leading journalists
Already have an account? sign in