Amber alert issued for missing teenager as kidnappers demand $10,000 for her return
Fears for missing Arkansas teen Trynytee Case as kidnappers threaten to 'kill and cut her up'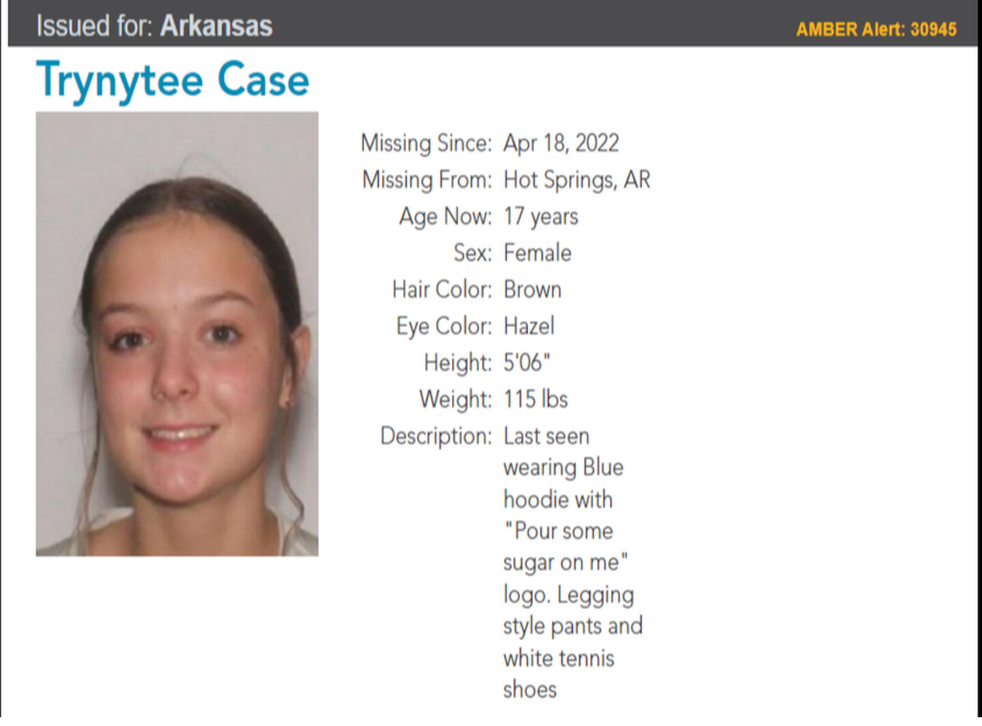 An amber alert has been issued for missing Arkansas teenager Trynytee Case after her alleged kidnappers issued a $10,000 reward for her safe return.
Ms Case, 17, was leaving work at the Pour Some Sugar on Me bakery in Hot Springs on Monday when she was approached by a female stranger who claimed that she had lost her parents and needed to borrow a cellphone.
The stranger asked Ms Case to approach her vehicle while she took down GPS coordinates.
A co-worker who was with Ms Case went to pick up her car from a nearby lot, and when she returned the teenager had vanished.
When she was unable to reach her friend by phone, she contacted Ms Case's mother who alerted authorities.
According to police, the mother eventually reached Ms Case by phone and the teenager told her: "Everything is fine."
An unknown man then took the phone and told the mother that he wanted $10,000 for her safe return, or they will "kill and cut up the victim", according to the amber alert.
The phone line cut off, and Ms Case's cellphone was last detected heading south of Hot Springs on Arkansas Highway 7.
Ms Case is described as 5'6' (168cms), 115 lbs (52kgs), with brown pony tail length hair and hazel eyes.
She was last seen wearing a blue hoodie with the bakery's Pour Some Sugar on Me logo, leggings and white tennis shoes. 
Register for free to continue reading
Registration is a free and easy way to support our truly independent journalism
By registering, you will also enjoy limited access to Premium articles, exclusive newsletters, commenting, and virtual events with our leading journalists
Already have an account? sign in
Register for free to continue reading
Registration is a free and easy way to support our truly independent journalism
By registering, you will also enjoy limited access to Premium articles, exclusive newsletters, commenting, and virtual events with our leading journalists
Already have an account? sign in