Criminal investigation opened into snake strangling of two Canadian boys
Police said the African rock python was being kept in the same apartment where the children were sleeping, possibly without a permit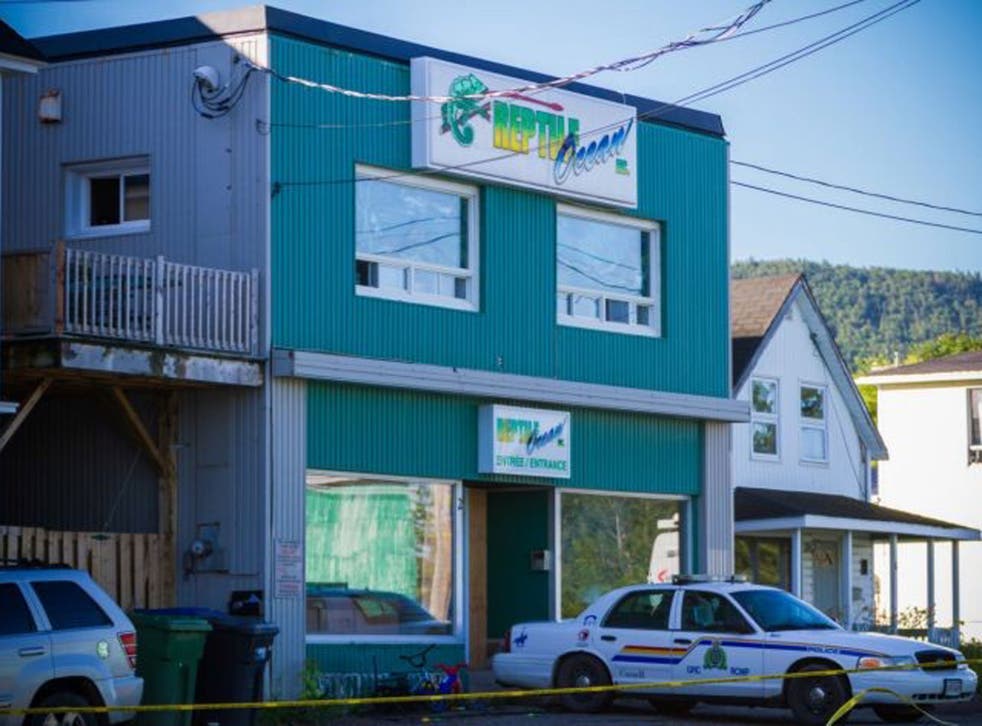 Police have opened a criminal investigation into the strangling of two young boys in Canada by a giant 14ft snake, after it emerged that the African rock python may have been kept as a pet without a licence in the apartment where the boys were sleeping.
Noah Barthe, 4 and his brother Connor Barthe, 6, died after the 45kg (100lb) snake escaped from its glass enclosure through a small hole in the ceiling, moved along the ventilation system to the living room where the boys were sleeping, and crashed down onto them when the pipe broke, a police spokesman said.
Following the deaths in Campbellton, New Brunswick, Royal Canadian Mounted Police Sgt. Alain Tremblay confirmed the brothers had been visiting the apartment of a friend whose father owned an exotic pet store on the floor below, where it was originally thought the snake must have come from.
The pet store owner, Jean-Claude Savoie, told the Global News television station that he didn't hear a sound and discovered the "horrific scene" when he went into his living room on Monday morning.
"I can't believe this is real," Savoie said.
It is illegal in the province of New Brunswick to own an African rock python without a permit. They can grow up to 7.5m (25ft) long and are notoriously ill-tempered.
Steve Benteau, a spokesman for the provincial Natural Resources Department, said no permit was issued for an African rock python and provincial authorities weren't aware it was being kept at the apartment. The department said the snake is generally only permitted in accredited zoos.
Autopsies on Noah and Connor were performed on Tuesday, and police said the snake had been killed by a veterinarian and was being studied to determine what may have led it to attack.
The boys' great-uncle, Dave Rose, said they had spent Monday at Mr Savoie's family farm and that the children had been playing with a variety of animals including goats, dogs and cats just hours before they went for the sleepover in the apartment.
Reptile expert Bry Loyst, curator of the Indian River Reptile Zoo in Ontario, said police have been seeking his advice. He noted that if the boys had been playing with animals a snake would regard as prey, the python might have been attracted by their scent.
Mr Loyst also told agency reporters he was informed by police that it wasn't the first time that the snake had escaped its enclosure, an allegation which officers were not available to confirm late on Tuesday.
Paul Goulet, founder and co-owner of Little Ray's Reptile Zoo in Ottawa, said snakes don't recognize humans as a source of food, but if the children smelled like animals, it could explain an attack.
"If a snake sees an animal moving, giving off heat and smells like a goat, what is it? It's a goat," Goulet said. "The reasonable explanation of how this has happened is that they had been playing with farm animals, they did smell like their prey items and the snake sadly enough mistook them as a food item when they weren't."
Another snake expert, John Kendrick from the Reptile Store in Hamilton, Ontario, said the attack was "very unusual" but said African rock pythons tend to be a little more high-strung than most species.
"It's very odd that one would go out and seek out a person. They don't recognize us as food," he said.
Mr Kendrick said that the snake's instinct if it was spooked would be to grab onto anything nearby, adding that the python could simply have held on to whatever it landed on.
"Once they are in constricting mode, any part of their body that is touching something that moves, they'll wrap it," he said. "I've seen snakes with two different prey items at the same time, one with the back of the body and one with the front. It could have been an incident like that."
Join our new commenting forum
Join thought-provoking conversations, follow other Independent readers and see their replies