Cuba boosts Russia links as Trump's America disconnects from neighbour
President sees US reverse its policy of slowly thawing relations with Caribbean island
Benjamin Kentish
Tuesday 19 December 2017 15:29 Comments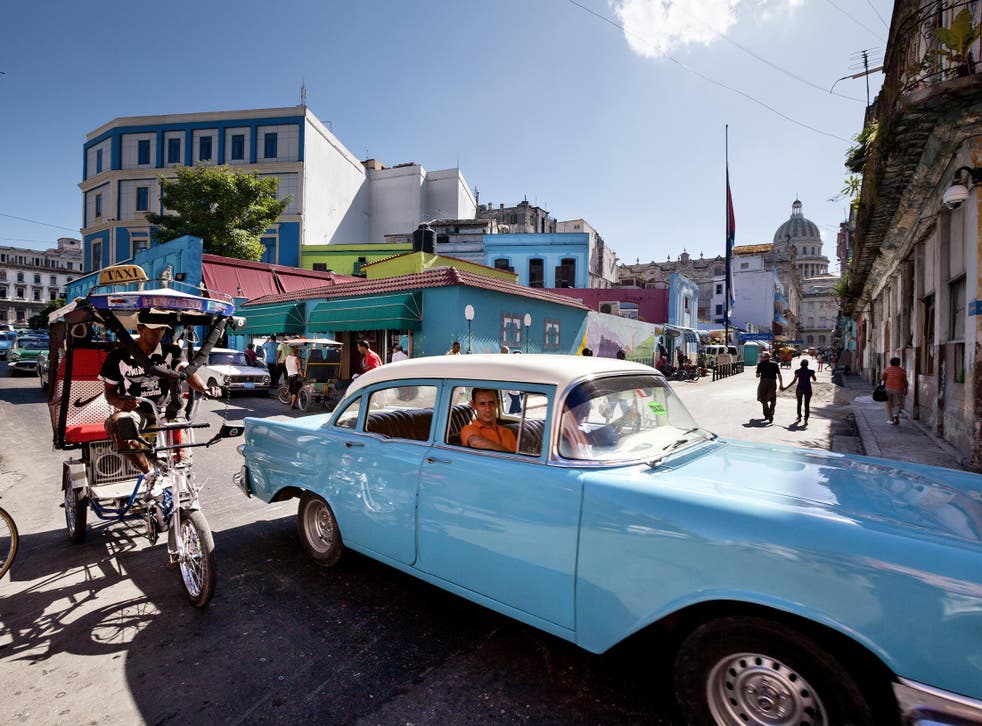 Cuba has significantly increased its trade with Russia, as Donald Trump's government tightened US restrictions on the neighbouring communist state.
A number of Russian state companies are in the process of negotiating deals with the Caribbean island as it seeks to fill the void left by other trading allies.
Cuba's main trading partner is still China, but it is once again strengthening economic links with Russia, which it formed an alliance with during the Cold War.
The deepening links with Russia come as the USA under Donald Trump reverses its policy of increasing engagement with Cuba.
Foreign policy experts say Moscow is seizing on that rollback as a way to undermine American influence in its own backyard.
"Russia sees it as a moment to further its own relationship with Cuba," said Jason Marczak, Director at the Adrienne Arsht Latin America Center told Reuters.
"The more the Russian footprint increases in Cuba, the more that will reinforce hardened anti-US attitudes and shut out US businesses from eventually doing greater business in Cuba."
Russia is eager to increase its influence in Latin America and its exports to Cuba have increased by 81 per cent in the last year.
A total of 300 new Russian-made Lada cars will be delivered to Cuba next month, replacing some of the decades-old Soviet vehicles that dominate Cuba's streets.
Unable to import or afford newer vehicles, many Cubans have become experts at patching up cars that should be long past their used-by date.
Igor Sechin, the head of Russian state oil company Rosneft, travelled to Havana last weekend to meet with Cuban President Raul Castro. They are believed to have discussed a significant new energy deal that would benefit Cuba, which currently relies heavily on Venezuela for its fuel needs.
Venezuelan shipments to Cuba have dropped by more than 40 per cent since 2014 after the South American country's economy collapsed. Power shortages are now common in Cuba and its government is exploring new possibilities for securing cheap energy.
Rosneft started shipping oil to Cuba in May for the first time since the end of the Cold War.
Pictures of everyday life in Cuba

Show all 20
Another Russian company, Sinara, last month began delivering 75 locomotives to the Caribbean island as part of a $190 million deal.
State-owned Russian Railways, meanwhile, is currently in negotiations about a $2.2 billion deal to upgrade hundreds of miles of Cuban railways and build a new link between Havana and the beach resort of Varadero.
Many of the Russian companies working in Cuba have benefitted from funding from the Russian state, which wants to strengthen its alliances in Latin America.
Mr Trump's predecessor, Barack Obama, had eased the trade embargo that severely limits the goods that Cuba is able to import.
In contrast, the Republican has retightened restrictions, describing Cuba as a "brutal, brutal regime" and saying: "We will not be silenced in the face of communist oppression any longer."
One Russian official told Reuters that trade between his country and Cuba could increase from $248 million last year to $400 million this year.
In recent years Russia has written off $35 billion in debt that Cuba owed from the Soviet era.
Additional reporting by agencies
Register for free to continue reading
Registration is a free and easy way to support our truly independent journalism
By registering, you will also enjoy limited access to Premium articles, exclusive newsletters, commenting, and virtual events with our leading journalists
Already have an account? sign in
Join our new commenting forum
Join thought-provoking conversations, follow other Independent readers and see their replies