David Duke: Former KKK leader says 'I don't hate all the Jews' at university debate
The closed debate for the Louisiana senate prompted protests outside the building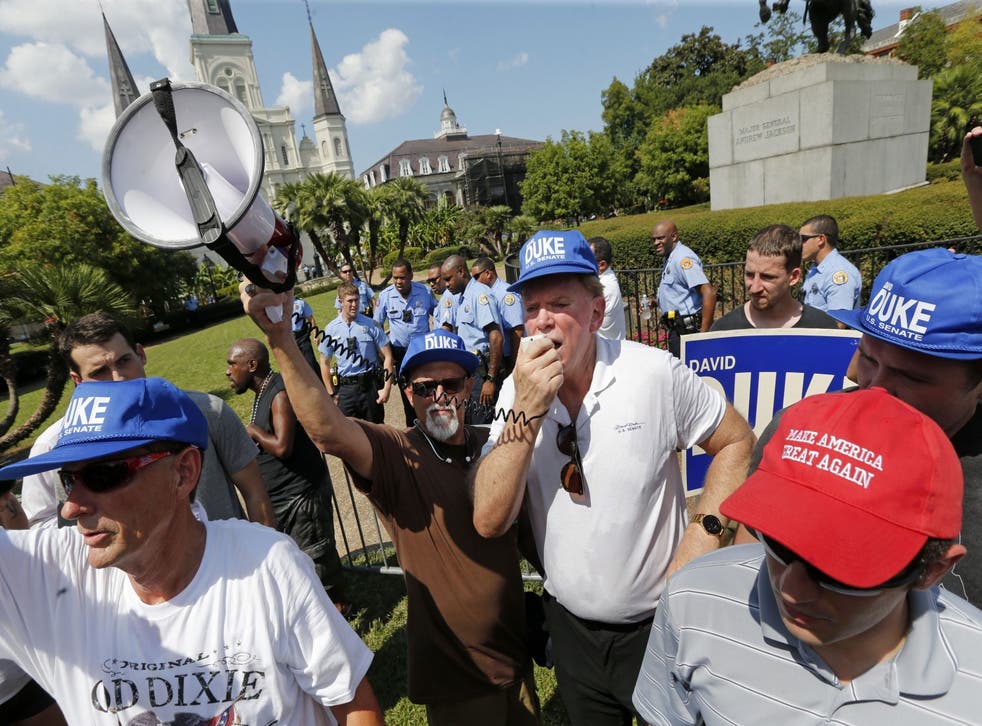 Former Ku Klux Klan Imperial Wizard David Duke participated in a university debate for the Louisiana senate, during which he ranted against Jews and said he was not a "bad guy".
The sponsored debate, which was closed to public access, allowed the white supremacist to take part after he received 5 per cent of the vote in a statewide poll.
Although unlikely to be elected, he has revamped his political ambitions after the likes of Donald Trump have encouraged heated rhetoric against Muslims and immigrants.
The moderator asked Duke why he had made repeated references to "CNN Jews" on his website, as reported by the Huffington Post.
He responded that "here is a problem in America with a very strong, powerful tribal group that dominates our media and dominates our international banking."
He added: "I'm not opposed to all Jews."
Republican state treasurer John Kennedy pointed to Duke's felony conviction of tax charge and fraud in 2002, and told him: "It must be terrible to wake up in the morning with that much hate in your heart."
Outside the building, the mostly black student body of Dillard University were not allowed to attend, and protesters were doused with pepper spray by police.
The Trump campaign was slow to dismiss endorsement from the KKK in February.
He has since disavowed the group, and called a recent endorsement by the KKK's newspaper "repulsive".
Duke has a long history of dabbling with state politics. He served as a state representative in 1989 and came close to winning the seat of governor.
Join our new commenting forum
Join thought-provoking conversations, follow other Independent readers and see their replies