More than 50 tonnes of dead fish removed from Mexican lake in two days
Locals and environment chiefs point to pollution caused by nearby factories and farms as reason for the hundreds of thousands of dead fish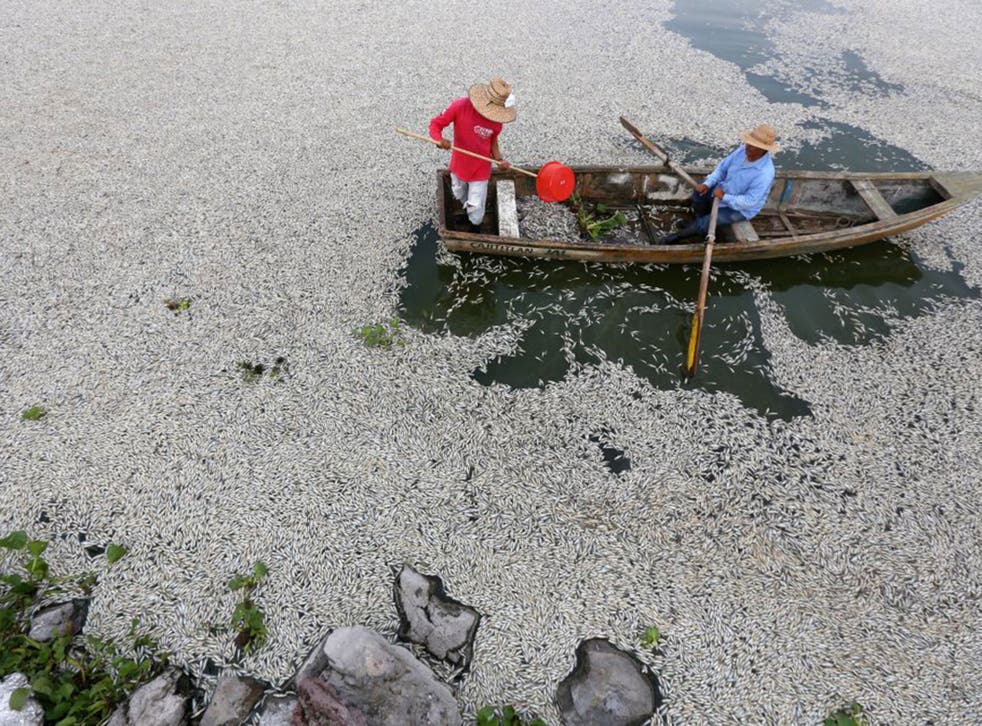 Hundreds of thousands of dead fish have been removed from a lake in the west of Mexico this weekend, amid speculation that high levels of pollution could be to blame.
Scores of residents from the Mexican town Tlajomulco de Zúñiga in the Mexico's Jalisco state spent their weekend shovelling over 50 tonnes of apoche chub fish from the 9km long and 2km wide Cajititlán Lake after a mass of dead fish appeared on the lake's surface.
While the reason for the dead fish is still yet to be fully explained, locals and state environment officials are pointing to pollution caused by the factories and farms situated around the lake's edge as the reason for the deaths.
One of those factories to be blamed is a tequila distillery that locals say is allowing its poisonous waste to flow directly into the lake.
Others say that recent heavy rain could have led to fertilisers used on nearby farms being washed into the lake allowing the process of eutrophication to occur - a process in which the fertilizers aid the growth of algae on the river's surface, thereby starving the water of oxygen.
Jalisco's secretary for the environment, Maria Magdalena Ruiz Mejia, admitted that the death of fish in the lake was "categorically" not a "natural and cyclical phenomenon".
She said: "We have no evidence to support that it is natural and cyclical, to the contrary, we have a series of variables which lead us to believe this phenomenon is not only recurrent and becoming more frequent and severe, and caused by the poor management of the body of water."
Manuel Guzman Arroyo, director of the University of Guadalajara's Fresh Water Institute, believed that the death of fish on this scale was due to the shallowness of the water caused by residents and factories drawing more and more water from the lake.
He said that the increasingly shallower water could have created a situation where there was too little oxygen for the number of fish to survive in the lake and this eventually led to the apoche chubs being starved of oxygen and dying of suffocation.
The mass death of fish over the weekend is the latest in a recent spate of fish deaths on the lake. In the last couple of months fishermen have seen an increasing number of dead fish floating to the lake's surface, but this latest occurrence is by far and away the biggest.
An environmental alert has now been issued for the lagoon which is a popular tourist spot for Mexicans.
It isn't the first time the state of Jalisco has seen fish die on this scale in one of its lakes. In July 2013, reports said that over 500 tonnes of carp and bream ended up dead when a company that produced food for livestock dumped huge amount of molasses into a river.
Additional Reporting AP
Join our new commenting forum
Join thought-provoking conversations, follow other Independent readers and see their replies