Donald Trump adviser quits after cryptic tweet hinting at 'extra-marital affair'
Jason Miller quits after being called 'baby-daddy' and likened to exposed cheater John Edwards
Benjamin Kentish
Tuesday 27 December 2016 16:35 Comments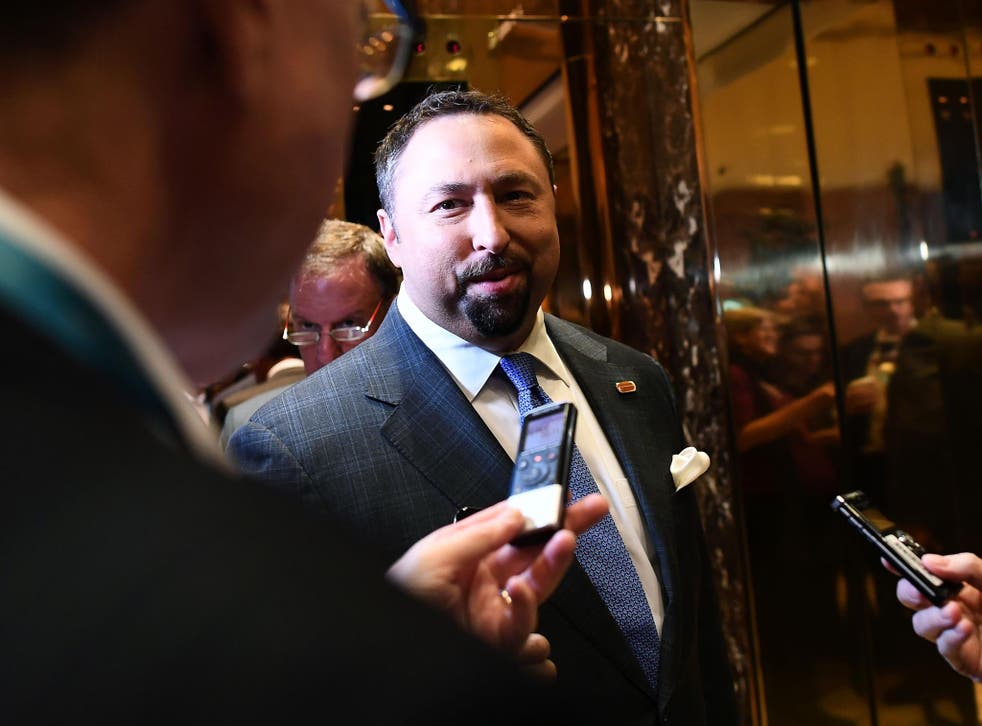 A senior adviser to Donald Trump has resigned just two days after his appointment following allegations of a sex scandal.
Jason Miller, who was appointed last week by the President-elect as White House Communications Director, said he was quitting to spend more time with his family ahead of the birth of his second child in January.
In a statement he said: "After spending this past week with my family, the most amount of time I have been able to spend with them since March 2015, it is clear they need to be my top priority right now and this is not the right time to start a new job as demanding as White House Communications Director.
"I look forward to continuing to support the President-elect from the outside after my work on the Transition concludes."
It comes after another Trump adviser, A.J. Delgado, posted a series of cryptic tweets about Mr Miller in which she appeared to suggest his involvement in a sex scandal.
World reaction to President Trump: In pictures

Show all 29
Ms Delgado, a fellow member of the President-elect's transition team, referred to Mr Miller as "the baby-daddy" and called him "the 2016 version of John Edwards" – a reference to the former U.S. Democratic presidential candidate who had an affair with a filmmaker working on his campaign.
She also twice called on Mr Miller to resign, before deleting her Twitter account.
Ms Delgado, Mr Miller and another Trump aide were reported to have been spotted in a Las Vegas strip club the night before the final US presidential debate in October. They were joined by several reporters and media producers, according to witnesses.
Mr Miller has been a vocal supporter of Mr Trump, frequently defending him on television during the election campaign and acting as his main spokesman during the transition period.
Sean Spicer, a former chief strategist of the Republican National Committee who was recently named Mr Trump's White House Press Secretary, will now also take on Mr Miller's duties as Communications Director.
Register for free to continue reading
Registration is a free and easy way to support our truly independent journalism
By registering, you will also enjoy limited access to Premium articles, exclusive newsletters, commenting, and virtual events with our leading journalists
Already have an account? sign in
Join our new commenting forum
Join thought-provoking conversations, follow other Independent readers and see their replies