Alexander Acosta announced as Trump's latest Labour Secretary pick
Replacement comes after Andy Puzder dropped out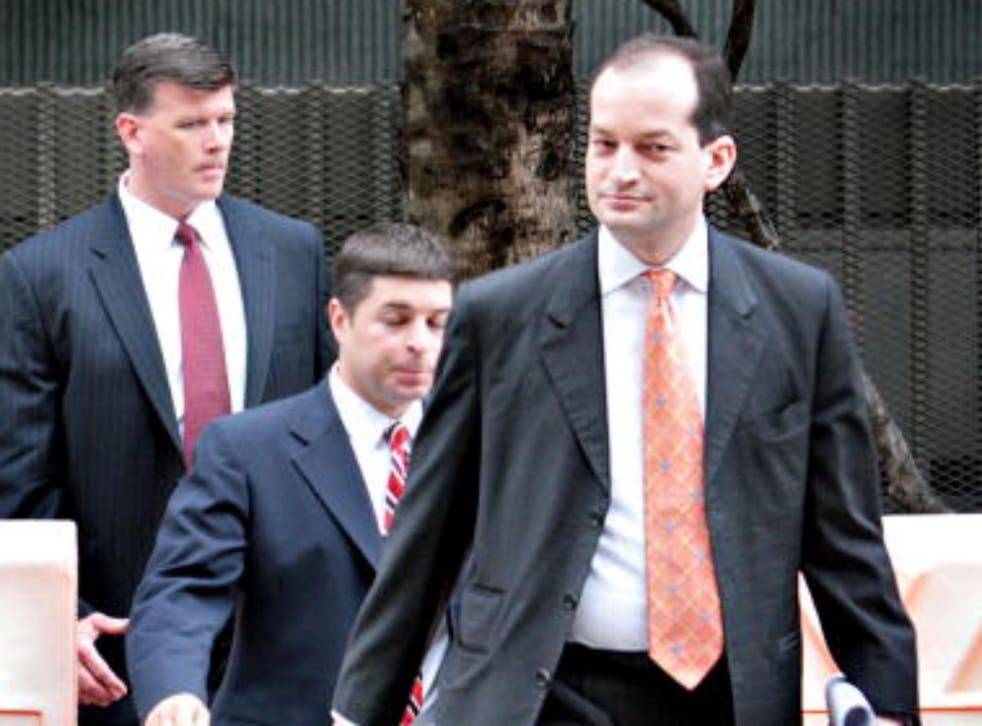 Donald Trump has announced Alexander Acosta as his new Labour Secretary, the first Hispanic cabinet member, after fast food restaurant businessman Andy Puzder stepped down.
The new "establishment" pick became the Dean of Florida International University College of Law after resigning as attorney for the Southern District of Florida in 2009.
He was reportedly considered for President of the new school, but UCLA law professor Stephen Bainbridge, he was rejected due to negative reactions to his roles in two cases in which a lawyer's conversations were secretly recorded.
At a press conference President Trump said Mr Acosta had a "tremendous career".
"I wished him the best. We just spoke. I think he will be a tremendous Secretary of Labour."
The President said he was also a "great student", who graduated from Harvard Law School and clerked for Judge Samuel Alito on the Court of Appeals for the Third Circuit for a year before going to work at the Washington DC law firm Kirkland & Ellis.
Former President George W Bush appointed him to the National Labour Relations Board for about a year between 2002 and 2003, where he claimed he authored more than 125 opinions.
He later worked as assistant attorney general for the US Department of Justice's civil rights division, the first Hispanic person to work in such a position and again appointed by Mr Bush.
In 2004, he was criticised for his decision to notify a federal judge that the Justice Department did not object to Republicans' plan to place "challengers" at some polling places during the election. Democrats argued the move was discriminatory as these people were placed in mostly black neighbourhoods.
He resigned in 2005.
Donald Trump's controversial cabinet
Six years later, he testified before Congress about the rights of protecting Muslim Americans.
He said "we are a nation build [sic] on principles of freedom, and high on the list of freedoms is freedom of religious expression. Indeed, as is well known to this Committee, this freedom pre-dates our Constitution."
Mr Acosta met with the President on Wednesday evening just a few hours after Mr Puzder decided to step down from the role, after allegations of domestic abuse resurfaced via a decades-old old Oprah Winfrey tape which was handed to the ultimate Senate committee.
The fast food executive's own employees had also testified against him in the Senate, claiming they had not been paid for overtime work.
Support for Mr Puzder quickly evaporated with seven Republicans refusing to stand for him, and he needed 50 out of 52 to vote for him.
His withdrawal was the first cabinet pick casualty and a large set back for Mr Trump after former national security adviser Michael Flynn was forced to resign following revelations he misled Vice President Mike Pence about his calls with the Russian ambassador last year.
Join our new commenting forum
Join thought-provoking conversations, follow other Independent readers and see their replies