Donald Trump and Ted Cruz ramp up the pressure on Barack Obama following Brussels attacks
The Republican candidates are urging draconian action against Isis amid withering criticism of the President
Rupert Cornwell
Thursday 24 March 2016 22:23 Comments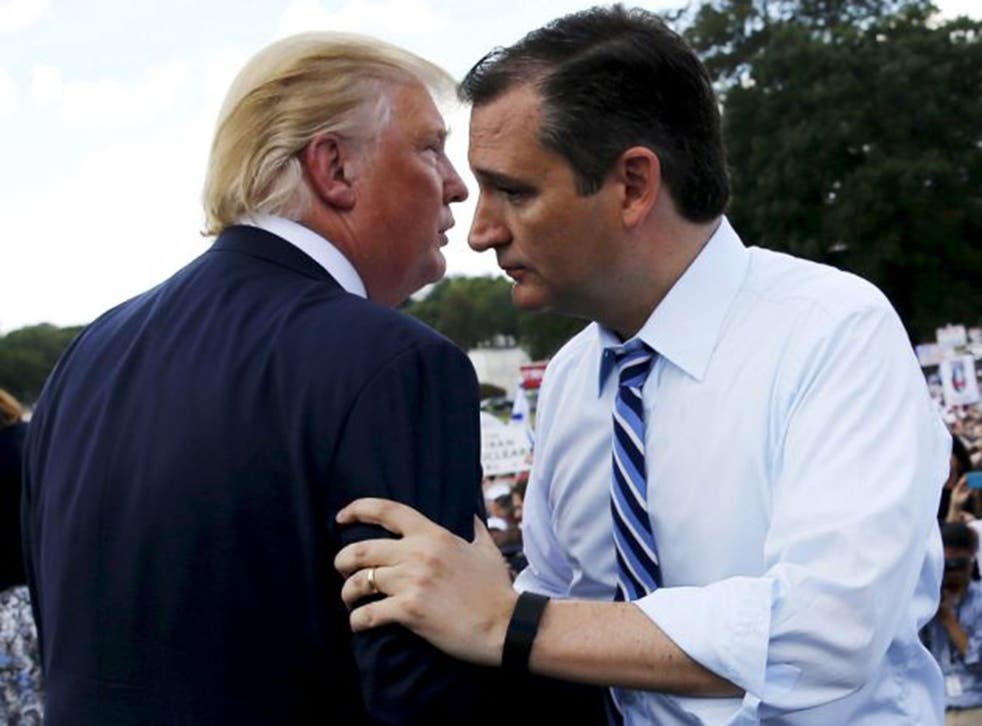 The terror attacks in Brussels are having a predictable impact on the bitterly divisive election campaign in the US, prompting leading Republican candidates to urge draconian action against Isis both abroad and at home, amid withering criticism of a supposedly passive and uncomprehending President Obama.
They are also giving a new edge to long-standing issues: whether terrorist suspects who have potentially vital information should be tortured – as Donald Trump demands – and on the proper balance between personal privacy and national security, exemplified by the efforts of the US government to force Apple to allow the FBI the means to crack encrypted conversations and text messages on mobile phones.
Most important, they are ramping up the pressure on Obama to abandon his every instinct – and his policy thus far – and adopt a far more aggressive policy against Isis and its strongholds in Syria and Iraq. Both Trump and Ted Cruz, the former's chief rival for the nomination, say the President simply doesn't get it.
They call for stepped up bombing (though Cruz has dropped his earlier talk of carpet-bombing). "We need a president who does everything necessary to defeat the enemy," he said. Trump meanwhile claims that waterboarding and worse was justified in cases such as that of Salah Abdeslam, the Paris attack suspect who was arrested last Friday. Had Abdeslam been tortured, he might have yielded information that could have prevented Tuesday's bombings in Brussels, Trump argued.
Cruz however has generated the greatest furore with his suggestion that police "patrol and secure" Muslim neighbourhoods to prevent them becoming radicalised. That drew a scathing response from Bill Bratton, commissioner of New York's police department, which once operated similar tactics in city neighbourhoods. Cruz "doesn't know what he's talking about", Bratton declared.
The suggestions, many have also noted, bring back memories of the mass internment of Japanese-Americans during the Second World War, considered a massive blot on the human rights record of the US.
How much the Brussels attacks affected the outcome of the latest Republican primaries and caucuses on Tuesday, when Trump won decisively in Arizona and Cruz in Utah, is debatable. But they certainly did them no harm, given surveys showing Republican primary voters' broad support for Trump's call, issued after the San Bernardino massacre last December, to ban all Muslim travel to the US.
Brussels attacks: tributes are paid to the victims

Show all 27
Both candidates have been criticised by Muslim and human rights groups. But that probably will make little difference. Americans are not a patient people, tending to demand speedy and spectacular action to solve a problem – a thirst that Cruz and Trump on the campaign trail are doing their best to satisfy.
Even the normally restrained John Kasich, far behind Trump and Cruz in the delegate count, said Obama should have scrapped his visit to Cuba and Argentina this week and returned home to deal with the crisis – even if it did not directly involve the US and was happening 3,500 miles away.
Most serious in the long term, all the campaign trail bluster may be playing into Isis's hands. Indeed the militant movement is probably praying for further outbursts by Trump and Cruz, likely to infuriate ordinary Muslims and to drive a minority of them into the extremist camp.
Obama makes a similar argument against sending thousands of US ground troops to Iraq to defeat Isis – that it would be as counter-productive a mistake as the 2003 invasion of Iraq in whose aftermath the seeds of Isis were sown.
Register for free to continue reading
Registration is a free and easy way to support our truly independent journalism
By registering, you will also enjoy limited access to Premium articles, exclusive newsletters, commenting, and virtual events with our leading journalists
Already have an account? sign in
Join our new commenting forum
Join thought-provoking conversations, follow other Independent readers and see their replies