New bill aims to ban Donald Trump from first use of nuclear weapons without Congressional Declaration of War
'It is a frightening reality that the US now has a Commander-in-Chief who was making sweeping statements about US nuclear policy over Twitter'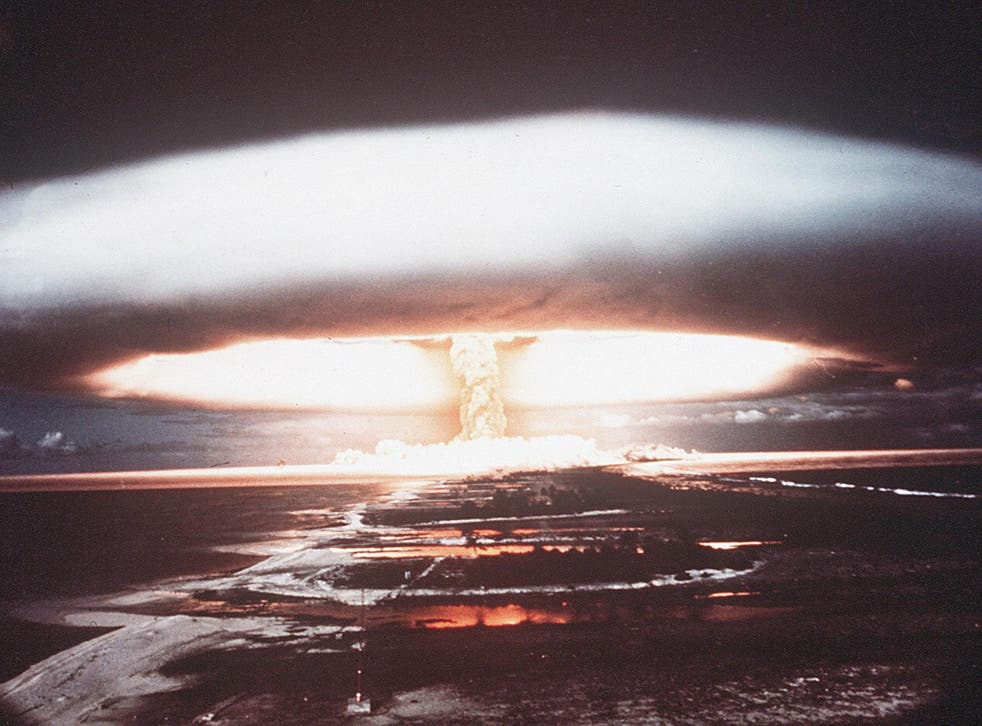 Donald Trump would have to seek congressional approval if he wanted to launch a first strike with nuclear weapons, under new legislation introduced in a direct response to his election as president.
Congressman Ted Lieu and Senator Edward Markey, both referenced President's brash discussion of nuclear weapons on social media when they submitted the Restricting First Use of Nuclear Weapons Act of 2017.
Mr Trump's "ignorance" of nuclear defence theory "increases the risk" of an accidental nuclear war, the Democrats said in a statement accompanying the legislation, which would forbid the President from launching a first strike with nuclear weapons without a declaration of war by Congress.
The question over the President's authority to launch nuclear weapons at very short notice was "more urgent than ever", they added.
Mr Trump caused concern among defence experts when being briefed on nuclear weapons, when he allegedly asked why they couldn't be used if possessed by the US.
Taking to his Twitter account in December, he said the US "must greatly strengthen and expand its nuclear capability until such time as the world comes to its senses regarding nukes".
The President has also threatened to "nuke Isis territory" in response to an attack.
After introducing the new bill, Senator Markey insisted that "neither President Trump, nor any other president, should be allowed to use nuclear weapons except in response to a nuclear attack."
He said: "Nuclear war poses the gravest risk to human survival. Yet, President Trump has suggested that he would consider launching nuclear attacks against terrorists. Unfortunately, by maintaining the option of using nuclear weapons first in a conflict, US policy provides him with that power."
That policy "drastically" raised the risk of unintended nuclear escalation with another nuclear-armed country, he added.
Clinton: 'Man who can be provoked by a tweet should not be anywhere near the nuclear codes'
His colleague, Congressman Lieu said: "It is a frightening reality that the US now has a Commander-in-Chief who has demonstrated ignorance of the nuclear triad, stated his desire to be 'unpredictable' with nuclear weapons, and as President-elect was making sweeping statements about US nuclear policy over Twitter."
The nuclear triad is the method the US would use to make a nuclear attack, utilising submarines, bomber aircraft and intercontinental ballistic missiles fired from land.
"Congress must act to preserve global stability by restricting the circumstances under which the US would be the first nation to use a nuclear weapon," Congressman Lieu said. "Our Founders created a system of checks and balances and it is essential for that standard to be applied to the potentially civilization-ending threat of nuclear war."
Despite their concerns, the new bill and it is unlikely to pass through the US Congress and Senate, both of which are controlled by Mr Trump's Republican party.
Professor Malcolm Chalmers, Deputy Director-General of the Royal United Services Institute (Rusi), also highlighted potential issues with it.
North Korea threatens 'sacred' nuclear war

Show all 6
He told The Independent that exerting more congressional control over the President's power to use nuclear weapons had the potential to give an enemy a strategic advantage.
"The nature of war is that it is very unpredictable," he said. "And whatever legal constraints are announced publically, a potential adversary can take those into account in calculating what they do – if they believe those constraints are credible."
If the decision to use nuclear weapons was an urgent one, he added that there was the question about whether the President would have the luxury of consulting Congress in "what would inevitably be quite a time consuming process."
But other experts have supported the bill, including William Perry, who served as Secretary of Defence under the Clinton administration and has had a high level inside view of the government's nuclear weapons policy and procedure.
He said: "During my period as Secretary of Defence, I never confronted a situation, or could even imagine a situation, in which I would recommend that the President make a first strike with nuclear weapons—understanding that such an action, whatever the provocation, would likely bring about the end of civilization.
"I believe that the legislation proposed by Congressman Lieu and Senator Markey recognises that terrible reality. Certainly a decision that momentous for all of civilization should have the kind of checks and balances on Executive powers called for by our Constitution."
Anti-nuclear proliferation groups also expressed support for the bill.
Derek Johnson, Executive Director of Global Zero, who work to eliminate nuclear weapons, said: "In the wake of the election, the American people are more concerned than ever about the terrible prospect of nuclear war — and what the next commander-in-chief will do with the proverbial 'red button.'
"That such devastating power is concentrated in one person is an affront to our democracy's founding principles."
Register for free to continue reading
Registration is a free and easy way to support our truly independent journalism
By registering, you will also enjoy limited access to Premium articles, exclusive newsletters, commenting, and virtual events with our leading journalists
Already have an account? sign in
Register for free to continue reading
Registration is a free and easy way to support our truly independent journalism
By registering, you will also enjoy limited access to Premium articles, exclusive newsletters, commenting, and virtual events with our leading journalists
Already have an account? sign in
Join our new commenting forum
Join thought-provoking conversations, follow other Independent readers and see their replies