Donald Trump says 'something should happen' to Bashar Al-Assad as US weighs military strike on Syria
The president appears to have changed his mind following the nerve gas attack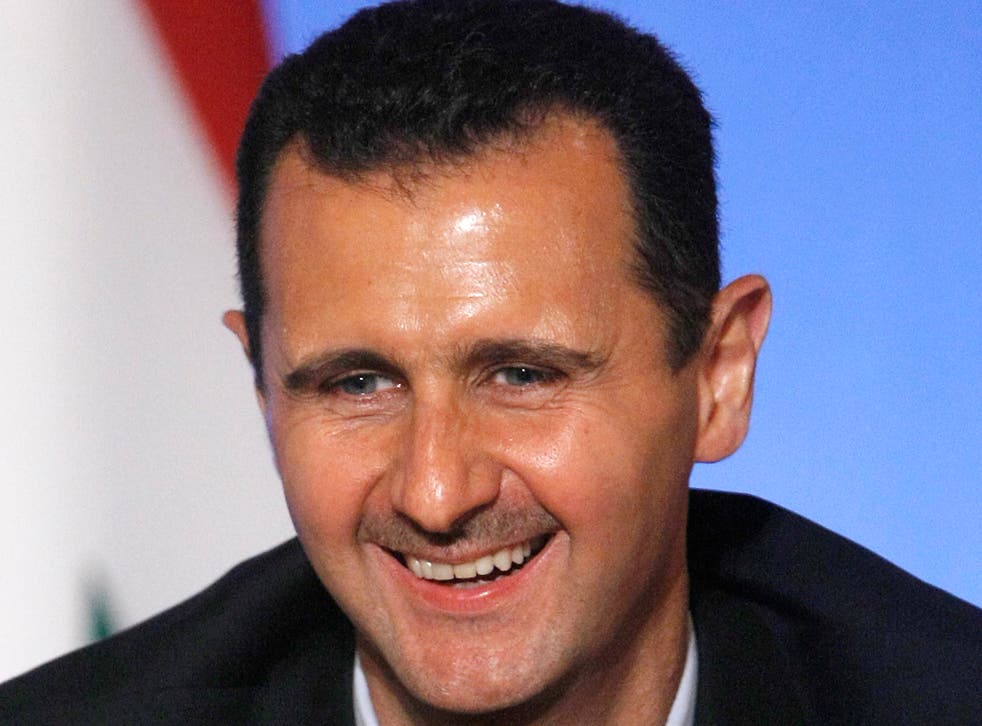 The US seems to preparing for possible military action against Syria after Donald Trump said "something should happen" to President Bashar Assad.
In what appears to be a shift in the Trump administration's position following a nerve gas atack , US Secretary of State, Rex Tillerson, said there was "no role" for Mr Assad in Syria's future and that "steps were underway" to remove him.
"I think what Assad did is terrible," Mr Trump told reporters travelling with him on Air Force One.
"I think what happened in Syria is a disgrace to humanity and he's there, and I guess he's running things, so something should happen".
Just a week ago, the US said its diplomatic policy on Syria was no longer focussed on forcing Mr Assad from power. The US Ambassador to the UN, Nikki Haley, told reporters: "You pick and choose your battles and when we're looking at this."
Now, following a chemical attack in Syria that left up to 100 people dead and which the West has blamed on the Assad regime, the US appears to have shifted its position to one more in line with most European nations.
CNN said Mr Trump told some members of Congress that he was considering military action in Syria, and possibly establishing so-called "safe zones" there, while the Pentagon was said to be drawing up a range of options for him to review.
Boris Johnson: Syrian chemical attack evidence points to Assad
Senator John McCain said it was "his understanding" that Mr Trump was consulting with defence secretary James Mattis and national security adviser HR McMaster.
Mr McCain and Senator Lindsey Graham issued a joint statement calling for military action, recommending an international coalition "to ground Assad's air force".
"We agree with the President that Assad has crossed a line with his latest use of chemical weapons. The message from the United States must be that this will not stand," they said.
In 2013 and 2014, Mr Trump posted more than a dozen messages on Twitter urging Mr Obama not to take military action against Syria following an earlier chemical weapons attack, and to instead focus on "fixing the US".
But Mr Trump said he had been moved by images of saw of the dead from this week's attack in Syria's Idlib province.
NBC said the US military had monitored by radar two Syrian fixed-wing aircraft dropping chemical weapons on civilians on the town of Khan Sheikhoun. Up to 25 children were among the dead, according to Syrian anti-government activists.
On Wednesday, speaking in the Rose Garden with King Abdullah of Jordan, Mr Trump described the attack as "heinous" and said it had changed his views on Mr Assad.
"Yesterday's chemical attack, a chemical attack that was so horrific in Syria against innocent people, including women, small children and even beautiful little babies, their deaths were an affront to humanity," he said.
"These heinous actions by the Assad regime cannot be tolerated. The United States stands with our allies across the globe to condemn this horrific attack and all other horrific attacks, for that matter."
Mr Tillerson reportedly spoke by phone with Russian Foreign Minister Sergei Lavrov about the attack. Russia has been a steadfast ally of Mr Assad, despite widespread allegations of abuse.
The US top diplomat said the US was considering an "appropriate response" to what happened and saw "no role" in the country for Mr Assad.
"The process by which Assad would leave is something that requires an international community effort both to first defeat Isis within Syria, to stabilise the Syrian country to avoid further civil war and then to work collectively with our partners around the world through a political process that would lead to Assad leaving," he said at a news conference in Palm Beach, Florida
"Assad's role in the future is uncertain clearly, and with the acts that he has taken it would seem that there would be no role for him to govern the Syrian people."
Register for free to continue reading
Registration is a free and easy way to support our truly independent journalism
By registering, you will also enjoy limited access to Premium articles, exclusive newsletters, commenting, and virtual events with our leading journalists
Already have an account? sign in
Register for free to continue reading
Registration is a free and easy way to support our truly independent journalism
By registering, you will also enjoy limited access to Premium articles, exclusive newsletters, commenting, and virtual events with our leading journalists
Already have an account? sign in
Join our new commenting forum
Join thought-provoking conversations, follow other Independent readers and see their replies