Donald Trump's 'drunken tourist' trip: US President's biggest gaffes and oddest moments on foreign tour
'When it comes to diplomacy, President Trump is a drunk tourist,' says US State Department official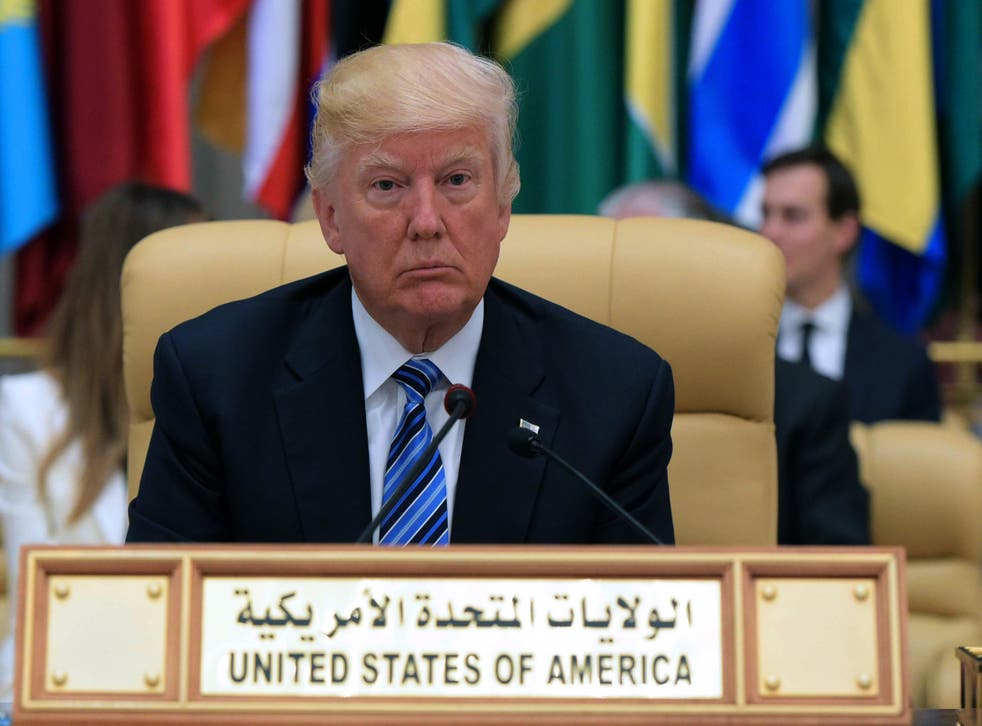 Donald Trump may have declared his Europe trip a "great success for America" but European leaders and Democrat politicians were distinctly less effusive in their assessment.
A US State Department official was among those who criticised the American President and even suggested he acted like a "drunk tourist" on his first trip abroad.
"When it comes to diplomacy, President Trump is a drunk tourist," the unnamed official told The Daily Beast. "Loud and tacky, shoving his way around the dance floor. He steps on others without realising it. It's ineffectual."
Here is a selection of some of President Trump's standout blunders and most downright bizarre moments from his tour of the Middle East and Europe which he termed his "big foreign Trip".
Shoving incident
Mr Trump shocked many when he appeared to shove Montenegro's Prime Minister out of the way in order to clamber his way to the front of a group of Nato leaders. The incident was captured on camera and quickly went viral.
Strolling alongside other world leaders during the first day of a key summit at the alliance's headquarters in Brussels, he seemingly pushed Dusko Markovic to the side. Nevertheless, Mr Markovic later branded the shove "inoffensive".
In pictures: President Donald Trump on tour

Show all 39
White knuckle handshake
President Trump's showdown handshake with French President Emmanuel Macron instantly garnered fierce media scrutiny. The now infamous encounter saw the world leader's grip each other's hands so ferociously their knuckles turned white.
Mr Macron later said there was nothing unintentional about his handshake, saying it "wasn't innocent".
The newly elected French leader added: "It's not the be-all and the end-all of a policy, but it was a moment of truth."
His excoriating Nato speech
Mr Trump, who is often described as a "homebody", ripped up the diplomatic rulebook and broke precedent when he chose to spend his first meeting with Nato allies lecturing the group's members on their "chronic" failure to pay for their own defence.
During his visit to the Nato headquarters in Brussels, he directly scolded 23 of the 28 members for failing to spend enough on defence, arguing it left the "taxpayers of the United States" forced to foot the bill. They were left visibly stunned and stone-faced.
As trans-Atlantic tension mounted during the visit, German Chancellor Angela Merkel told a crowd in Bavaria that Europe's ability to rely on the US was "over, to a certain extent. This is what I have experienced in the last few days."
Saudi Arabia trip
The billionaire property developer, who was described as akin to a "good French wine" which "doesn't like to be moved and travelled" by his former wife Ivana Trump last year, also sparked controversy for his visit to Saudi Arabia.
He was showered with lavish ceremonies and received the highest civilian honour in the country. Caterers even ensured his favourite meal - steak with a side of ketchup - was offered alongside traditional local cuisine.
Human rights found themselves to be no obstacle in Trump-Saudi ties and during the trip he also announced a new $110 billion arms deal with the country. The President was accused of thwarting international diplomacy when he took a tougher position on the G7 than on Saudi Arabia and ceased to mention human rights violations in Yemen.
Golf cart
While fellow foreign leaders took a walk through Taormina in Sicily during the Group of Seven Summit, the former reality TV star President chose to ride in a golf cart for the 700-yard stroll. The G7 leaders were, in turn, kept waiting for their photo opportunity.
Register for free to continue reading
Registration is a free and easy way to support our truly independent journalism
By registering, you will also enjoy limited access to Premium articles, exclusive newsletters, commenting, and virtual events with our leading journalists
Already have an account? sign in
Register for free to continue reading
Registration is a free and easy way to support our truly independent journalism
By registering, you will also enjoy limited access to Premium articles, exclusive newsletters, commenting, and virtual events with our leading journalists
Already have an account? sign in
Join our new commenting forum
Join thought-provoking conversations, follow other Independent readers and see their replies