Donald Trump can be 'blackmailed and bribed' by foreign governments
Business connected to The Trump Organization rely on government in Philippines, Japan, Taiwan, Turkey and Argentina
Peter Walker
Wednesday 14 December 2016 18:08 Comments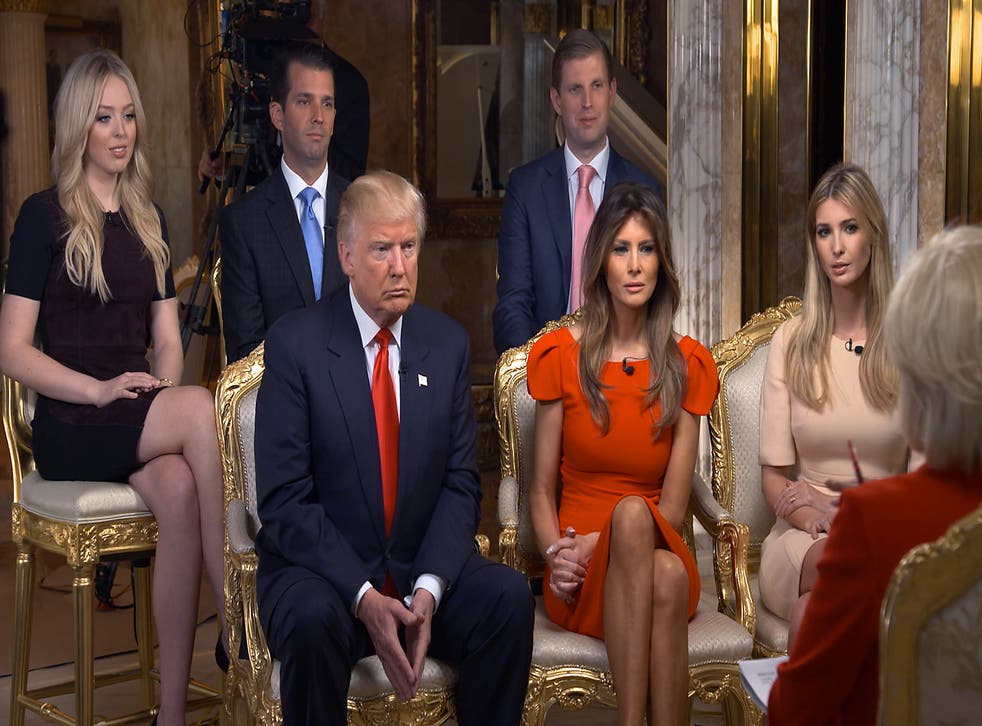 Donald Trump can be "blackmailed" by foreign countries because of his global interests, it has been claimed.
The President-elect and his family have on-going property projects, directly influenced by governments in the Philippines, Taiwan, Turkey, Japan and Argentina.
The network of operations worldwide renders the 70-year-old property tycoon and his administration open to corruption, according to an investigation by Newsweek magazine.
"Already, there is a situation in which the president of the United States could be blackmailed by a foreign power through pressure related to his family's business entanglements," the article states.
It adds: "Given the extraordinary power Donald Trump now wields, it's obvious that foreign governments and corporations can easily curry favour."
The most controversial quotes from Rodrigo Duterte

Show all 9
Turkey
The article alleges that a leading businessman has been arrested in Turkey after the President-elect mentioned him in a conversation with the country's president, Recep Tayip Erdogan.
Barbaros Muratoglu, a senior executive at Dogan Holding was detained on 1 December on "threadbare allegations" the magazine states.
One of the top industrial conglomerates in Turkey, operating in the energy, media, industry, trade, insurance and tourism industries, Dogan Holding built a pair of buildings, Trump Towers in Istanbul.
Mr Trump's company has been paid up to $10 million by the developers since 2014 to affix his name atop of the buildings, one of which is residential and the other offices.
The article claims that Turkey plans to use Mr Muratoglu's detention as leverage in a deal that would see the US extradite the Imam, Fethullah Gulen, who Mr Erdogan has blamed for masterminding an attempted coup in the country earlier this year – a charge he denies.
The one time ally of Mr Erdogan is currently living in the US which has refused to extradite him to Turkey despite repeated requests.
Philippines
Written by veteran investigative journalist Kurt Eichenwald, the article claims Mr Trump has "enormous financial interest" in keeping the recently elected president of the Philippines, Rodrigo Duterte, happy.
An estimated 4,500 people to have been killed between 1 July and 5 September after he took power and declared a bloody war on drugs - a death rate of around 38 people per day.
Mr Duterte also recently admitted to killing suspected criminals and shooting a bully.
Trump Tower in capital Manila is reportedly on the verge of completion and buyers have apparently placed deposits on at least 94 per cent of its apartments.
During the campaign, Mr Trump's sons Donald Jr. and Eric attended a celebratory ceremony there, and the building's website promotes Ivanka Trump's jewellery line.
The head of the building's developers, Jose E.B. Antonio of Century Properties, whose firm reportedly pay millions to use Trump branding, is Mr Duterte's special government envoy to the US.
Mr Duterte claimed Mr Trump "wished him success" with his drug war campaign, which has killed an estimated 5,000 people, during their phone call on 2 December.
Kanye West meets with President-elect Donald Trump at Trump Tower
Of the total overseas Filipino population, 34.5 per cent are in the US, fuelling speculation that Mr Trump may tweak his immigration policy to satisfy Mr Duterte.
China, which Mr Trump has blamed for manipulating currencies and pedalling global warming lies, is also one of the top two export destinations for the Philippines.
If the President-elect raises tariffs on Chinese exports, it will, like "toppling dominoes", hurt Mr Duterte and Trump Tower in Century City, the article suggests.
Taiwan
Mr Trump's decision to take an official telephone call from Taiwanese president Tsai Ing-wen has also enraged leaders in China, and effectively broken with nearly four decades of US policy.
The 10-minute call was the first by a US president-elect or president since President Jimmy Carter switched diplomatic recognition from Taiwan to China in 1979, acknowledging Taiwan as part of "One China".
Cheng Wen-tsan, mayor of Taoyuan in Taiwan, told The China Times that a Trump representative visited to express the family's interest in building near the city's airport.
Turkey issues arrest warrant against US-based cleric Fethullah Gulen
Japan
The government-owned Development Bank of Japan is the largest shareholder of Sanei International, which is responsible for the licensing of Ivanka's clothing company.
The mother-of-three sat in on Prime Minister Shinzo Abe's meeting in her father's gold-platted Manhattan apartment.
Argentina
The article reports that, for years, Mr Trump has been trying to secure government permits for an office project in capital Buenos Aires.
Respected Argentine journalist Jorge Latnata said in president Mauricio Macri's call with the future president on 14 November, Mr Trump asked him to deal with problems holding up the project.
News agency Reuters also claimed Ivanka was on the call.
Three days later, Argentine daily La Nacion reported that the project had been green-lighted.
Blind trust
While his yet to address the specific allegations made in Newsweek Mr Trump has previously said he will shift his business empire and assets into a blind trust, owned by his children - before the Electoral College rubber stamp his presidency on 19 December - to resolve the conflict of interests.
But the article claims this would "not eliminate the conflicts, given that the money generated would still go to his family".
Register for free to continue reading
Registration is a free and easy way to support our truly independent journalism
By registering, you will also enjoy limited access to Premium articles, exclusive newsletters, commenting, and virtual events with our leading journalists
Already have an account? sign in
Join our new commenting forum
Join thought-provoking conversations, follow other Independent readers and see their replies