US President-elect Donald Trump invites Philippines' Rodrigo Duterte to 'visit White House next year'
Republican had 'very engaging' discussion with controversial leader, aide says
Harriet Agerholm
Friday 02 December 2016 18:38 Comments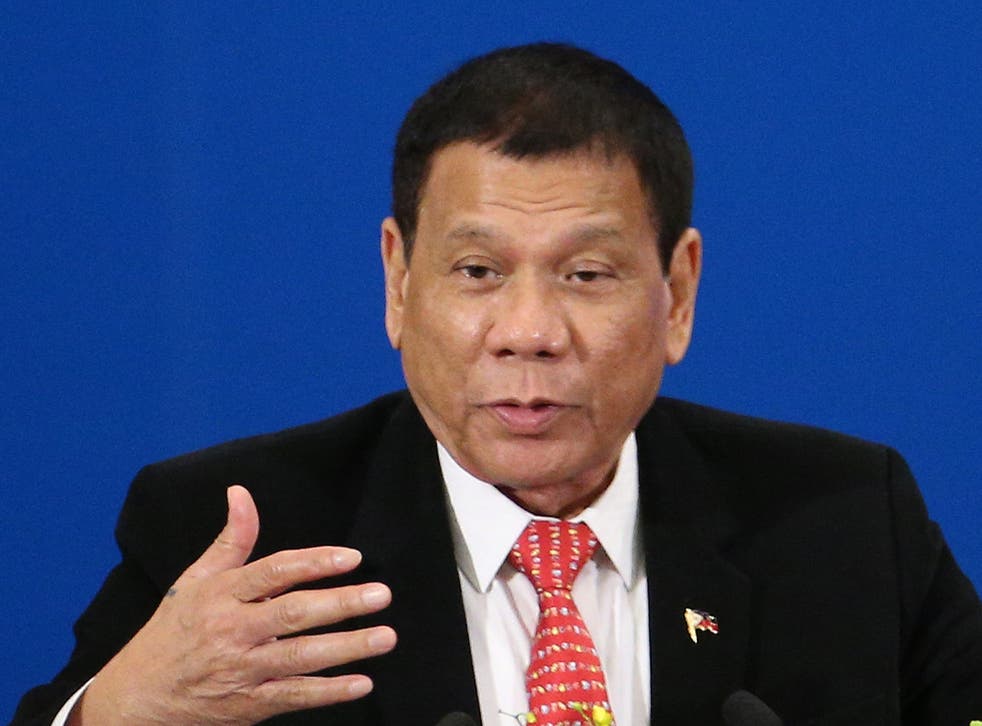 US President-elect Donald Trump shared a telephone call with Rodrigo Duterte and invited him to visit the White House next year during a "very engaging, animated" talk, an aide to the Philippines leader has said.
The call lasted just over seven minutes, the President of the Phillipine's special advisor, Christopher Go, said in a text message to media.
Mr Go, Duterte's longtime aide and better known as "Bong Go", said the Philippines president had invited Trump to come to his country next year when it is chair of a series of summits of the Association of South East Asian Nations
Mr Duterte has previously told President Barack Obama to "go to hell" and once allegedly called him a "son of a whore".
As part of his violent war on drugs in the Phillipines, around 3,000 people have been killed.
Mr Duterte won a May election by a huge margin and is often compared with President-elect Trump, having himself been the alternative candidate from outside of national politics.
He campaigned on a populist, anti-establishment platform and struck a chord among ordinary Filipinos with his promises to fix what he called a broken country.
The most controversial quotes from Rodrigo Duterte

Show all 9
Following the shock election of the property tycoon as US President, the controversial Filipino leader congratulated him, saying: "Long live Mr Trump! We both curse at the slightest reason. We are alike," he said.
Additional reporting by Reuters
Register for free to continue reading
Registration is a free and easy way to support our truly independent journalism
By registering, you will also enjoy limited access to Premium articles, exclusive newsletters, commenting, and virtual events with our leading journalists
Already have an account? sign in
Register for free to continue reading
Registration is a free and easy way to support our truly independent journalism
By registering, you will also enjoy limited access to Premium articles, exclusive newsletters, commenting, and virtual events with our leading journalists
Already have an account? sign in
Join our new commenting forum
Join thought-provoking conversations, follow other Independent readers and see their replies