Central Park Five: Donald Trump still believes wrongfully convicted black and Latino men are guilty of 1989 rape
The five men, jailed when they were teenage boys, were exonerated in 2002 when a convicted rapist confessed to the 1989 attack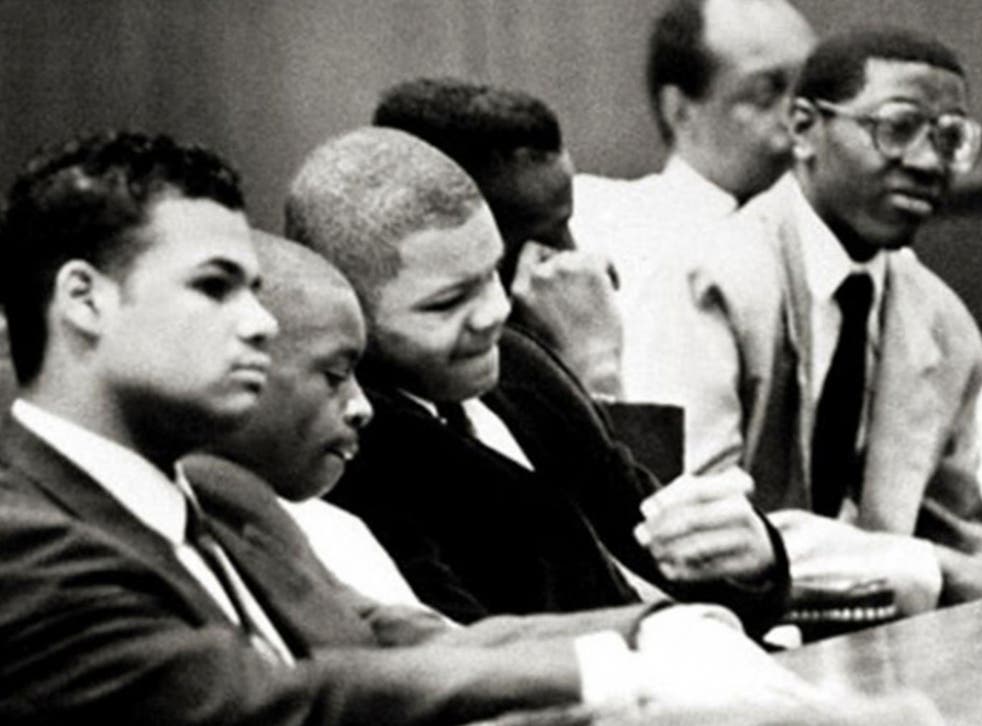 Donald Trump still insists that five black and Latino teenagers wrongly convicted of the 1989 rape of a jogger in New York City are guilty, despite their 2002 exoneration.
Five teenage boys – commonly known as the Central Park Five – spent the better part of a decade in jail after New York police arrested them for the rape of a white woman while she jogged through the expansive Manhattan park.
The boys first confessed to the crime after lengthy interrogations by detectives, but later recanted their statements, citing intimidation and coercion from police. In 2002, convicted rapist and murderer Matias Reyes confessed to the crime. Investigators later tied Reyes' DNA to the attack.
Nonetheless, Mr Trump, who was a loud, vocal advocate of punishing the five teenagers harshly, maintains that they are guilty.
"They admitted they were guilty," the Republican presidential nominee told CNN on Thursday. "The police doing the original investigation say they were guilty. The fact that the case was settled with so much evidence against them is outrageous. And the woman, so badly injured, will never be the same."
Shortly after the 1989 attack, Mr Trump paid nearly $100,000 to run full-page ads in four New York City papers calling for the execution of "roving bands of wild criminals".
"Bring back the death penalty. Bring back our police!" the ad read.
It continued: "I want to hate these muggers and murderers. They should be forced to suffer and, when they kill, they should be executed for their crimes. They must serve as examples so that others will think long and hard before committing a crime or an act of violence."
Michael W Warren an attorney for the five, called Mr Trump's advertisement "outrageous" in a 2002 interview with the New York Times.
"A lot of people felt it coloured the eyes of prospective jurors who ultimately sat on the case," he said. "Now it's even more appalling, with new evidence that points exclusively to another person. I think Donald Trump at the very least owes a real apology to this community and to the young men and their families."
One of the wrongly accused, Yusef Salaam, told CNN that he still hopes for an apology from Mr Trump.
"I keep saying to myself, 'One day, Donald Trump is gonna perhaps take a full-page ad out and apologise to the Central Park Five'," Mr Salaam said. "That would be tremendous."
Mr Salaam served seven years in prison with Antron McCray, Kevin Richardson, and Raymond Santana. Kharey Wise served 13 years after the group's 1990 conviction.
In 2014, New York City officials approved a $41m settlement for the Central Park Five, calling it a "prudent and equitable solution" that "closes a very difficult chapter in our city's history".
"It's a major victory for us," said Mr Santana. "It's difficult to hang up the gloves. We've never been given nothing easy. Everything has been a battle for us."
But Mr Trump still contended that the group was involved in some criminal activity, even if they were not guilty of the reported attack.
"They walked away with $41 million," he said after hearing of the settlement, "and the best thing they had going for them was they were wilding in other parts of the park, beating the hell out of people."
Co-directors of the 2012 documentary Central Park Five – Ken Burns, Sarah Burns, and David McMahon – issued a statement condemning Mr Trump's remarks this week.
"Mr Trump's comments on the five young men who were wrongfully convicted in the Central Park Jogger case are part of his worn out pattern of denying facts and evidence to promote a perverse alternate reality in which people of colour are seen as a threat to America," they said.
Register for free to continue reading
Registration is a free and easy way to support our truly independent journalism
By registering, you will also enjoy limited access to Premium articles, exclusive newsletters, commenting, and virtual events with our leading journalists
Already have an account? sign in
Register for free to continue reading
Registration is a free and easy way to support our truly independent journalism
By registering, you will also enjoy limited access to Premium articles, exclusive newsletters, commenting, and virtual events with our leading journalists
Already have an account? sign in