Donald Trump delivers speech at CIA to deny feud and criticize media coverage
This marks the president's first meeting with a government agency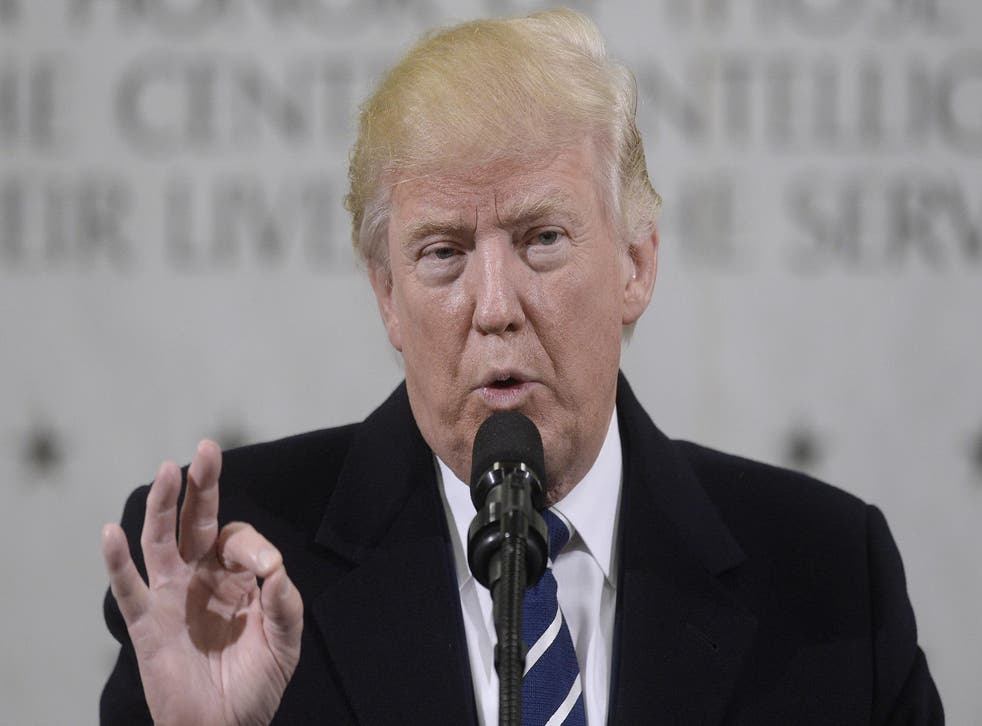 Donald Trump delivered a rambling, boastful speech in front of 300 CIA staffers Saturday in an attempt to win over support in the intelligence community.
The meeting follows the multi-agency investigation that determined Moscow interfered with November's election to allegedly help Mr Trump win the presidency—a report that the Trump administration and Russian President Vladimir Putin have vehemently denied.
While speaking at the agency's headquarters in McLean Virginia, President Trump hinted at using unlawful interrogation methods against terrorism suspects, complained about the way media outlets covered his inauguration crowds, and did his best to convince the CIA that he's behind the intelligence agency "1,000%" despite likening them to Nazis a few days prior.
"We haven't used the abilities we've got," he told his audience. "We've been restrained."
In pictures: Women of the world march against Trump

Show all 32
The president was able to generate a few laughs from the crowd by describing journalists as the most "dishonest human beings" while complaining about the way crowds were portrayed by the media. He then claimed that 1.5 million people were in attendance while official estimates have counted between 200-250,000.
Pool reports later indicated that attendants who were cheering and clapping when Mr Trump spoke were not CIA staffers but people who accompanied Mr Trump, Washington Post fact-checker Gary Kessler wrote on Twitter. He later clarified that it was unclear exactly who the people were, but senior CIA members standing in front did not react until the end of the speech.
When he wasn't complaining about the news media—along with a false report of the bust of Martin Luther King Jr being removed from the Oval Office—he worked to mend the fences with the agency whose investigating his ties to Russia.
"There is nobody that feels stronger about the Intelligence Community and the CIA than Donald Trump," he said, appearing fawn over his audience. "I am so behind you. You're going to get so much backing."
Following the brief news conference, the Democratic National Committee criticized the president.
"After he finished ranting about crowd sizes on the National Mall, I hope President Trump sat down for an interview with the CIA to help with their investigation into his team's possible collusion with the Kremlin to win the election," DNC Senior Adviser Zac Petkanas said in a statement.
"Next, he can sit down with the FBI who have sought warrants to monitor his team for the same reason."