Donald Trump's conflict of interest problem isn't going away - no matter what he tweets
Trump now appears to recognise the concerns. But he doesn't sound like he'll bow to them
Aaron Blake
Thursday 01 December 2016 08:06 Comments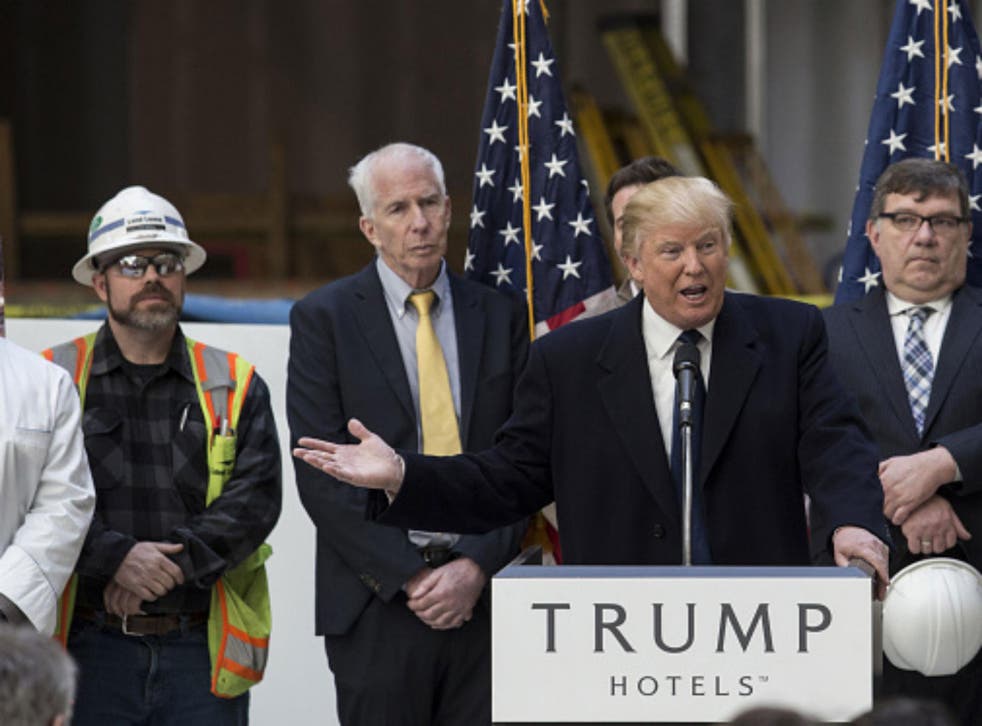 For the first time since being elected president three weeks ago, Donald Trump on Wednesday appeared to acknowledge major concerns about potential conflicts of interest between his presidency and his vast business empire.
In a series of tweets, Trump didn't provide much detail about his plans except to say that he'll hold a news conference - with his children alongside him, importantly - on December 15, and that "legal documents are being crafted which take me completely out of business operations."
But what could possibly be in those documents that would put to rest the myriad concerns about conflicts of interest marring his administration?
Experts I spoke to say any arrangement in which Trump continues to involve his children in his finances - the plan previously put forward by Trump's campaign - will fail to accomplish that task. Trump has compounded conflict concerns of late by moving to put his children in charge his fortune while still involving them in his soon-to-be presidency in a significant - and even unprecedented - way.
These experts commend Trump for recognising how troubling the potential conflicts could be. But they say that short of a true blind trust and divesting his foreign assets, these "legal documents" are unlikely to amount to much.
"On the bright side, at least he's now acknowledged that his involvement in the Trump Organisation creates conflicts of interest - or at the very least the appearance of conflicts," said Paul S. Ryan, a political law expert at the watchdog group Common Cause. "For now, we'll just have to pop some popcorn and wait for the December 15 episode of our nation's most serious and important new reality show - the Trump Presidency - when we're provided with the details regarding what his tweets this morning meant."
Ryan added that nothing short of Trump removing himself from the ownership of his companies will fully put these concerns to rest. "If he maintains ownership, his personal financial interest in the Trump Organisation will continue to conflict with the public's interest in how our federal government is run," he said.
Meredith McGehee, a strategic adviser at the Campaign Legal Center, said Trump could also take a major step toward reducing conflicts by divesting his foreign interests - which he could ostensibly do even with his children in charge. But she said that a true blind trust is a must-have. (Trump's lawyer has described his children running his business as a "blind trust," but it doesn't meet the definition.)
"We don't know if he in effect turns over operational control to his kids what those firewalls will look like," she said. "There's pretty widespread agreement that turning this over to his kids would not solve the conflict of interest problem." She added: "The blind trust is really the key. Anything else, and he's going to spend four years of his administration getting distracted by these accusations rather than policy."
The US Office of Government Ethics, meanwhile, pushed Trump to embrace a "total divestiture" in an uncharacteristic (for a government institution) tweetstorm Wednesday that pretended as if Trump had already committed to doing so.
But if we're reading between the lines of Trump's tweets, it seems likely that he still plans to hand the business to his children. They will be at the news conference, after all, and this would technically satisfy his promise to take himself "completely out of business operations."
And Trump still sounds defiant. He emphasises, after all, that he doesn't have to do this. And the tweets follow on the heels of him telling the New York Times last week that "the president can't have a conflict of interest." It sounds a lot like a guy who is preparing to make an argument that giving the business to his kids is good enough.
But taking himself out of his "business operations" doesn't mean there's a firewall between the presidency and his business. A true blind trust involves an independent party making decisions about assets to which the subject of the blind trust isn't privy. If the subject of the blind trust is speaking frequently with those running his business and even involving them in official US government business, that opens the door to all kinds of questions about just how separate Trump's presidential business is from his private business.
Trump's finances and far-reaching foreign interests are problematic in and of themselves, given they are unprecedented for a US president. The likelihood that any one decision he makes will affect his own fortune is exponentially higher than basically any other president.
On top of that, Trump's lawyer has said since his election that the Trump Organisation will be put in the hands of Trump's three oldest children - Donald Jr., Ivanka and Eric Trump. And on top of that, reports indicate that Trump may try to shoehorn Ivanka Trump's husband, Jared Kushner, into the White House despite anti-nepotism laws. Adding another layer, Kushner and Ivanka Trump were both present at a meeting with Japanese Prime Minister Shinzo Abe earlier this month - a move that suggests they'll be involved in high-level presidential business and that there won't be much of a firewall between them and the president-elect, even as Ivanka and her two brothers are supposed to be running his finances independently of him.
President Donald Trump life in pictures

Show all 16
The Fix's Philip Bump recently ran down other potential conflicts that have emerged in the past few weeks, including Trump projects in the countries of Georgia and Argentina moving forward following his election and, as The Post reported, foreign diplomats apparently using the new Trump hotel in Washington as a way to curry favor with the president-elect.
It remains to be seen what kind of arrangement Trump will produce on December 15. But, Trump's tweets don't change much of anything. The good news is that he's holding a news conference for the first time in more than four months.
We'll see if he submits to questions about the business handover. There are certainly a lot of them right now.
The Washington Post
Register for free to continue reading
Registration is a free and easy way to support our truly independent journalism
By registering, you will also enjoy limited access to Premium articles, exclusive newsletters, commenting, and virtual events with our leading journalists
Already have an account? sign in
Join our new commenting forum
Join thought-provoking conversations, follow other Independent readers and see their replies