Donald Trump CPAC speech: Crowd members 'wave Russian flags' in support of US President
Props reportedly handed out to supporters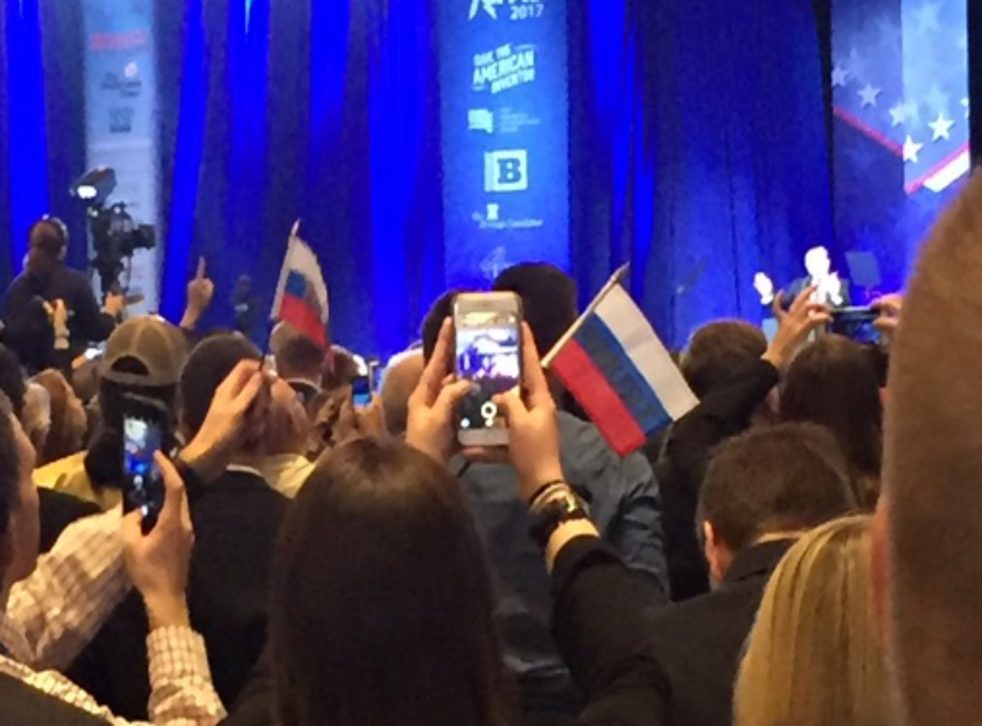 Audience members at the Conservative Political Action Conference have been pictured waving what appear to be Russian flags as they listened to Donald Trump's speech.
In photos that emerged from the crowded conference hall in Washington, people in the crowd can be seen waving the flags emblazoned with the word "Trump", next to supporters wearing Make America Great Again hats.
According to one attendee, the flags were handed out to college students in the audience who may not have been aware of the fact they bore Russia's national colours.
It was unclear who handed out the flags or whether they were distributed in protest or support of the Republican leader.
The mini flags were reportedly confiscated shortly after by White House officials working at the event.
Mr Trump renewed his attack on the press in his first speech as US President at the Conservative gathering, defending his decision to call "fake news" the enemy of the American people.
"I'm not against the media. I'm not against the press," he said.
"I'm not against the press. I'm not against the bad stories...I'm only against the fake news media and press."
It came after he launched a further attack on the intelligence community earlier in the day, who he accused of leaking controversial information to the press, including news his senior campaign aides were being investigated for links to Russian intelligence.
Join our new commenting forum
Join thought-provoking conversations, follow other Independent readers and see their replies