Donald Trump wouldn't have to make $18m education cuts if Melania lived in White House instead of Trump Tower
Security expenditure for the First Lady and her son costs between $127,000 (£102,000) and $145,000 (£116,000) per day, according to the New York Police Department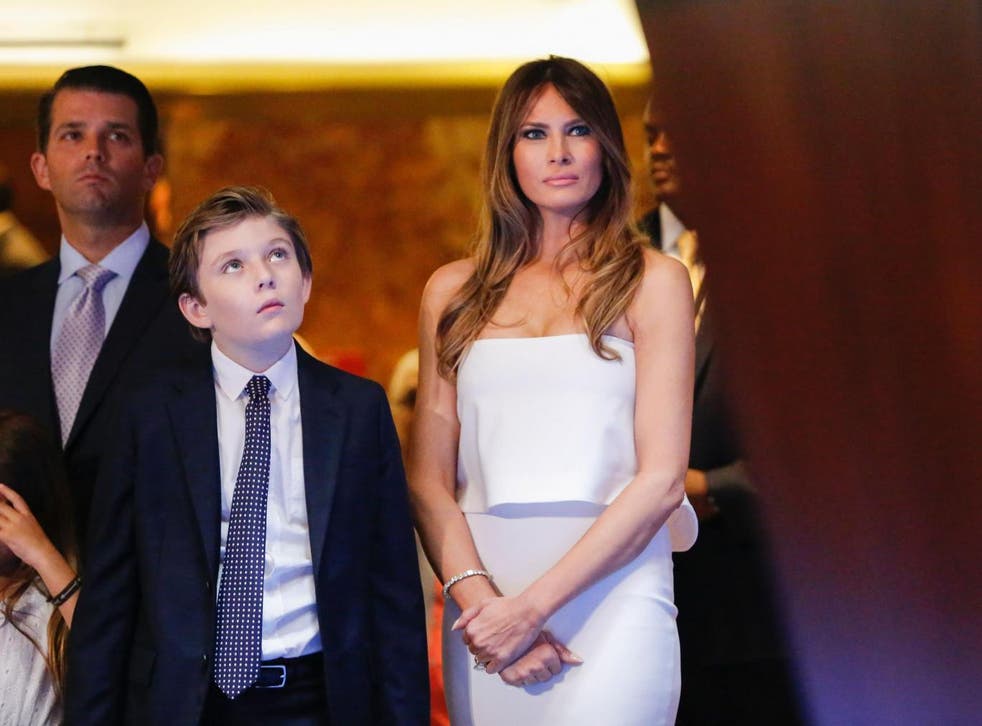 Donald Trump could reverse recently announced cuts to education programmes if his wife and son moved out of New York's Trump Tower and into the White House, figures show.
Security expenditure for Melania Trump and 10-year-old Barron costs between $127,000 (£102,000) and $145,000 (£116,000) per day, or an average of $136,000 (£109,000), according to the New York Police Department (NYPD).
Although this is not as high as when the President lived there, which the force recently revealed came to $308,000 (£248,000) per day, US taxpayers have nonetheless paid around $8.6 million (£6.9 million) too look after the First Lady and her son.
The pair are expected to remain in the building until June, meaning the overall cost to taxpayers could amount to around $18.2 million (£14.6 million).
Calculations show that this amount could cover two mayor education programmes Mr Trump has proposed to eliminate in his recently announced budget.
The Woodrow Wilson International Centre for Scholars, which provides scholarships and fellowships in social sciences and humanities is set to lose out on $11 million (£8.87 million) worth of funding.
Funding for International Education programmes, which run a variety of exchanges, migrant schools and special education services abroad also looks likely to have $7 million (£5.65 million) cut.
Both programmes now face elimination, but their combined cost of $18 million (£14.5 million) is less than the price tag for keeping Ms Trump and her son in New York.
Barack Obama requested $10.4 million (£8.3 million) in his 2017 budget for the the Wilson Centre, a think tank which conducts "its own original research on many of the most pressing major global issues and has unique expertise on countries and regions around the world".
Trump says 'Obamacare is dead' as he prepares to repeal and replace healthcare act
The International Education programme, run by the Department of Education, provides important funding for foreign language studies and teaching abroad.
The two programmes are among hundreds of services and agencies that face elimination in Mr Trump's $1.15 trillion (£1 trillion) budget –— titled 'America First: A Budget Blueprint to Make America Great Again' — which also stated plans to slash funding for Meals on Wheels, a program that provides meals for the poor, elderly and veterans, as well as health care and nutrition for low-income women, infants and children.
The controversial orders Donald Trump has already issued

Show all 9
It also proposed a $54 billion (£44 billion) increase in defence spending.
It is thought that the First Lady and the presidential couple's son will be moving to join Mr Trump in Washington in June.
Separate calculations have meanwhile shown the security and travel costs of the President's trips to his private Palm Beach resort Mar-a-Lago, will cost an estimated to amount to $600 million over four years.
Register for free to continue reading
Registration is a free and easy way to support our truly independent journalism
By registering, you will also enjoy limited access to Premium articles, exclusive newsletters, commenting, and virtual events with our leading journalists
Already have an account? sign in
Register for free to continue reading
Registration is a free and easy way to support our truly independent journalism
By registering, you will also enjoy limited access to Premium articles, exclusive newsletters, commenting, and virtual events with our leading journalists
Already have an account? sign in
Join our new commenting forum
Join thought-provoking conversations, follow other Independent readers and see their replies