11 things that have happened since Donald Trump was elected
Mr Trump's approval ratings show he is the least popular incoming President for 40 years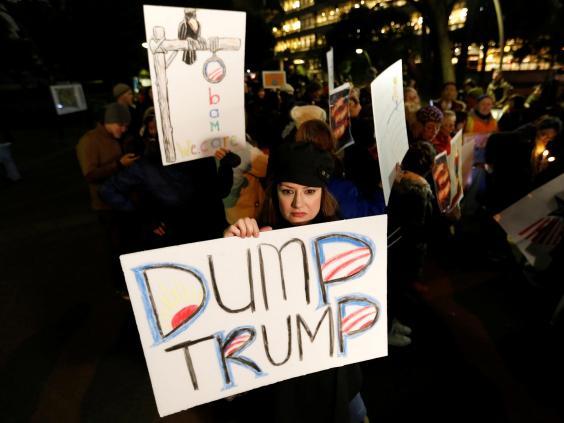 1. The President-elect has threatened to re-ignite a nuclear arms race
On 22 December, Mr Trump tweeted his desire for the US, under his leadership, to "greatly strengthen and expand its nuclear capability".
The following morning, the President-elect was given a chance to clarify his position on MSNBC. In typically cautious fashion, Mr Trump told the news anchor Mika Brzezinski: "Let there be an arms race, because we will outmatch them at every pass and outlast them all."
However, we might not need to worry too much about the threat of all-out nuclear war. Mr Trump has also floated the possibility of some kind of disarmament deal with President Putin. "Let's see if we can make some good deals with Russia," he said at a press conference. "For one thing, I think nuclear weapons should be way down and reduced very substantially."
If Mr Trump were to expand the US' nuclear capability, it would be an unprecedented reversal of the US defence policy of recent decades.
2. A climate change sceptic is now head of the Environmental Protection Agency
A number of Trump's cabinet picks have been highly controversial – and none more so than Scott Pruitt, an Attorney General who has spent his political career battling many of Barack Obama's attempts to curb America's sky-high carbon emissions. In his LinkedIn bio, he attacks the agency he is about to take charge of, describing himself as a "a leading advocate against the EPA's activist agenda"
Mr Pruitt has sued the Environmental Protection Agency no less than fourteen times. In an article published in May, he stated his belief that the climate change debate is "far from settled".
​
3. The spike in hate crime has levelled off, but is still above pre-election levels
In the days immediately following Mr Trump's election, the Southern Poverty Law Centre recorded more than 1000 hate crimes. The group said that they would normally expect to see this kind of figure over a six month period.
This dramatic increase has now levelled off, but the rate of hate crimes is still above pre-election levels, the group has said. Since Mr Trump's election, there have been at least 16 attacks on synagogues and other Jewish centres, and swastika graffiti has appeared in public places across the country.
4. Trump's approval rating has plummeted
The most recent set of opinion polls have indicated that Mr Trump's approval rating has nosedived since the election. Of course, the President-elect was quick to hit back with claims that the polls were "rigged".
A CNN/ORC poll released on Tuesday morning showed Mr Trump with 40 per cent approval – 6 points lower than it was after election day. By way of comparison, Barack Obama entered the White House eight years ago riding high on a 79 per cent approval rating.
According to The Washington Post, these polls indicate Trump is the least popular incoming president for forty years, by quite some distance.
5. The President-elect has threatened to go to war with his own intelligence agencies
Mr Trump has repeatedly attacked the CIA in recent weeks, at one point comparing its behaviour to "Nazi Germany". Relations have been particularly volatile ever since a US intelligence report concluded Russia had interfered with the election in order to help Mr Trump win.
More recently, the President-elect has accused the agency of leaking the explosive dossier which alleged that Russia had gathered compromising information on Mr Trump, which Vladimir Putin and his allies are using to influence him.
Mr Trump also (falsely) claimed that his intelligence briefing on Russian hacking had been delayed – and suggested that this was because the CIA needed more time to fabricate "intelligence".
6. The value of the dollar rocketed
The value of the US dollar surged in the weeks after Mr Trump's election, reaching a 14-year high against other currencies in a global index, as the markets reacted to his pro-business campaign promises. Mr Trump's will mark one of the best performances for stocks for any presidential transition period of modern times; the S&P 500 stock market index is up 5.8 per cent since the vote.
However, this rapid increase has levelled off in recent days, as markets nervously await the first moves of a volatile Trump presidency.
7. ...while the Mexican peso crashed to an all time low
Meanwhile, the Mexican economy is badly suffering. Mr Trump's threats to pressure American companies to move factories out of Mexico, impose tariffs on Mexican products, and renegotiate the terms of the North Atlantic Free Trade Agreement have plunged the peso down to an all-time low against the dollar.
Two major manufacturers have abandoned Mexico expansion plans, and Mr Trump has threatened General Motors and BMW with a border tax on vehicles built there.
8. The anti-abortion movement is gaining momentum
Mr Trump has repeatedly aligned himself with the pro-life movement, and has said he would like to see Roe v Wade, the Supreme Court ruling which legalised abortion in the US, overturned.
The Century Foundation found that US legislators introduced more than 400 measures aimed at limiting abortion access in 2016. Mr Trump has also threatened to defund Planned Parenthood, the country's largest abortion provider, and is expected to reinstate the global gag rule, a Reagan-era policy which prevents foreign NGOs from receiving any US aid if they offer terminations.
Marjorie Dannenfelser, the president of a national anti-abortion group, said: "This is the strongest the pro-life movement has been since 1973," while a Texan member of the House of Representatives has vowed to use this favourable moment to produce "an absolute onslaught of pro-life legislation in the next session [of 2017]".
9. Trump has broken a series of campaign promises
Unsurprisingly, the President-elect has already backpedalled on a number of his pledges.
Mr Trump repeatedly told rallies that he would build a "great wall on our southern border" – and that Mexico would pay for its construction. The "great border wall" was one of the most memorable political memes of the entire campaign.
However, Mr Trump was recently forced to admit that he would initially use US taxpayer's money to fund the $14bn dollar project.
He also promised to "drain the swamp" of politicians and corporate power in Washington – but has instead appointed experienced Republicans, Goldman Sachs alumni, and multiple billionaires to the top jobs in his administration.
10. Cities across America have said they will refuse to comply with Trump's immigration policy
At least 37 cities across America have said they will not comply with Trump's more aggressive immigration policies. These "sanctuary cities" include liberal centres like San Francisco, New York, and Portland, Oregon.
However, the President-elect has pledged that one of the top priorities for his first 100 days in office is to "cancel all funding to sanctuary cities," which might limit these acts of federal disobedience.
Mr Trump has vowed to deport three million illegal immigrants on his very first day in office.
11. People have donated millions to activist organisations
Progressive causes have seen a huge spike in donations since Mr Trump's election. Planned Parenthood, whose future is severely threatened by the incoming administration, has received more than 300,000 individual donations in the six weeks since the election, 40 times its normal rate.
Many of these donations – 82,000, to be precise – were made in the name of Mr Trump's staunchly pro-life Vice-President, Mike Pence. Planned Parenthood mail a certificate of thanks to Mr Pence's office every time a donation is made.
The American Civil Liberties Union, which has vowed to mount legal challenges to a number of Trump's policy proposals, has also raised $23 million since the election.
Join our commenting forum
Join thought-provoking conversations, follow other Independent readers and see their replies