Trump has made 4,229 false or misleading claims since he became president, 588 days ago
On 5 July, the president reached a new daily high of 79 incorrect statements
Glenn Kessler
,
Salvador Rizzo
,
Meg Kelly
Thursday 02 August 2018 11:41 Comments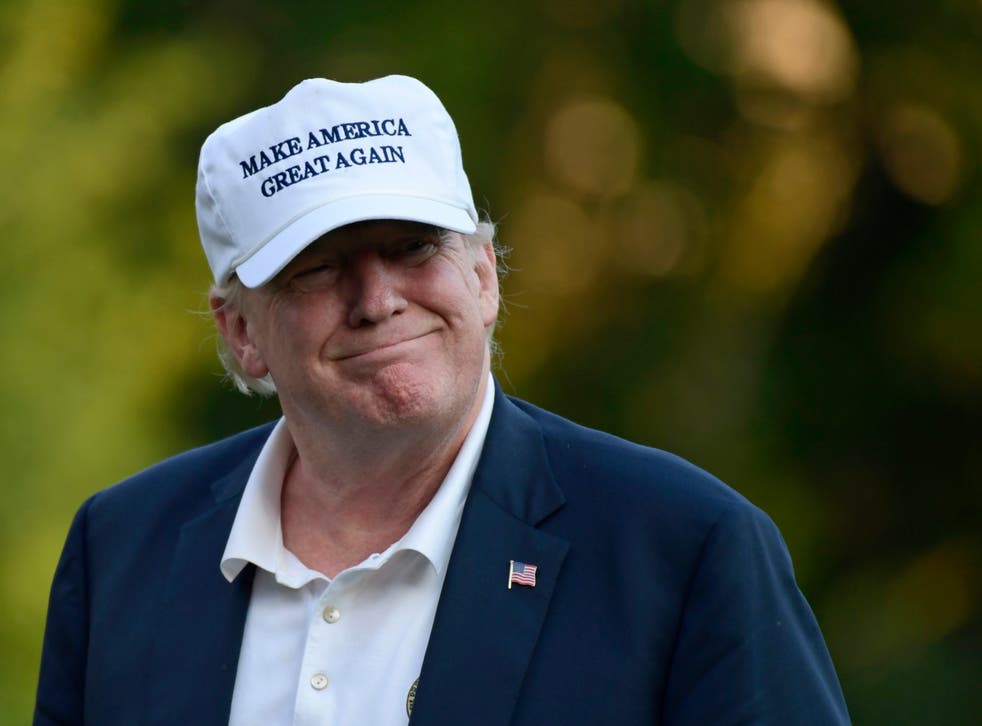 Due to summer vacation schedules, The Washington Post had fallen a month behind in updating its Fact Checker's database that analyses, categorises and tracks every suspect statement uttered by the American president.
It turns out that this was when the president decided to turn on the spigots of false and misleading claims. As of day 558, he has made 4,229 Trumpian claims – an increase of 978 in just two months.
That is an overall average of nearly 7.6 claims a day.
When they first started this project for the president's first 100 days, he averaged 4.9 claims a day. But the average number of claims per day keeps climbing the longer Mr Trump stays in office. In fact, in June and July, the president averaged 16 claims a day.
Put another way, in his first year as president, Mr Trump made 2,140 false or misleading claims. Now, just six months later, he has almost doubled that total.
On 5 July, the president reached a new daily high of 79 false and misleading claims. On a monthly basis, June and July rank in first and second place, with 532 and 446 claims, respectively.
Trump has a proclivity to repeat, over and over, many of his false or misleading statements. They have counted nearly 150 claims that the president has repeated at least three times, some with breathtaking frequency.
Almost one third of Mr Trump's claims – 1,293 – relate to economic issues, trade deals or jobs. He frequently takes credit for jobs created before he became president or company decisions with which he had no role. He cites his "incredible success" in terms of job growth, even though annual job growth under his presidency has been slower than the last five years of Barack Obama's term.
World news in pictures

Show all 50
Just on trade, the president has made 432 false or misleading claims. He frequently gets the size of trade deficits wrong or presents the numbers in a misleading fashion.
He also indicates a fundamental misunderstanding of economics. In June and July, more than 20 times the president said some variation of the claim that the United States "lost" money on trade deficits. Just about every economist would give a student an "F" for making such a statement.
A trade deficit simply means people in one country are buying more goods from another country than people in the second country are buying from the first. Trade deficits are also affected by macroeconomic factors, such as the relative strength of currencies, economic growth rates, and savings and investment rates.
Not surprisingly, immigration is the top single source of Mr Trump's misleading claims, now totalling 538.
Thirty times just in the past five months, for instance, the president has falsely claimed his long promised border wall with Mexico is being built, even though congress has denied funding for it.
But moving up the list quickly are claims about the investigation into Russian interference in the 2016 election and whether people in the Trump campaign were in any way connected to it. The president has made 378 statements about the Russia probe, using hyperbolic claims of "worse than Watergate," "McCarthyism" and, of course, "witch hunt". He often asserts the Democrats colluded with the Russians, even though the Democratic National Committee and the Clinton campaign were victims of Russian activities, as emails were hacked and then released via WikiLeaks. All told, nearly 160 times the president has made claims suggesting the Russia probe is made up, a hoax or a fraud.
Misleading claims about taxes – now at 336 – are also a common feature of Trump's speeches. Eighty-eight times, he has made the false assertion that he passed the biggest tax cut in US history.
On foreign policy, the president consistently misstates Nato spending. More than 60 times, he has falsely said the United States pays as much as 90 per cent of the alliance's costs and that other Nato members "owe" money. But he is conflating overall defence spending with Nato obligations – and the United States, unlike many Nato allies, has global responsibilities.
They also have catalogued the president's many "flip-flops", which is when a politician shifts position on an issue without acknowledging that he or she did so.
Given that the president has been in office more than 18 months, they decided to begin phasing out the listing of his astonishing flip-flop on the accuracy of the unemployment rate. During the campaign, he repeatedly claimed that it was a phoney number and the real unemployment rate was really many times higher. Now, he regularly touts unemployment statistics as proof of his economic agenda's success, though he does not always get them right. His refusal to acknowledge this shift has been frustrating, but even flip-flops have a statute of limitations.
The Washington Post
Register for free to continue reading
Registration is a free and easy way to support our truly independent journalism
By registering, you will also enjoy limited access to Premium articles, exclusive newsletters, commenting, and virtual events with our leading journalists
Already have an account? sign in
Join our new commenting forum
Join thought-provoking conversations, follow other Independent readers and see their replies