'I just have me and my family': Donald Trump acts defiant as Republicans distance themselves from nominee
The relatively bare line-up of speakers at Mr Trump's rallies have not gone unnoticed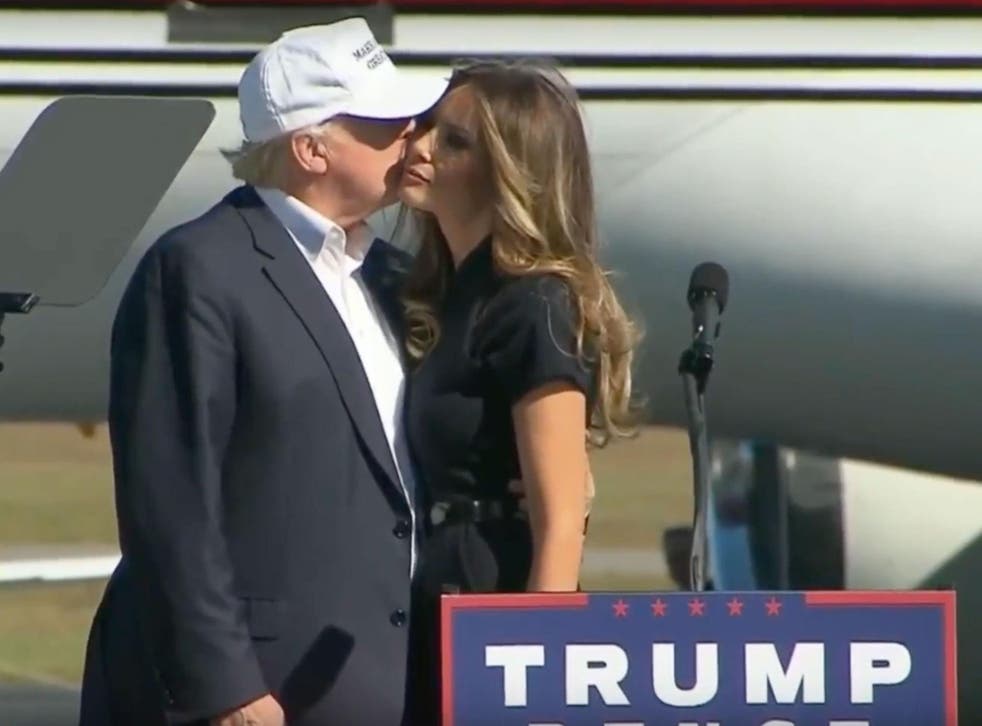 Donald Trump has turned the spotlight on his family at rallies during the final days before the election as more Republicans have turned their backs on the nominee.
At a rally at Wilmington International Airport in North Carolina, the real estate mogul stuck to the same themes as throughout the campaign - Obamacare, trade deals and border security - but one thing that seemed to intensify was the focus on his family.
Referring to big celebrities like Beyonce and Jay Z supporting Hillary Clinton, he said: "I just have me, but I have my family. I have my family."
His wife, Melania Trump, introduced her husband on the airport runway, the second time she has given a speech since she was accused of plagiarizing Michelle Obama at the Republican National Convention in July.
"Donald is a wonderful husband, father and grandfather," she said. "He's strong, he's determined, bold and decisive. He's also compassionate, thoughtful, giving and loving."
Mr Trump rushed over to plant a kiss on his wife as she continued her speech.
When she introduced Mr Trump to the stage, he kissed her several times and claimed she had done a "wonderful job".
He thanked his children, including his son Eric Trump and his wife, Lara, who had walked down the plane steps with him and Melania Trump.
He also hauled up the North Carolina governor Pat McCrory to the stage, telling the crowd that the governor "had been loyal to Trump since day one".
His defiance comes the day after many big names including Beyonce, Stevie Wonder and Katy Perry campaigned for his rival.
"We don't need Jay Z to fill up arenas," he told another crowd in Florida earlier Saturday morning.
"You know she can't get any crowds. She doesn't have what it takes to do rallies all over the place. She wants to go home and go to sleep."
House speaker Paul Ryan campaigned alongside running mate Mike Pence on Saturday. He has distanced himself from the real estate mogul, claiming he would no longer defend him but would still cast his vote for Mr Trump.
Despite a lack of support in some GOP quarters, both Mr and Ms Trump said the election was a "last chance" for voters to bring about "badly needed change" in their lifetime.
Register for free to continue reading
Registration is a free and easy way to support our truly independent journalism
By registering, you will also enjoy limited access to Premium articles, exclusive newsletters, commenting, and virtual events with our leading journalists
Already have an account? sign in
Register for free to continue reading
Registration is a free and easy way to support our truly independent journalism
By registering, you will also enjoy limited access to Premium articles, exclusive newsletters, commenting, and virtual events with our leading journalists
Already have an account? sign in
Join our new commenting forum
Join thought-provoking conversations, follow other Independent readers and see their replies