Donald Trump 'threatened to kill rape accuser if she reported him'
Jane Doe pulls out of press conference citing 'numerous threats'
Samuel Osborne
Thursday 03 November 2016 16:09 Comments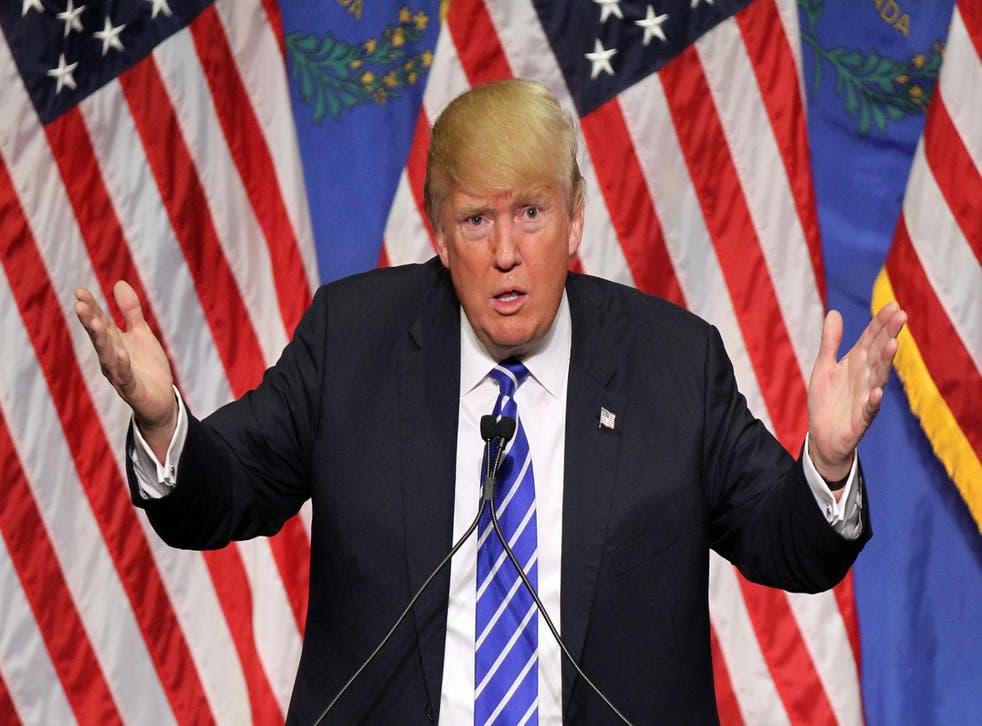 Further details of the child rape accusation against Donald Trump have been thrust into the spotlight after his accuser failed to show up at a press conference citing "great fear" after receiving "terrible threats".
Jane Doe alleges Mr Trump raped her when she was 13 years old at a party in 1994 at a New York apartment belonging to billionaire investor Jeffrey Epstein, who was convicted of soliciting an underage prostitute in 2008.
The lawsuit claims that after the rape, Mr Trump threatened the plaintiff by saying if she ever revealed any details, her and her family "would be physicaly harmed, if not killed".
Every woman to make sexual assault claims against Donald Trump

Show all 16
Speaking at a Los Angeles press conference yesterday, her lawyer told reporters the accuser planned to reschedule the press conference.
"Jane Doe has received numerous threats today, as have all the Trump accusers that I have represented," Lisa Bloom told reporters.
"She is living in fear. She has decided that she is too afraid to show her face. She has been here all day, ready to do it, but unfortunately, she's in terrible fear."
Mr Trump has vehemently denied the rape allegations against him and said they are an attempt to smear him as he campaigns for the presidency. His lawyer, Alan Garten, called the claims "reckless, irresponsible and categorically untrue".
Two witness statements have been submitted from Tiffany Doe, a woman who claims to have worked as a "recruiter" of young women for Epstein's parties.
Another witness, Joan Doe, said the alleged victim shared the story of the assault a few months after she said they occurred.
In court documents, the plaintiff said she was assaulted at four different parties. She is suing for $75,000.
She said she was lured to the parties "by promises of money and a modeling career".
"During the course of this savage sexual attack, Plaintiff loudly pleaded with Defendant Trump to stop but with no effect.
"Defendant Trump responded to Plaintiff's pleas by violently striking Plaintiff in the face with his open hand and screaming that he would do whatever he wanted."
Epstein, who was convicted in 2008 of soliciting an underage girl for prostitution and served a portion of an 18-year sentence, is also accused of raping Jane Doe. He has denied the allegations.
In a New York Magazine profile of Epstein before he went to prison, Mr Trump said: "I've known Jeff for fifteen years. Terrific guy.
"He's a lot of fun to be with. It is even said that he likes beautiful women as much as I do, and many of them are on the younger side. No doubt about it ― Jeffrey enjoys his social life."
Donald Trump calls sexual abuse allegations 'pure fiction'
Mr Trump has faced numerous sexual assault allegations following the release of audio that captured him bragging about groping and kissing women. Nearly a dozen women have accused him of sexual misconduct during the last month of his presidential campaign.
His ex-wife Ivana previously accused him of "raping" her during their divorce in 1991 - though she later said it was not in "a literal or criminal sense".
She accused him of rape after he allegedly ripped her clothes off to have sex with her in a "violent assault". Mr Trump denied the allegation and said it was "obviously false".
Another woman accused Mr Trump of sexual assault and attempted rape in 1997.
Jill Harth, 34, alleged in a federal lawsuit that Mr trump violated her "physical and mental integrity" by touching her intimately without her consent, according to The Guardian.
Ms Harth later voluntarily withdraw the lawsuit when a parallel case brought against Mr Trump by her husband, who had gone into business with him, was settled. When The Guardian text her to ask whether she still stood by the allegations, she reportedly replied: "Yes."
An initial hearing of the civil lawsuit has been scheduled for 16 December.
Register for free to continue reading
Registration is a free and easy way to support our truly independent journalism
By registering, you will also enjoy limited access to Premium articles, exclusive newsletters, commenting, and virtual events with our leading journalists
Already have an account? sign in
Join our new commenting forum
Join thought-provoking conversations, follow other Independent readers and see their replies