Donald Trump's likely defence secretary pick warned Israel was creating 'apartheid' state with Palestine
An advisor previously said Mr Trump was 'sceptical' of the two-state solution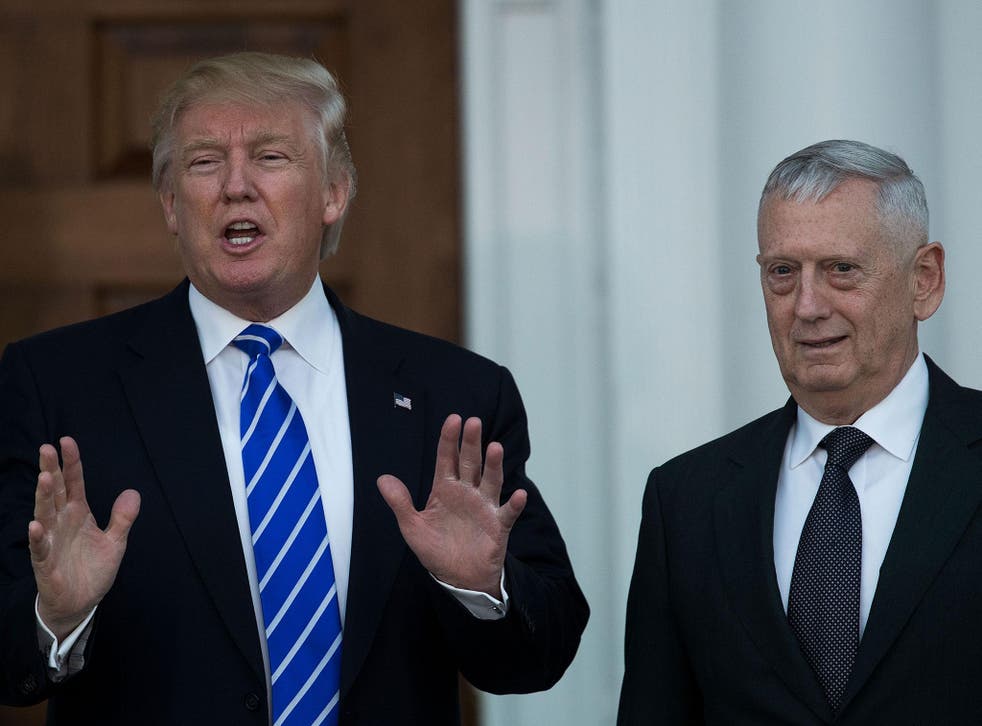 The retired Marine Corps General tipped by President-elect Donald Trump as an "impressive" prospect for defence secretary previously warned Israel could become an apartheid state.
General James Mattis met with Mr Trump on Saturday, reportedly to discuss a cabinet post.
"General James "Mad Dog" Mattis, who is being considered for Secretary of Defense, was very impressive yesterday," Mr Trump tweeted after the meeting. "A true General's General!"
Mr Mattis led the US Central Command (CENTCOM) from 2010 to 2013 and oversaw the US withdrawal from Iraq
He has been quoted as saying: "Be polite, be professional, but have a plan to kill everyone you meet."
Shortly after leaving his position at CENTCOM in 2013, he said Israeli settlement building was obstructing the possibility of a two-state solution.
The Israeli–Palestinian conflict intensifies

Show all 10
"The current situation is unsustainable," Mr Mattis said during a CNN panel discussion at the Aspen Security Forum in Colorado.
"It's got to be directly addressed. We have got to find a way to make the two-state solution that Democrat and Republican administrations have supported.
"We've got to get there, and the chances for it are starting to ebb because of the settlements, and where they're at, they're going to make it impossible to maintain the two-state option."
Mr Mattis' position may put him into conflict with the President-elect. In October, an advisor said Mr Trump was "sceptical" of the efficacy of the two-state solution.
However, during his campaign he said he would continue the current US policy, which advocates for a two-state solution.
He went on to specifically warned if Israel continued to expand its settlements, it could become an apartheid state.
"If I'm in Jerusalem and I put 500 Jewish settlers out here to the east and there's 10,000 Arab settlers in here, if we draw the border to include them, either it ceases to be a Jewish state or you say the Arabs don't get to vote — apartheid," he said.
He added: "That didn't work too well the last time I saw that practiced in a county."
Register for free to continue reading
Registration is a free and easy way to support our truly independent journalism
By registering, you will also enjoy limited access to Premium articles, exclusive newsletters, commenting, and virtual events with our leading journalists
Already have an account? sign in
Register for free to continue reading
Registration is a free and easy way to support our truly independent journalism
By registering, you will also enjoy limited access to Premium articles, exclusive newsletters, commenting, and virtual events with our leading journalists
Already have an account? sign in
Join our new commenting forum
Join thought-provoking conversations, follow other Independent readers and see their replies