Donald Trump's latest attack on Barack Obama over Guantanamo Bay releases turns out to be completely false
113 of '122 vicious prisoners' mentioned by President were released by Bush administration
Lizzie Dearden
Tuesday 07 March 2017 14:39 Comments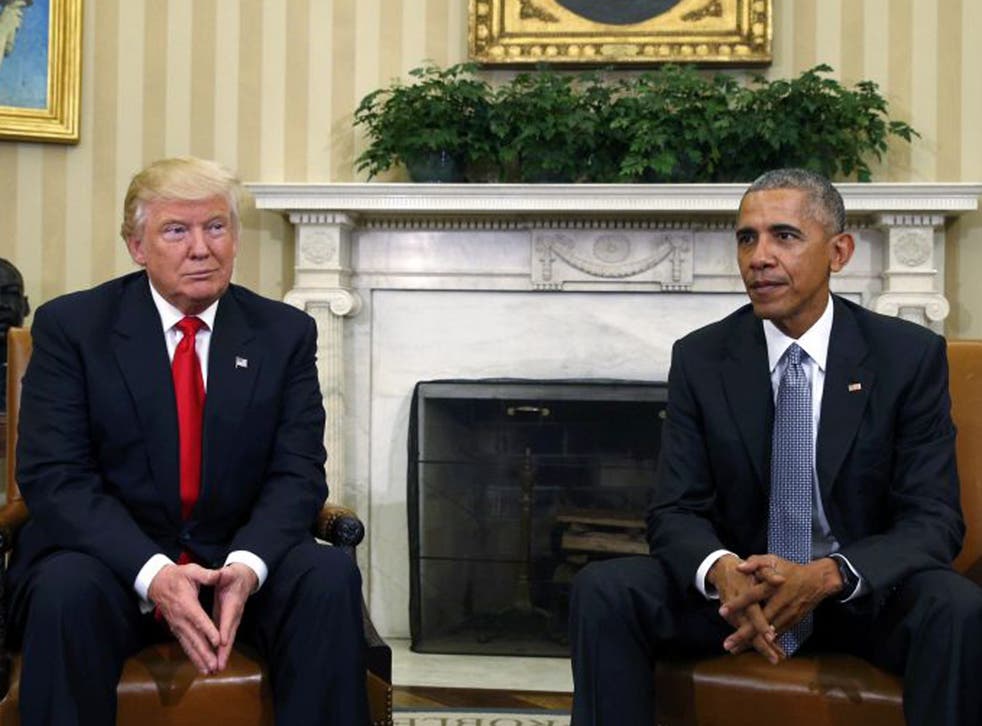 Donald Trump's claim that Barack Obama was responsible for the release of 122 Guantanamo prisoners who then "returned to the battlefield" has been proven false by a US intelligence report.
The President wrote on Twitter: "122 vicious prisoners, released by the Obama Administration from Gitmo, have returned to the battlefield. Just another terrible decision!"
The figure appeared to have been taken from a misinterpreted report released by the Director of National Intelligence (DNI) in September.
It found that 122 out of 693 former detainees surveyed – 18 per cent – had been "confirmed" as having reengaged in terrorist or insurgent activities.
But only nine of those (6 per cent) were released under Barack Obama's administration, with the vast majority freed before his inauguration on 22 January 2009, under George W Bush.
In total, 532 prisoners had been released by the Bush administration and 161 under Mr Obama as of July 2016, the report found.
The DNI found that American policy to send prisoners to countries experiencing conflict and terrorist activity was partly driving reengagement rates.
"Transfers to countries with ongoing conflicts and internal instability as well as recruitment by insurgent and terrorist organisations could pose problems," the report said.
"While enforcement of transfer conditions may deter reengagement by many former detainees and delay reengagement by others, some detainees who are determined to reengage will do so regardless of any transfer conditions, albeit probably at a lower rate than if they were transferred without conditions."
Shaker Aamer: Guantanamo's last British detainee

Show all 10
It classified confirmed terrorist or insurgent activities as a "preponderance of information" identifying the detainee in activities including conducting a terror attack, fighting in an insurgency, financing or recruiting for extremist groups and facilitating their operations.
The report did not count communications with former Guantanamo detainees or past terror associates, or writing "anti-US books, articles or making anti-US propaganda statements" as reengagement.
It said a further 86 (12 per cent) of freed inmates were suspected of being involved in extremist activity but allegations could not be verified.
Mr Trump's claim came days after the Pentagon announced a former Guantanamo Bay detainee had been killed in a drone strike in Yemen.
Yasir al-Silmi died little over a week after Isis announced the death of another former Guantanamo Bay detainee – British militant Jamal al-Harith – in a suicide bombing in Mosul.
Several former Guantanamo Bay prisoners have been linked with terror groups since their release, but others have been found guilty of no crime or become prominent campaigners.
Established the year after the 9/11 terror attacks, the facility was used to house 779 indefinite detention without trial, with evidence emerging of widespread torture and abuse.
Lawyers for the Bush administration argued that the prison could be considered outside protections under US law and the Geneva Convention, but the US Supreme Court threw out the claim.
More than 530 detainees were released under President Bush, with Mr Obama taking office with 242 remaining and launching repeated attempts to close the facility.
His plans were thwarted in Congress by members who did not want prisoners relocated to the US for detention or trial and Mr Obama left his post earlier this year with 41 detainees at Guantanamo after successive rounds of transfers.
The President's comments were the latest attack on Mr Obama, with recent days seeing him take to Twitter to lash out at Obamacare and sensationally claim his predecessor had ordered a wiretap on Trump Tower during the election.
A spokesperson for Mr Obama and security officials denied the allegations as a row continued over links between members of the Trump administration and the Russian government.
Mr Trump's latest allegations came as he seeks support for a new version of his crushed immigration ban targeting citizens of six Muslim-majority countries, as well as a controversial pledge to publish lists of crimes committed by non-US citizens.
Register for free to continue reading
Registration is a free and easy way to support our truly independent journalism
By registering, you will also enjoy limited access to Premium articles, exclusive newsletters, commenting, and virtual events with our leading journalists
Already have an account? sign in
Join our new commenting forum
Join thought-provoking conversations, follow other Independent readers and see their replies