50,000 Haitians face being deported by Trump back to country still reeling from natural disasters
The proposal has been criticised by Democrats and Republicans alike
Andrew Buncombe
New York Comments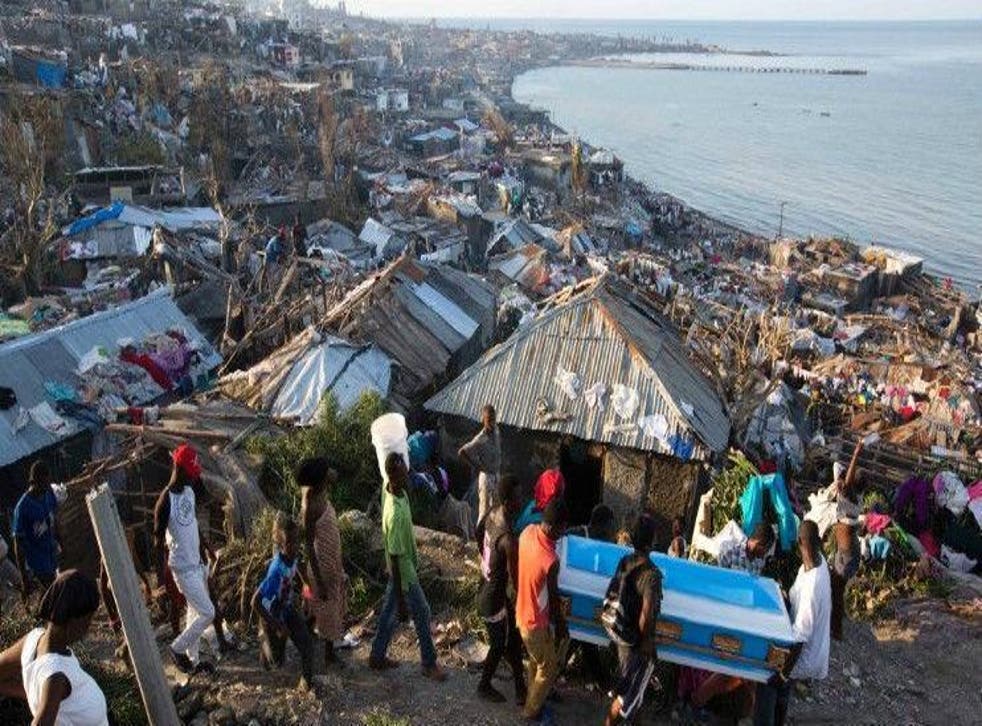 More than 50,000 Haitians are at risk of being deported to a country still reeling from a series of natural disasters, after Donald Trump's immigration agency recommended ending their temporary right to live in the US.
Up to 55,000 Haitians are living in America under so-called temporary protected status (TPS), initially granted to them after the 2010 earthquake, that killed an estimated 150,000 people.
The status has been updated every 18 months, as Haiti has confronted the challenges of a cholera epidemic triggered by UN peacekeepers, a sexual abuse scandal involving those peacekeepers and political uncertainty following the postponing of elections that eventually saw Jovenel Moïse become president.
But James McCament, acting director of US Citizenship and Immigration Services, has recommended Mr Trump end the protection. He said there should be a temporary, six-month extension to allow a period of "orderly transition" but that people should then return.
The revelation, first reported by the Miami Herald, has triggered intense concern among the Haitian community in the US, and their supporters.
"Anxiety is extremely high. They are calling me and asking me what they should do," Emmanuel Depas, a former president of the Haitian American Lawyers Association of New York, told The Independent.
"The temporary status is not necessarily a path to a green card, but it gives people the right to work here."
Campaigners said the threat of deportation could result in the splitting up of families, if the parents of children born in the US were forced to leave. Others have questioned whether Haiti, where more than 1,000 people were killed last October by Hurricane Matthew, the most powerful storm to make landfall there since 1964, is able to handle the return of so many people.
Hurricane Mathew leaves Haiti orphans homeless
Nana Brantuo of the Black Alliance for Just Immigration, said: "From what we've heard, they are going to terminate this status. Then these people will be undocumented, and likely to be deported."
She added: "As black immigrants, they are in a state of vulnerability."
The decision on whether or not to end the Haitians' temporary protected status falls to with Secretary of Homeland Security Secretary, John Kelly. His department said in a statement: "Secretary Kelly hasn't yet made a decision and we don't discuss pre-decisional documents."
In his letter to Mr Kelly, Mr McCament said a review of the situation in Haiti led his organisation to conclude the conditions "no longer support its designation for TPS".
"Although Hurricane Matthew recently caused a deterioration of conditions in Haiti's south-west peninsula, overall conditions in the country have continued on an upward trajectory since the 2010 earthquake," he wrote.
"The institutional capacity of Haitian government to respond to the lingering effects of the earthquake remain weak, but the US government is actively working to strengthen the Haitian civil service and government service delivery."
Haiti is the poorest country in the Western Hemisphere, with an average per capita annual income of about $1,700 (£1,365). Educational and medical facilities are inadequate and overburdened. Around 3.2m people – approximately 30 per cent of the population – suffer from food insecurity.
The US, the regional power, has long interfered politically in the country, less than a two-hour flight from its coastline. In 1991, the first democratically elected president, Jean Bertrand Aristide, was ousted in a coup backed by the CIA. He was returned, under a deal brokered by Bill Clinton, only to be forced into exile again in 2004, with his opponents once more receiving the backing of elements in Washington.
World news in pictures

Show all 50
In recent years, UN peacekeepers have been accused of indiscriminate killing of civilians. In the aftermath of the earthquake, UN peacekeepers from Nepal were almost certainly responsible for an outbreak of cholera that killed at least 10,000 people and made more than 700,000 ill.
Indeed, Mr McCament's letter pointed out the country is still facing problems in housing, health, the economy, sanitation services, gender-based violence and overall security.
"Haiti is the poorest country in the hemisphere and it had enormous problems before the 2010 earthquake," he wrote. "Even before the earthquake, the Haitian government could not, or would not, deliver core functions to the majority of its people."
Reaction to the proposal to end the TPS has met with criticism from both Republicans and Democrats.
"Haiti is still struggling to recover from two major natural disasters that killed more than 200,000 people. Haiti is one of the poorest countries in the world and right now it's unable to support the roughly 50,000 Haitians that are currently receiving protected status here in the US," said Democratic senator Bill Nelson of Florida. "The US should be focused on helping Haiti recover, not sending people back to a country that can't support them."
Republican senator Marco Rubio, also from Florida, was among a bipartisan group that has written to Mr Kelly urging him to extend TPS.
Register for free to continue reading
Registration is a free and easy way to support our truly independent journalism
By registering, you will also enjoy limited access to Premium articles, exclusive newsletters, commenting, and virtual events with our leading journalists
Already have an account? sign in
Join our new commenting forum
Join thought-provoking conversations, follow other Independent readers and see their replies