Donald Trump losing the election to Hillary Clinton is a 'nailed-on certainty', bookmakers decide
The two candidates have been almost neck-and-neck before – but a series of scandals have pushed them further and further apart
Andrew Griffin
Tuesday 18 October 2016 17:32 Comments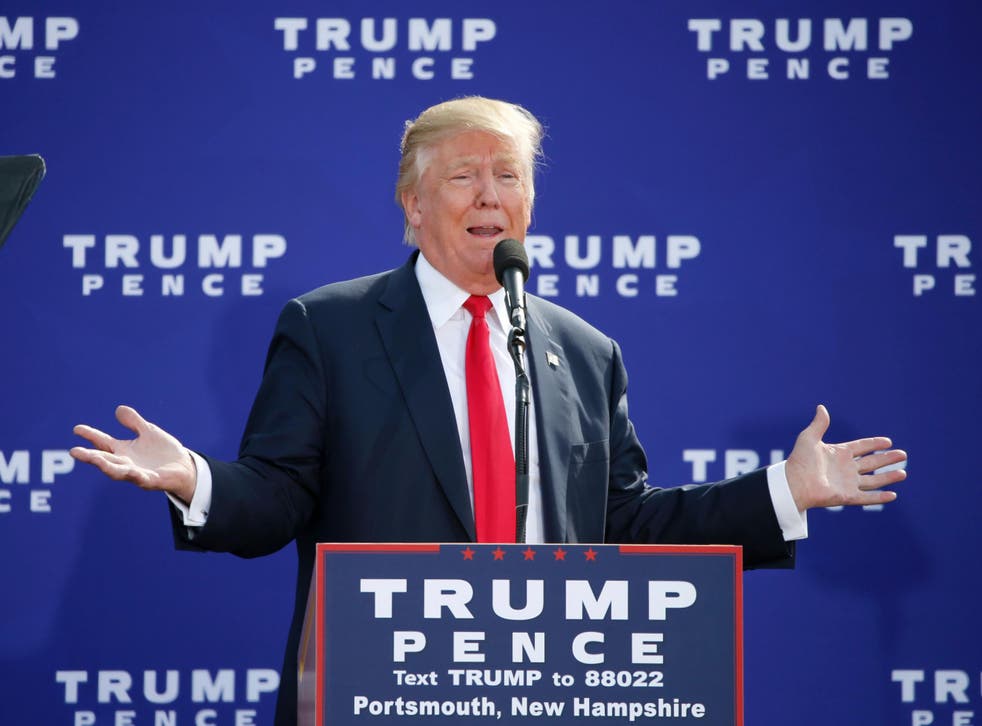 Bookmakers are paying out early on Hillary Clinton winning the presidential election, a sign that they expect Donald Trump to almost certainly lose.
Betting markets have been active in the weeks running up to voting day, with polls at some points showing the two almost neck-and-neck. But recent controversies have led Mr Trump's chances to plunge, and they have gone so low that Paddy Power is convinced that he will almost certainly lose.
"With national polls showing a healthy lead for the Democratic candidate and Donald Trump's campaign running into scandal after scandal, Paddy Power believes it's a done deal and that Hillary is a nailed-on certainty to occupy the Oval Office," Josh Powell from Paddy Power wrote in a blogpost.
Who are famous people voting for in the US election?

Show all 15
There is no doubt that the decision was taken partly as a marketing stunt. But Paddy Power also made clear that it was the end result of ever-lengthening odds for Donald Trump's win.
"The Donald had seen his initial odds of 100/1 (November 2012-June 2015) freefall to as short as 13/8 (May 2016) at one point but recent revelations have halted his momentum and caused his chances of victory to plummet like the value of sterling, resulting in chunky odds of 9/2 (representing a 18.2 per cent chance of winning)."
That has led the bookmaker to pay out the $1 million of winnings for people who'd bet on Ms Clinton winning.
If Mr Trump does win then it will lead to one of the biggest payouts in political history, Paddy Power said.
The company has paid out early on presidential elections before. Paddy Power paid out two days early on bets that Barack Obama would win the 2012 election, giving up $700,000 in the process.
But the bookmakers has made similar calls in the past that haven't paid off. Manchester City's surprise Premier League win in 2013 came after Paddy Power had paid out on Manchester United winning.
Trump effectively rejects US election result before votes have even been counted
Paddy Power will continue to take bets all the way up to election day and says that it is still seeing interest in betting on the winning margin that the succesful candidate will have.
Register for free to continue reading
Registration is a free and easy way to support our truly independent journalism
By registering, you will also enjoy limited access to Premium articles, exclusive newsletters, commenting, and virtual events with our leading journalists
Already have an account? sign in
Join our new commenting forum
Join thought-provoking conversations, follow other Independent readers and see their replies