Donald Trump posts photograph of inauguration with wrong date
Mr Trump will be hanging the erroneous picture in the White House, he said
Andrew Griffin
Tuesday 24 January 2017 18:19 Comments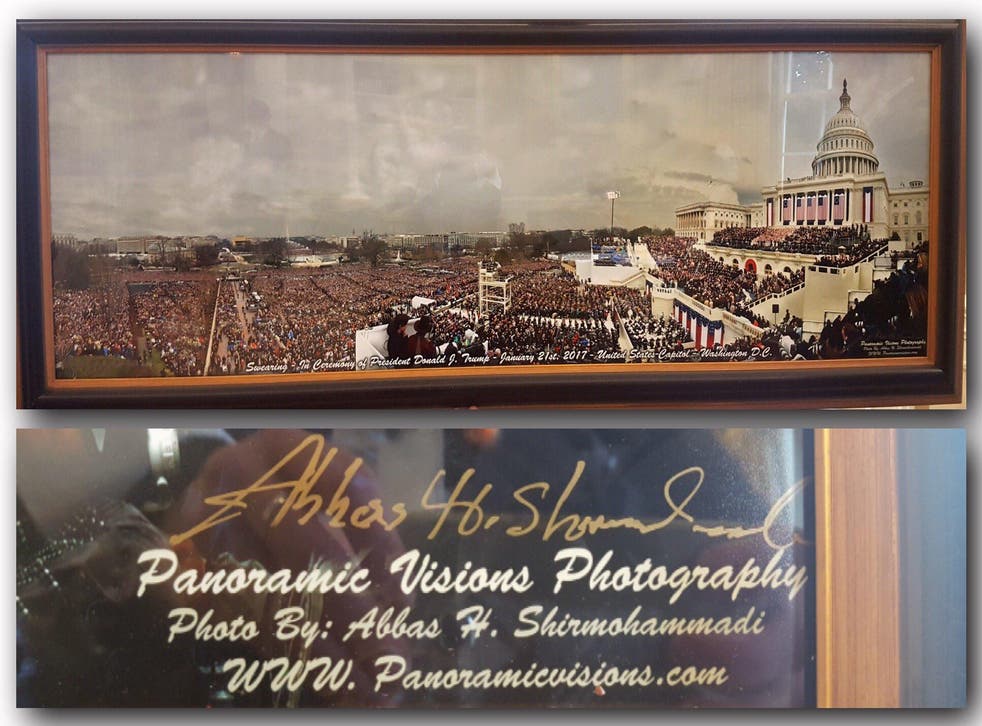 Donald Trump posted a picture of his own inauguration with a huge mistake printed onto it.
The President posted on Twitter a picture of a "photo delivered yesterday that will be displayed in the upper/lower press hall," he wrote alongside the picture. He thanked its photographer, Abbas Shirmohammadi.
But the picture's inscription includes a huge mistake. Written at the bottom is a date – "January 21st, 2017" – which is actually the day after Mr Trump was inaugurated.
The swearing-in ceremony that the picture depicts actually happened on 20 January, a day that Mr Trump has officially declared to be the "National Day of Patriotic Devotion".
January 21 was actually the date of the anti-Trump Women's March around the world, which was according to some estimates far better attended that Mr Trump's inauguration and was the biggest day of protests in US history.
The error may be the result of the photographer using the same date as Barack Obama's inauguration in 2013. That took place on 21 January and a picture on Mr Shirmohammadi's website shows an almost identical picture with the same caption.
Trump Inauguration protests around the World

Show all 14
Inaugurations always take place on 20 January, unless that date falls on a Sunday. That happened in 2013 and so Mr Obama took the oath privately on 20 January and then did it again at a private ceremony the following day.
Sean Spicer: "I think sometimes we can disagree with the facts"
Mr Trump was presumably posting the picture in part because it showed a huge crowd attending his inauguration. The Trump presidency has repeatedly looked to dispute the number of people who turned up to the event – with press secretary Sean Spicer arguing that an optical illusion had led people to be tricked into believing fewer people turned up than actually did.
Crowd experts have referred to the viewpoint from the Capitol, where Mr Trump's photo was taken, as "distorted". From that perspective it's not possible to see if there's room, a scientist told the BBC this week.
The tweet and its accompanying photo were still online almost an hour after it was first posted. Mr Trump may not actually be allowed to delete his own tweets without having them archived – a rule that he has already broken.
Register for free to continue reading
Registration is a free and easy way to support our truly independent journalism
By registering, you will also enjoy limited access to Premium articles, exclusive newsletters, commenting, and virtual events with our leading journalists
Already have an account? sign in
Join our new commenting forum
Join thought-provoking conversations, follow other Independent readers and see their replies