Donald Trump promises to move US embassy to Jerusalem as Netanyahu praises 'clear support' for Israel
Bill Clinton and George W Bush made the promise to move the embassy, but later backed away, fearing conflict in the region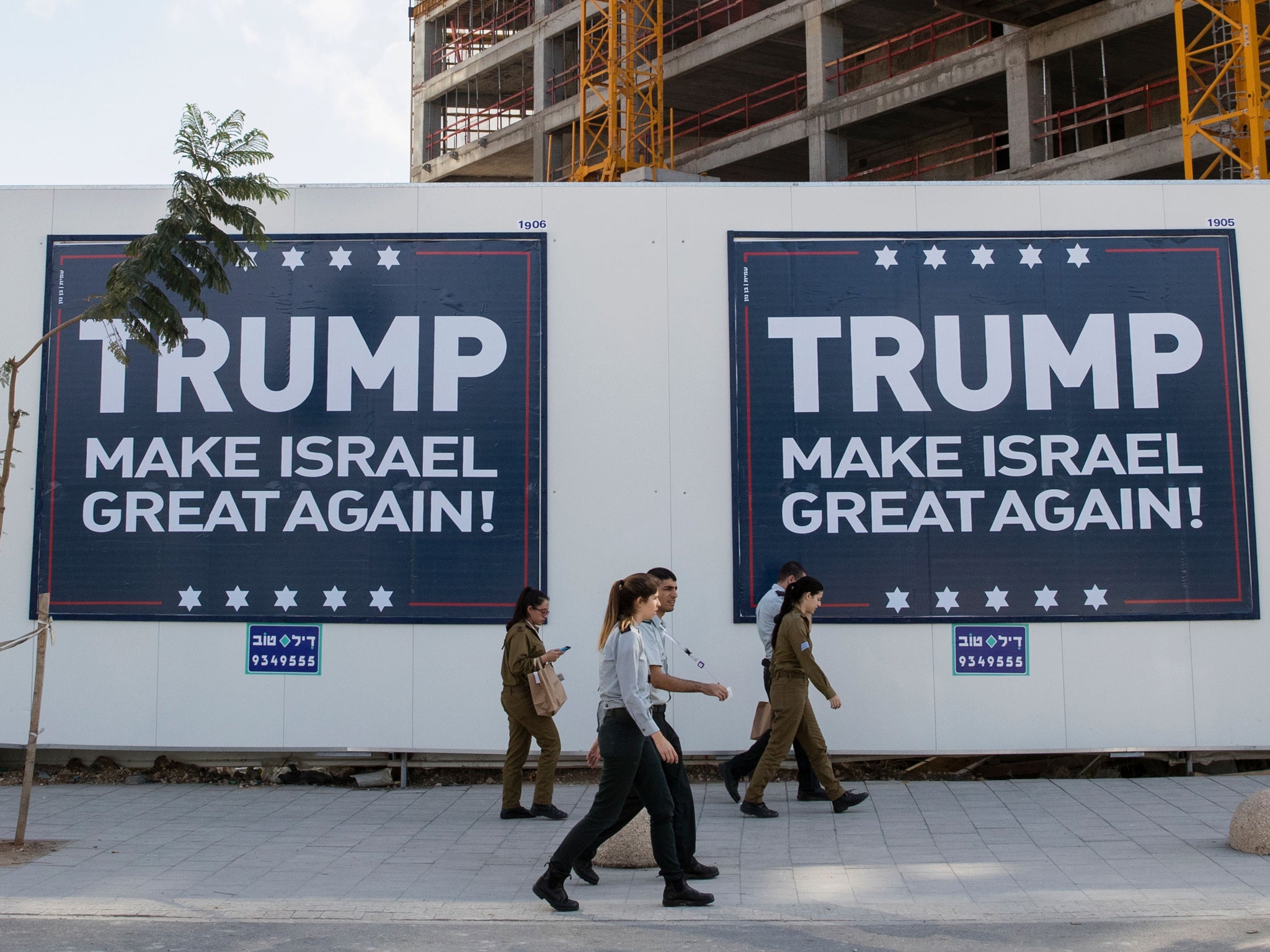 Moving the United States embassy in Israel from Tel Aviv to Jerusalem will be a "big priority" for the incoming Trump administration, according to senior aide Kellyanne Conway.
The United Nations does not recognise the holy city as the capital of Israel, and many of its nations' embassies remain in Tel Aviv. A formal acknowledgement of Jerusalem as the Israeli capital could spark diplomatic conflict, as it would appear that a country is taking sides in the ongoing dispute with Palestine over the rightful owner of the city.
Nevertheless, Mr Trump has made it clear that he wants to move the US embassy to Israel's self-declared capital.
"That is a very big priority for this president-elect, Donald Trump," Ms Conway told conservative radio host Hugh Hewitt. "He made it pretty clear during the campaign … and as president-elect, I've heard him repeat it several times privately, if not publicly."
She continued: "It is something that our friend in Israel, a great friend in the Middle East, would appreciate, and something that a lot of Jewish-Americans have expressed their preference for.
"It is a great move. It is an easy move to do based on how much he talked about that in the debates and in the sound bites."
Of course, Mr Trump will not be the first incoming president to have made such a promise.
Netanyahu congratulates Trump
Both Presidents Bill Clinton and George W Bush campaigned on moving the US embassy to Jerusalem. They later backed away from the promise so as not to seem they were reaching a conclusion on the dispute between Israel and Palestine.
In 1995, Congress passed the Jerusalem Embassy Act that declared Jerusalem to be Israel's capital and required the embassy to move there by 1999. But each president since the bill's passage signed waivers every six months in fears of sparking conflict in the region.
Israeli Prime Minister Benjamin Netanyahu voiced his support for Mr Trump in an interview with 60 Minutes, and said he had quite a positive outlook about the incoming administration.
"I know Donald Trump. I know him very well. And I think his attitude, his support for Israel is clear," he said. "He feels very warmly about the Jewish state, about the Jewish people and about Jewish people. There's no question about that."
Mr Netanyahu said that he plans to meet with Mr Trump to lobby for reversing the Iran Nuclear Deal, which he opposed. The President-elect has called the deal "stupid" and a "disgrace". But his pick for Secretary of Defence, Gen James Mattis, has warned Mr Trump against undoing the deal.
World reaction to President Trump: In pictures
Show all 29
But the Israeli Prime Minister insisted that – despite he lobbied against the Iran Nuclear Deal in a speech before Congress – he never had any personal trouble with President Obama.
"I think that suppose we had the greatest of personal chemistry, OK? So, what?" he said. "You think I wouldn't stand up against the Iran deal if I thought, as I did, that it endangers the existence of Israel. Of course I would."
On Monday, Mr Netanyahu thanked Mr Obama and Defence Secretary Ash Carter for a new shipment of Israel's first two F-35 stealth fighters.
Upon accepting the fleet, Mr Netanyahu issued a warning to the country's enemies.
"I want to also say clearly, anyone who thinks to attack us will be attacked, anyone who thinks to destroy us is positioning themselves to an existential threat," he said. "That is a vital condition to ensure our future. History teaches us a simple thing: weak states don't survive."
Later Monday morning, Donald Trump lashed out against the F-35 programme.
"The F-35 programme and cost is out of control," he tweeted. "Billions of dollars can and will be saved on military (and other) purchases after January 20th."
The aircraft's manufacturer, Lockheed Martin, suffered a nearly $4bn drop in shares shortly after the tweet.