Donald Trump could release classified John F Kennedy assassination files
President promoted conspiracy theories linked to the assassin and his former presidential rival during 2016 campaign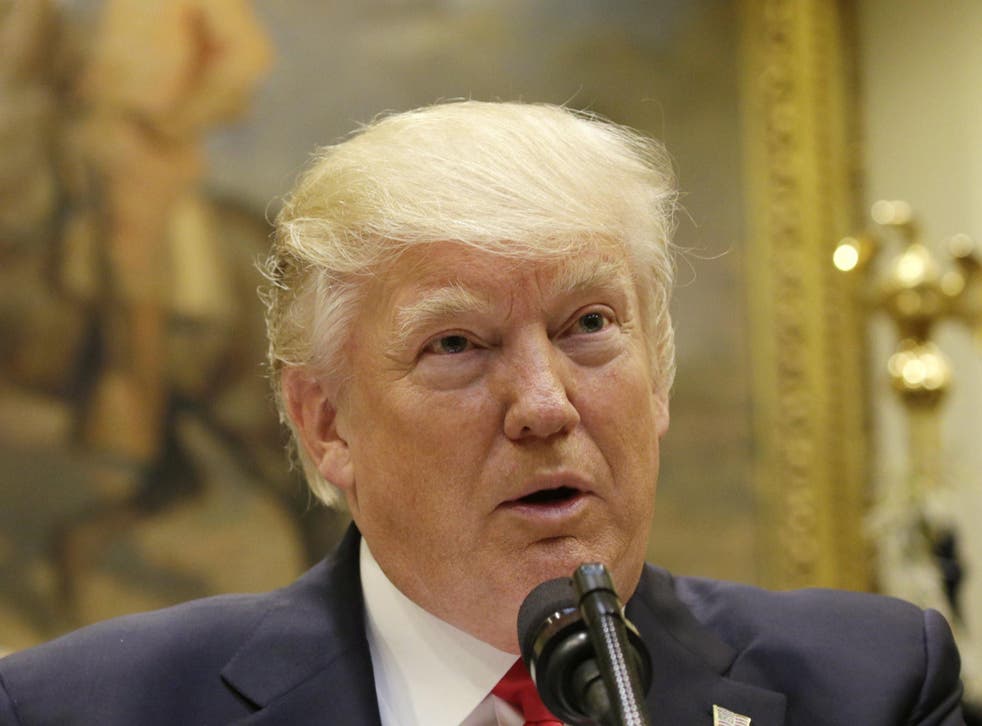 Donald Trump, a man who peddled conspiracy theories about John F Kennedy's murderer while campaigning for the White House, must make a decision as to whether to reveal thousands of classified documents surrounding the former President's death.
Kennedy was shot dead in his car in November 1963 in Dallas by Lee Harvey Oswald and it is still not known exactly what intelligence agencies knew about him before the assassination and what links Oswald had with Fidel Castro's government in Cuba.
The unsealing of these documents, which may answer these questions and which could have a significant impact on US history, comes down to Mr Trump, a man who often gives weight to conspiracy-theory outlets like Infowars and hardline right-wing publications such as Breitbart.
More than two million documents have already been declassified, many of which were withheld by intelligence agencies from the original Warren Commission in 1964.
The commission concluded that there was no evidence of conspiracy, but the 1991 film JFK, by Oliver Stone, revived the popular fascination with a possible cover-up.
Consequently, a 1992 law was signed by George W Bush to provide transparency within 25 years.
Mr Trump has until the deadline on 26 October to make the 3,600 documents public, or request that the deadline be extended.
These never-seen-before documents, which were collated by a temporal agency called the Assassination Records Review Board (ARRB), are now part of national archives.
Experts hope they could fill missing gaps about why Oswald was monitored by the CIA during a trip to Mexico City just weeks before the assassination, and why he went to the Soviet and Cuban embassies there.
Historians largely agree that he was trying to obtain a visa to defect to Cuba, as he had tried to move to the Soviet Union.
Mr Trump has not indicated what he will decide.
Last month the CIA and the FBI acknowledged they were reviewing the documents scheduled for release but did not say whether they planned to appeal the deadline.
On the 2016 campaign trail Mr Trump repeatedly pointed to an article in the National Enquirer that linked Oswald to the father of the Republican senator Ted Cruz, Mr Trump''s former presidential rival. The story was based on one photograph of Oswald and another man handing out pro-Castro leaflets shortly before the assassination.
"That was reported, and nobody talks about it, but I think it's horrible," Mr Trump told Fox News last May.
Mr Cruz denied that his father, Rafael Cruz, was the man in the photo, and called Mr Trump a "pathological liar".
The archived documents will identify US and foreign spies and other sources who gave information about Oswald and the murder and were granted anonymity as a result.
Around 400 pages will also reveal information about the former CIA operative E Howard Hunt, who became a conspirator to the Watergate scandal and who claimed before his death that he knew Oswald would murder Kennedy.
This adds to 86 pages on a CIA-backed, anti-Castro exile group that Oswald might have tried to infiltrate in his hometown of New Orleans to gather information that might be useful to the Castro government.
Donald Trump's first 100 days: in cartoons

Show all 33
The "bizarre chapter", as it was described by the fomer ARRB chairman John Tunheim, was a report that Oswald openly bragged to Cuban officials that he was planning to kill the President and that he had an affair with a Mexican woman who worked at the consulate. The woman was suspected to be a CIA operative, according to the American ambassador to Mexico at the time.
The Mexico documents were kept secret at the request of intelligence agencies as Mexico was a key US ally during the Cold War. Under President Trump, however, relations have turned frosty as Mr Trump has called Mexicans "drug dealers" and "rapists" and has badgered Mexico to pay billions for the border wall.
Nearly 54 years later and with a broader context of history, the revealed names, places and events might serve to either undermine conspiracy theories or add fuel to the fire for those who believe in them.
Martha Murphy, the Archives official, told Politico that although researchers could not determine if they had discovered any bombshells within the documents, they provided a "really interesting snapshot of the Cold War".
Register for free to continue reading
Registration is a free and easy way to support our truly independent journalism
By registering, you will also enjoy limited access to Premium articles, exclusive newsletters, commenting, and virtual events with our leading journalists
Already have an account? sign in
Register for free to continue reading
Registration is a free and easy way to support our truly independent journalism
By registering, you will also enjoy limited access to Premium articles, exclusive newsletters, commenting, and virtual events with our leading journalists
Already have an account? sign in
Join our new commenting forum
Join thought-provoking conversations, follow other Independent readers and see their replies