Donald Trump could be like John F Kennedy, says Bill Gates
Microsoft founder says President-elect shares iconic figure's commitment to 'American leadership through innovation'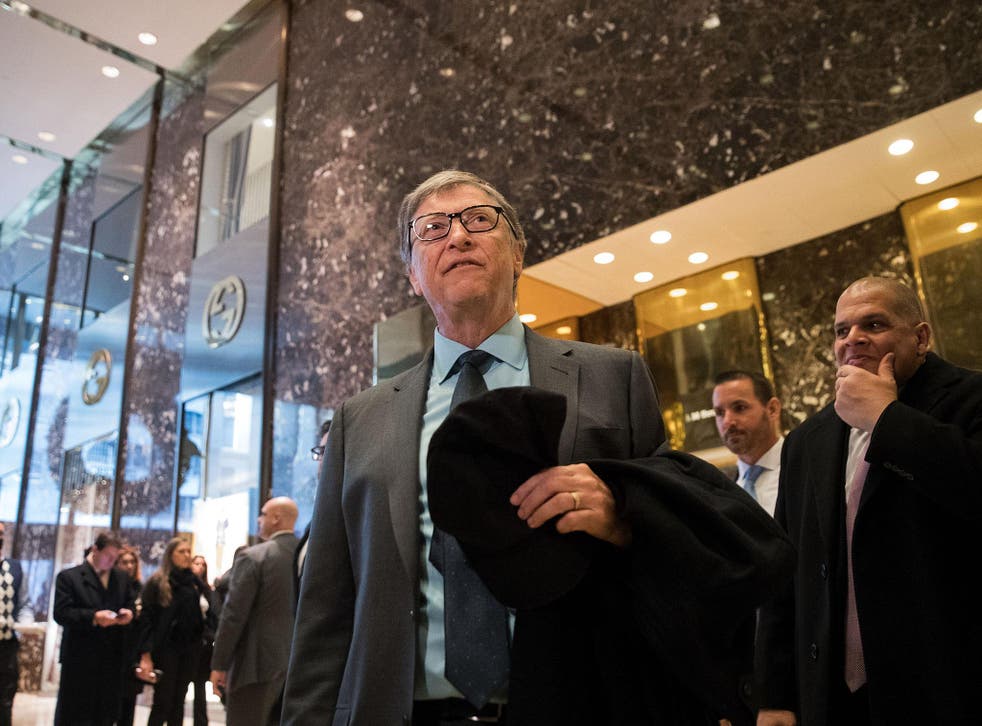 Donald Trump could be a similar president to John F Kennedy, according to Microsoft co-founder Bill Gates.
The billionaire entrepreneur said the President-elect embraced "innovation" in the same way as JFK, who served as US President for almost three years before being assassinated in 1963..
Mr Gates told CNBC: "A lot of his message has been about ... where he sees things not as good as he'd like.
"But in the same way that President Kennedy talked about the space mission and got the country behind that, I think whether it's education or stopping epidemics ... [or] in this energy space, there can be a very upbeat message that [Mr Trump's] administration [is] going to organise things, get rid of regulatory barriers, and have American leadership through innovation be one of the things that he gets behind."
Mr Gates confirmed reports he had held a phone conversation with Mr Trump.
He said: "I had the opportunity to talk to him about innovation. Of course, my whole career has been along those lines. And he was interested in listening to that. And I'm sure there will be further conversations."
The Microsoft co-founder was later pictured meeting Mr Trump at Trump Tower, shortly after the President-elect met with rapper Kanye West.
Mr Gates had previously hinted he was supporting Hillary Clinton in the 8 November election but said his charitable foundation, the Bill & Melinda Gates Foundation, would "approach any administration with a positive open mind".
The entrepreneur gave money to three Democratic congressmen this year but has previously donated to Republican politicians.
World reaction to President Trump: In pictures

Show all 29
John F Kennedy spoke publicly during his presidency about his belief in the importance of science and technology. He made it a US national goal to land a man on the moon – something that was achieved by Neil Armstrong six years after JFK was shot dead in Dallas, Texas.
Mr Trump has faced criticism for rejecting scientific evidence on a number of issues. Despite strong evidence to the contrary, he has insisted climate change is not real and is instead a hoax invented by the Chinese to damage American interests.
The President-elect also claimed vaccines cause autism, said environmentally-friendly light bulbs cause cancer, and suggested fracking "poses zero health risks" but wind farms are "bad for people's health".
Scientific American magazine published an editorial the week before the election calling Mr Trump's views on science "shockingly ignorant" and claiming he showed "a disregard for science that is alarming in a candidate for high office".
It comes as President Obama signed into law a new bill that will see $6.3 billion (£5 billion) invested in scientific research to cure cancer, as well as help treat people with drug addictions and mental health problems.
The 21st Century Cures Act is likely to be the last law introduced by Mr Obama before he hands over to Mr Trump on 20 July.
Register for free to continue reading
Registration is a free and easy way to support our truly independent journalism
By registering, you will also enjoy limited access to Premium articles, exclusive newsletters, commenting, and virtual events with our leading journalists
Already have an account? sign in
Register for free to continue reading
Registration is a free and easy way to support our truly independent journalism
By registering, you will also enjoy limited access to Premium articles, exclusive newsletters, commenting, and virtual events with our leading journalists
Already have an account? sign in
Join our new commenting forum
Join thought-provoking conversations, follow other Independent readers and see their replies