Donald Trump's advisers tell him he has 'nothing to lose' as he considers mass White House cull
Few cabinet members are safe from scrutiny – including Steve Bannon and Sean Spicer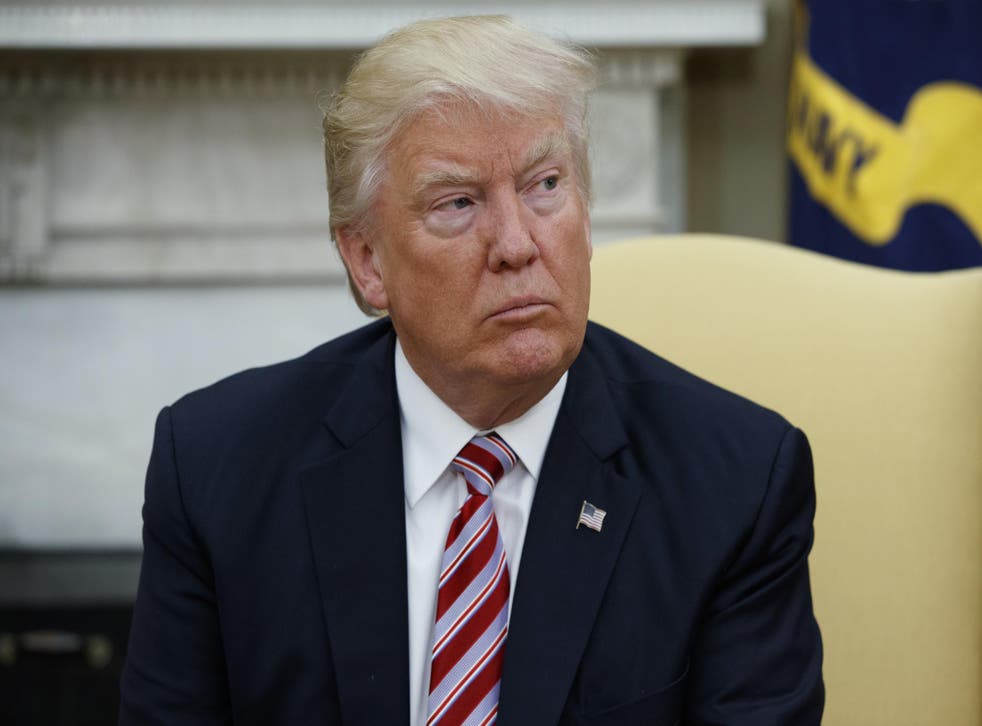 Donald Trump is mulling a massive shake-up of his closest advisers at the White House after the firing of former FBI director James Comey.
Mr Trump is reportedly considering what has been described as a "huge reboot", anonymous sources told Axios, which could see advisers such as Chief of Staff Reince Priebus, Chief Strategist Steve Bannon, Counsel Don McGahn and Press Secretary Sean Spicer heading for the exit.
"The advice he's getting is to go big — that he has nothing to lose," the source said.
"The question now is how big and how bold. I'm not sure he knows the answer to that yet."
The news follows several reports about his advisers, including that Mr Spicer spent more energy correcting his location in a Washington Post story – changed to "among the bushes", rather than "in the bushes" – than he spent on the negative reports around Mr Trump firing Mr Comey.
After Mr Comey was dismissed via a signed letter, handed over by Mr Trump's body guard, the White House reportedly descended into chaos.
Advisers said the President has been "screaming at the television" when journalists covered his potential ties to Russia and advisers did not know how to work with him.
He has also made an unprecedented threat to cancel press briefings and hand out written statements for the purpose of "accuracy", and there have been reports that he would replace his communications team with Fox News producers.
John Oliver demands Congress impeach Trump after Comey firing
Mr Bannon recently aggravated his boss when several headlines appeared describing Mr Bannon as the real leader behind the scenes and stealing the limelight.
If the shake-up goes ahead, Mr Trump's circle of confidantes would become a very small one, including his daughter, Ivanka Trump, her husband, Jared Kushner, and those who have limited if any experience in government.
While Secretary of State Rex Tillerson has taken to defending his boss in a recent NBC News interview and won praise from Mr Trump, other cabinet members could be more likely on the chopping block.
Secretary of Health and Human Services Tom Price has not taken sole responsibility for the slow moving progress on health care reform, and Secretary of Commerce Wilbur Ross took credit for a recent announcement on trade with China. Mr Trump tweeted about the deal, which would include China importing US beef.
Attorney General Jeff Sessions also announced he would increase prison sentences while Mr Kushner was working on criminal justice reform.
Sources told Axios that Mr Trump might simply exclude certain people from the loop rather than firing them as he is about to head on his first international trip since his Inauguration.
Register for free to continue reading
Registration is a free and easy way to support our truly independent journalism
By registering, you will also enjoy limited access to Premium articles, exclusive newsletters, commenting, and virtual events with our leading journalists
Already have an account? sign in
Register for free to continue reading
Registration is a free and easy way to support our truly independent journalism
By registering, you will also enjoy limited access to Premium articles, exclusive newsletters, commenting, and virtual events with our leading journalists
Already have an account? sign in
Join our new commenting forum
Join thought-provoking conversations, follow other Independent readers and see their replies