Donald Trump aide Michael Cohen says there is an 'African American problem' in the US
The adviser had been invited to talk about why the Trump campaign has undergone a major shake-up with just three months until election day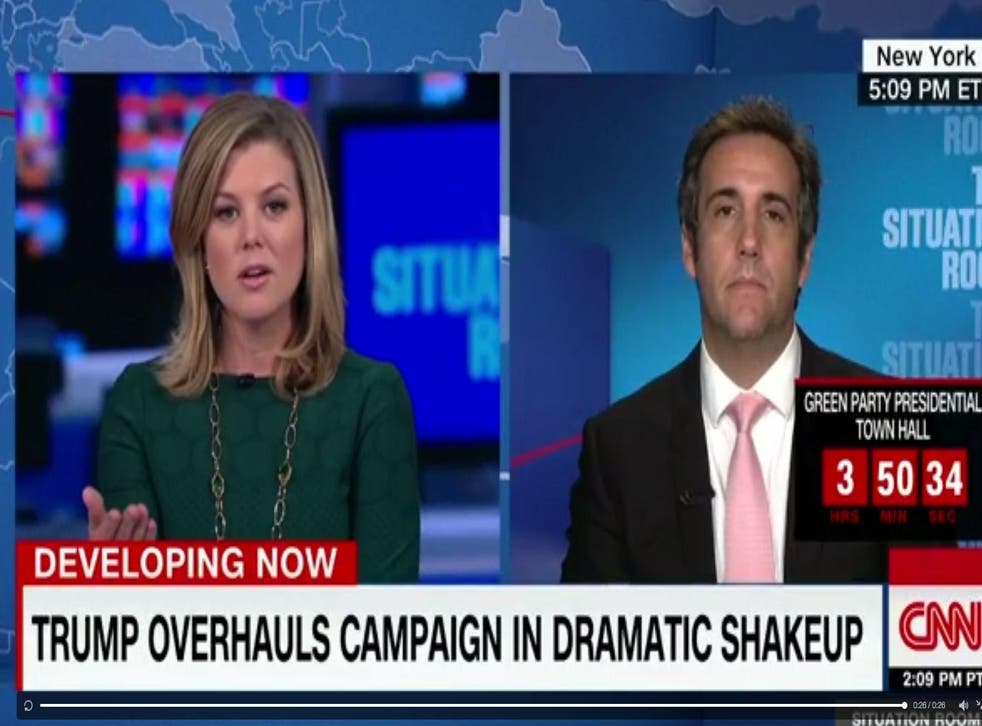 Donald Trump's aide Michael Cohen said that the Republican nominee knows about the "African American problem" in the US.
The interview blunder came shortly after the news broke that Mr Trump's campaign staff had undergone a major shake-up to win back favour in the polls.
"It is certainly an issue - the African American problem in this country," Mr Cohen said on CNN, referring to Mr Trump's law and order speech in Milwaukee following the killing of black man 23-year-old Sylville Smith and ensuing riots.
"What I meant to say is the problem that exists in the African American community," Mr Cohen later clarified.
He added that Mr Trump was "colourblind", but was aware of the racial tensions in the US.
In an awkward exchange, Mr Trump's special counsel was asked about the Republican nominee's low ratings in the polls.
"Says who?" Mr Cohen fired back.
"Polls. Most of them. All of them?" replied anchor Brianna Keilar.
"Says who?" he asked again.
"Polls. I just told you. I just answered your question."
"Ok. Which polls?" he asked.
"All of them."
The interview has done little to assure Trump voters that his campaign is back on track after suffering low ratings versus Hillary Clinton in swing states like Virginia.
Three months before the election, Mr Trump has added two officials to oversee the campaign including Breitbart News executive chairman, Steve Bannon, and Kellyanne Conway, now campaign manager.
Former campaign manager Paul Manafort, who was only appointed in April, will remain chairman.
Roger Ailes, the fired head of Fox News, will also act as a Trump adviser.
The shake-up comes just a few months after Mr Trump dismissed Corey Lewandowski, who is now a political commentator on CNN.
Join our new commenting forum
Join thought-provoking conversations, follow other Independent readers and see their replies