Bipartisan national security officials argue Donald Trump's 'Muslim ban' makes America less safe
Madeleine Albright and John Kerry among several foreign and national security policy experts which say ban will feed Isis propaganda about 'war on Islam'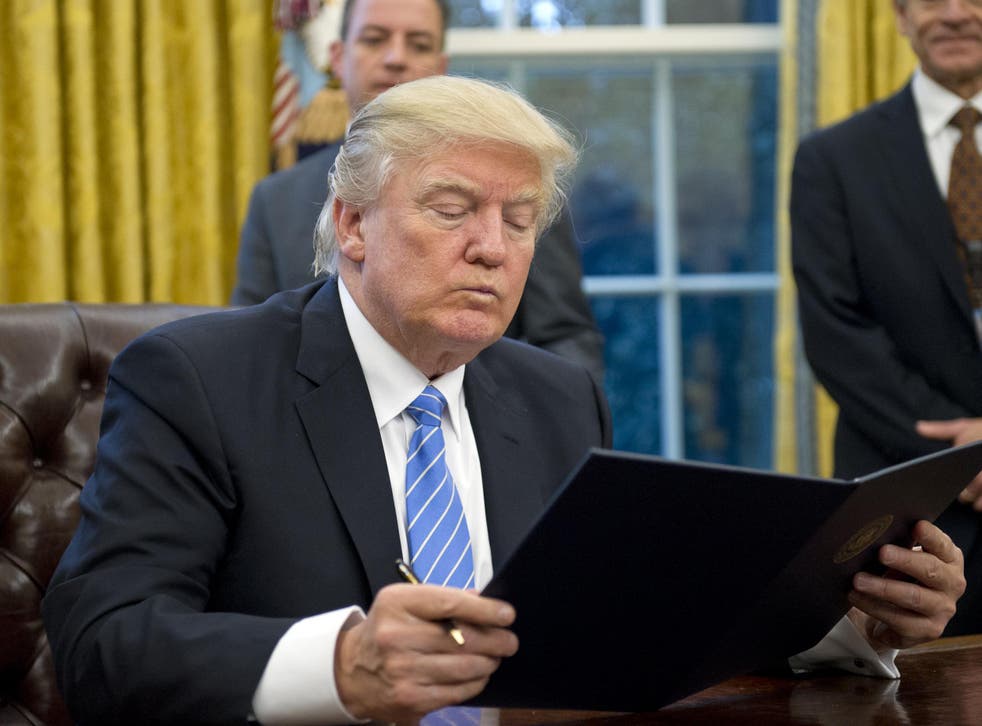 A bipartisan group of senior diplomats and national security officials, including two former secretaries of state, have said Donald Trump's "Muslim ban" risks long term damage to the US' security and foreign policy interests.
In an affidavit filed to the Court of Appeals, which refused to reverse the temporary stay on Mr Trump's "Muslim ban" at the weekend, senior diplomatic figures such as Madeleine Albright and John Kerry said the order "cannot be justified on national security or foreign policy grounds".
It said: "We view the Order as one that ultimately undermines the national security of the United States, rather than making us safer.
"It does not perform its declared task of 'protecting the nation from foreign terrorist entry into the United States'.
"It could do long-term damage to our national security and foreign policy interests, endangering US troops in the field and disrupting counter-terrorism and national security partnerships."
The affidavit said the ban, which only affects Somalia, Syria, Iraq, Iran, Yemen, Libya and Sudan, will bolster Isis' propaganda which claims Islam is at war with the West, ThinkProgress reported.
"In our professional opinion, the Order was ill-conceived, poorly implemented and ill-explained," it added.
The 9th Court of Appeals in San Francisco refused to reverse federal judge James Robart's stay on the executive order pending a review of a lawsuit brought by Washington state Attorney-General Bob Ferguson.
The controversial orders Donald Trump has already issued

Show all 9
Following the Appeals court ruling on Saturday, Mr Trump took to Twitter to denounce Justice Robart, who he called a "so-called" judge, and claimed the stay was "ridiculous" and would be overturned.
The White House insisted the order was not unconstitutional because the President has the right to prevent people entering the country but it has provoked outrage at home and abroad.
In New York, 19 rabbis and rabbinical students were arrested after they deliberately obstructed traffic during a protest outside Trump Tower in Manhattan on Monday.
Rabbi Jill Jacobs said they were concerned that the rhetoric used against Muslim refugees is similar to the language used to stop Jewish refugees coming to the US in the 1920s.
Meanwhile in the UK the Speaker of the House of Commons, John Bercow, denounced Mr Trump and said he would not allow him to deliver a speech in Westminster Hall.
Addressing the House, he said: "I must say to the honourable gentleman, to all who signed his early day motion and to others with strong views about this matter on either side of the argument, that before the imposition of the migrant ban I would myself have been strongly opposed to an address by President Trump in Westminster Hall.
"After the imposition of the migrant ban by President Trump, I am even more strongly opposed to an address by President Trump in Westminster Hall."
Register for free to continue reading
Registration is a free and easy way to support our truly independent journalism
By registering, you will also enjoy limited access to Premium articles, exclusive newsletters, commenting, and virtual events with our leading journalists
Already have an account? sign in
Register for free to continue reading
Registration is a free and easy way to support our truly independent journalism
By registering, you will also enjoy limited access to Premium articles, exclusive newsletters, commenting, and virtual events with our leading journalists
Already have an account? sign in
Join our new commenting forum
Join thought-provoking conversations, follow other Independent readers and see their replies