Donald Trump calls judge's suspension of immigration ban 'ridiculous' and says it will be overturned
President says block on executive order, enacted by federal judge, could lead to 'big trouble'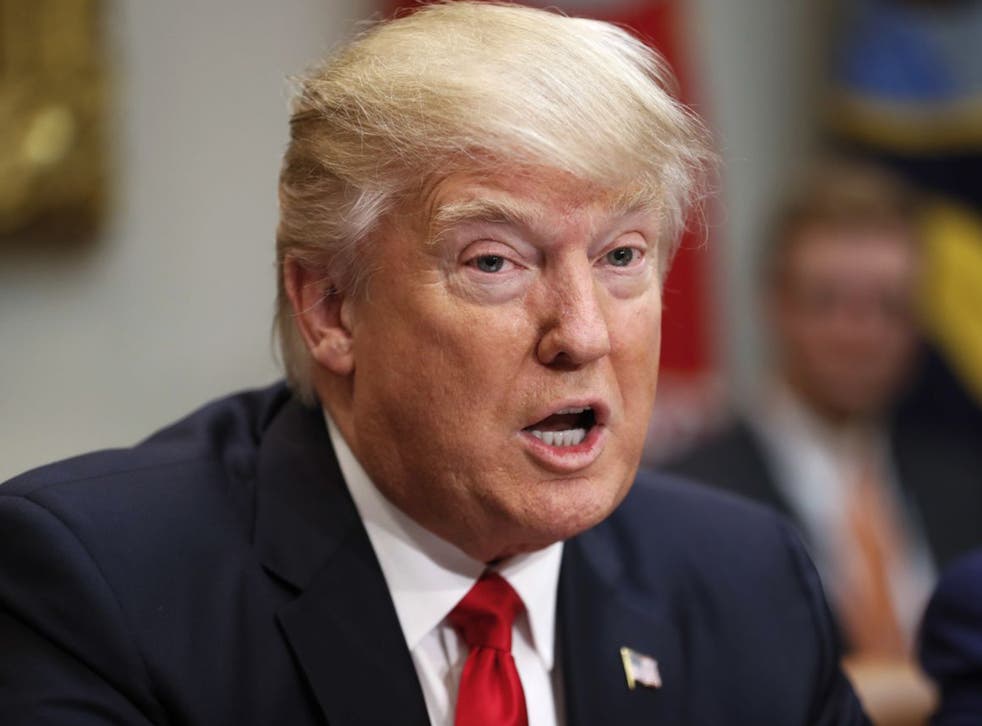 Donald Trump has reacted angrily to the legal block of his ban on refugees and immigrants from seven majority-Muslim countries entering the US.
The President said the temporary suspension of his executive order, enacted by a federal judge in Seattle, could lead to "big trouble".
He branded James Robart, who issued the restraining order against the immigration restrictions, a "so-called judge" and promised the ruling would be overturned, claiming it "takes law enforcement away from our country".
Hours later, Mr Trump claimed the ruling would mean people "with bad intentions" could enter the US.
"What is our country coming to when a judge can halt a Homeland Security travel ban and anyone, even with bad intentions, can come into US?" he tweeted.
Critics swiftly replied that checks and balances on presidential power were part of America's constitution, and that extensive vetting procedures were already in place for visitors, immigrants and refugees.
Exactly an hour later, the President tweeted: "Because the ban was lifted by a judge, many very bad and dangerous people may be pouring into our country. A terrible decision."
Mr Trump's order, signed last week, suspended the US refugee programme for 120 days and banned Syrian refugees indefinitely.
London protests against US President Donald Trump's travel ban
It also barred citizens of seven Muslim-majority "countries of concern" - Iraq, Syria, Iran, Sudan, Libya, Somalia and Yemen - from entering the US for 90 days.
The President the measures would "keep radical Islamic terrorists out of the US" but the excluded countries did not include Saudi Arabia and other nations from which attackers in the US have hailed.
It has sparked widespread chaos at airports and mass protests. The states of Washington and Minnesota sued the federal government over the travel ban, which Washington State Attorney General Bob Ferguson said significantly harms residents and mandates discrimination.
Judge Robart ruled yesterday to immediately stop the ban nationwide after he found "no support" for government lawyers' claims the ban protects the US.
Within hours, government officials had told airlines to begin allowing previously barred passengers to fly, although confusion still reigned among many authorities, embassies and airlines.
"Judge Robart's decision, effective immediately...puts a halt to President Trump's unconstitutional and unlawful executive order," said Mr Ferguson. "No one is above the law – not even the President."
The Justice Department said it would ask for an emergency stay to honour the President's executive order, initially describing the ruling as "outrageous" before omitting the word from a later statement.
"When a country is no longer able to say who can, and who cannot, come in and out, especially for reasons of safety and security – big trouble!" Mr Trump wrote on Twitter.
The controversial orders Donald Trump has already issued

Show all 9
He then added: "The opinion of this so-called judge, which essentially takes law enforcement away from our country, is ridiculous and will be overturned!"
Former President George W Bush appointed Judge Robart in 2004 and he was confirmed to the Senate with 99 votes to none.
An internal email circulated among Homeland Security officials told employees to immediately comply with the judge's ruling. However, the US embassy in Baghdad said it was still awaiting guidance on what to tell Iraqis eager to see if their visa restrictions had changed.
"We don't know what the effect will be, but we're working to get more information," the embassy told Associated Press.
Judge Robart's ruling could be appealed the 9th US Circuit Court of Appeals.
Federal attorneys had argued that Congress gave the President authority to make decisions on national security and immigrant entry.
But in his written order, Judge Robart said it's not the court's job to "create policy or judge the wisdom of any particular policy promoted by the other two branches," but rather, to make sure that actions taken by the executive or legislative branches "comports with our country's laws".
Court challenges of the ban have been filed nationwide from states and advocacy groups. Washington Solicitor General Noah Purcell said his state's focus is the way the President's order targets Islam.
Join our new commenting forum
Join thought-provoking conversations, follow other Independent readers and see their replies