Border agents are ignoring federal court orders and still deporting people, lawyers say
An estimated 100 and 200 travelers are detained at airports across the country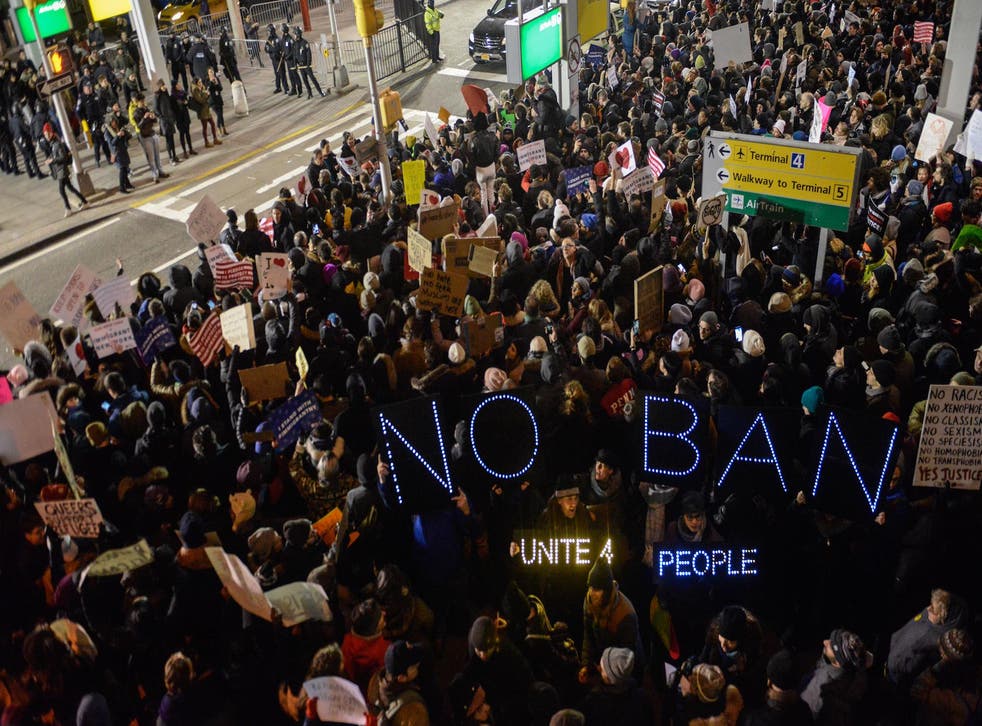 US Customs and Border Protection agents are ignoring a federal judge's stay on President Trump's immigration blacklist against seven majority Muslim countries and deporting people legally traveling to the states, according to attorneys representing those detained at airports across the country.
"Rogue customs and Border Patrol agents continue to try to get people onto planes," Becca Heller, director of the International Refugee Assistance Project, told reporters on Sunday, according to the Guardian. "A lot of people have been handcuffed, a lot of people who don't speak English are being coerced into taking involuntary departures."
President Trump issued his executive order Friday, implementing a 90 day ban for citizens in Iran, Iraq, Libya, Somalia, Sudan, Syria, and Yemen. It also suspended all refugees from entering the country for 120 days while Syrian refugees are barred indefinitely.
Nonetheless, federal judges in New York, Massachusetts, Virginia, and Washington pushed back. The judicial branch responded by ordering those enforcing the ban to completely halt the removal or deportation of travelers who are otherwise legally authorized to enter the country.
The American Civil Liberties Union estimated that between 100 and 200 travelers are currently detained at airports across the country. Melissa Keaney, a staff attorney with the National Immigration Law Center, told VICE that nearly a dozen people are detained at Los Angeles International Airport. And nearly a dozen travelers are reportedly detained at JFK International Airport in New York.
The orders merely maintained the status quo of immigration law, still, civil liberties groups celebrated the victory amidst massive protests which broke out across the country.
"The courts can serve as a bulwark against these excesses," Anthony D Romero, the executive director of the ACLU, told the New York Times. "Litigation is going to be a key tool for either undoing these policies or slowing them down."
The ongoing legal battle comes as the Department of Homeland Security said it "will comply with judicial orders; faithfully enforce our immigration laws, and implement the president's Executive Orders to ensure that those entering the United States do not pose a threat to our country or the American people."
The Department of Homeland Security promised to comply with the federal court orders while hinting that little had actually changed.
"The president's executive orders remain in place — prohibited travel will remain prohibited, and the US government retains its right to revoke visas at any time if required for national security or public safety," the statement said.
Protestors rally at JFK Airport against Muslim immigration ban

Show all 20
"No foreign national in a foreign land, without ties to the United States, has any unfettered right to demand entry into the United States or to demand immigration benefits in the United States."
New York Attorney General Eric Schneiderman along with 15 other state attorneys condemned President Trump's executive order, calling it unconstitutional and un-American.
"As the chief legal officers for over 130 million Americans and foreign residents of our states, we condemn President Trump's unconstitutional, un-American and unlawful Executive Order," the statement said. "Religious liberty has been, and always will be, a bedrock principle of our country and no president can change that truth."
The joint-statement added, "We are confident that the Executive Order will ultimately be struck down by the courts. In the meantime, we are committed to working to ensure that as few people as possible suffer from the chaotic situation it has created."