Donald Trump's refugee ban focus of major lawsuit filed by Muslim civil rights organisation
'While the Muslim Exclusion Order does not apply to all Muslims, the policy only applies to Muslims'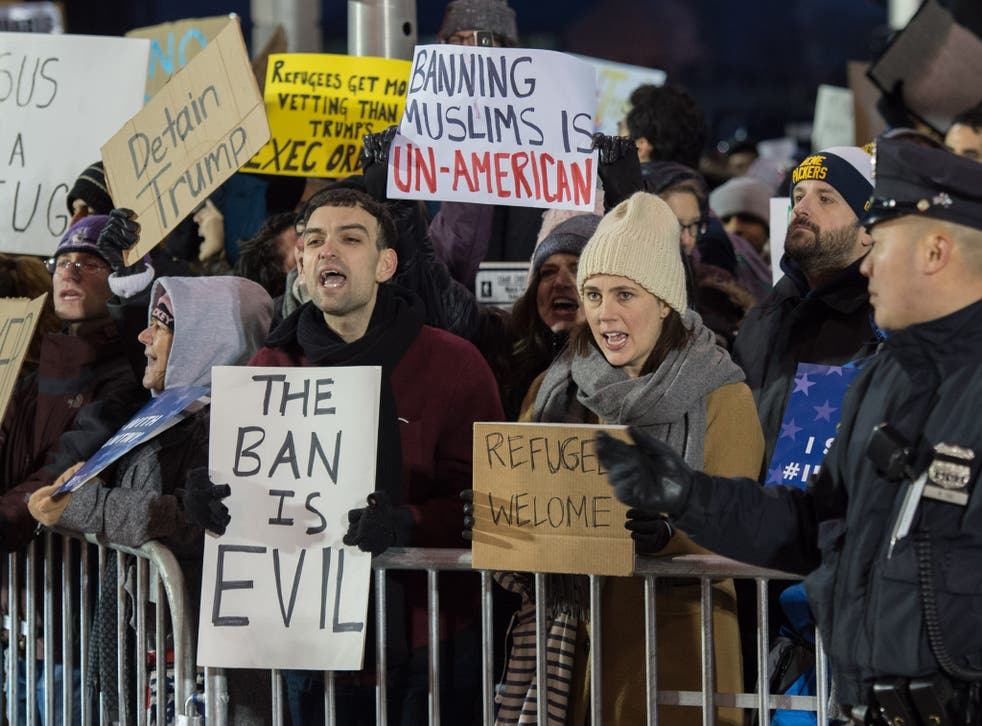 The largest Islamic civil rights group filed a massive lawsuit against the Trump administration for its executive order restricting travel from seven Muslim-majority countries.
The Council on American-Islamic Relations filed the federal lawsuit on behalf of more than 20 "John Doe" individuals who say President Donald Trump's unilateral "Muslim ban" action is unconstitutional.
"Our First Amendment is under attack. We, as attorneys, are foot soldiers of the American Constitution and took an oath to protect all from being targeted by the government because of their faith," said attorney Shereef Akeel.
Mr Trump's order, officially titled "Protecting the Nation from Terrorist Attacks by Foreign Nationals", sparked a massive surge of protests on Saturday and Sunday after more than 100 travellers were held in airport detention centres despite having been vetted and approved by the US government prior to their journey to the US.
The lawsuit comes as the acting Attorney General, Sally Yates, ordered Justice Department lawyers to not defend the controversial executive order in court.
"For as long as I am the acting attorney general," Ms Yates said, "the Department of Justice will not present arguments in defence of the executive order, unless and until I become convinced that it is appropriate to do so."
In pictures: Women of the world march against Trump

Show all 32
In December, Mr Trump announced a "a total and complete shutdown of Muslims entering the United States until our country's representatives can figure out what's going on".
The lawsuit says the "Muslim Exclusion Order" is fulfilment of that announcement, and "boasted intent to enact a federal policy that overtly discriminates against Muslims and officially broadcasts a message that the federal government disfavours the religion of Islam, preferring all other religions instead".
It adds: "While the Muslim Exclusion Order does not apply to all Muslims, the policy only applies to Muslims [Emphasis theirs]."
Despite the monumental uproar against his policy, Mr Trump said the rollout in the first days ran smoothly. Responding to the criticism, however, he denied that the order to ban travel from seven Muslim-majority countries was not a "Muslim ban", and blamed "the media" for promoting a false narrative.
Protests across American airports in response to Trump's immigration ban
"To be clear, this is not a Muslim ban, as the media is falsely reporting," he said. "This is not about religion – this is about terror and keeping our country safe."
But career US diplomats disagree. In a draft dissent memo, the State Department officials condemned the order, saying that it does not do anything to make the US safer.
Former President Barack Obama broke custom and issued a biting criticism of the order only 11 days into his successor's presidency.
"Citizens exercising their Constitutional right to assemble, organise and have their voices heard by their elected officials is exactly what we expect to see when American values are at stake," a statement from Mr Obama's spokesperson said.
"With regard to comparisons to President Obama's foreign policy decisions, as we've heard before," the statement adds, "the President fundamentally disagrees with the notion of discriminating against individuals because of their faith."
Register for free to continue reading
Registration is a free and easy way to support our truly independent journalism
By registering, you will also enjoy limited access to Premium articles, exclusive newsletters, commenting, and virtual events with our leading journalists
Already have an account? sign in
Register for free to continue reading
Registration is a free and easy way to support our truly independent journalism
By registering, you will also enjoy limited access to Premium articles, exclusive newsletters, commenting, and virtual events with our leading journalists
Already have an account? sign in