Acting Attorney General orders Justice Department not to defend Donald Trump's refugee ban in court
'As long as I am the acting attorney general the Department of Justice will not present arguments in defence of the executive order'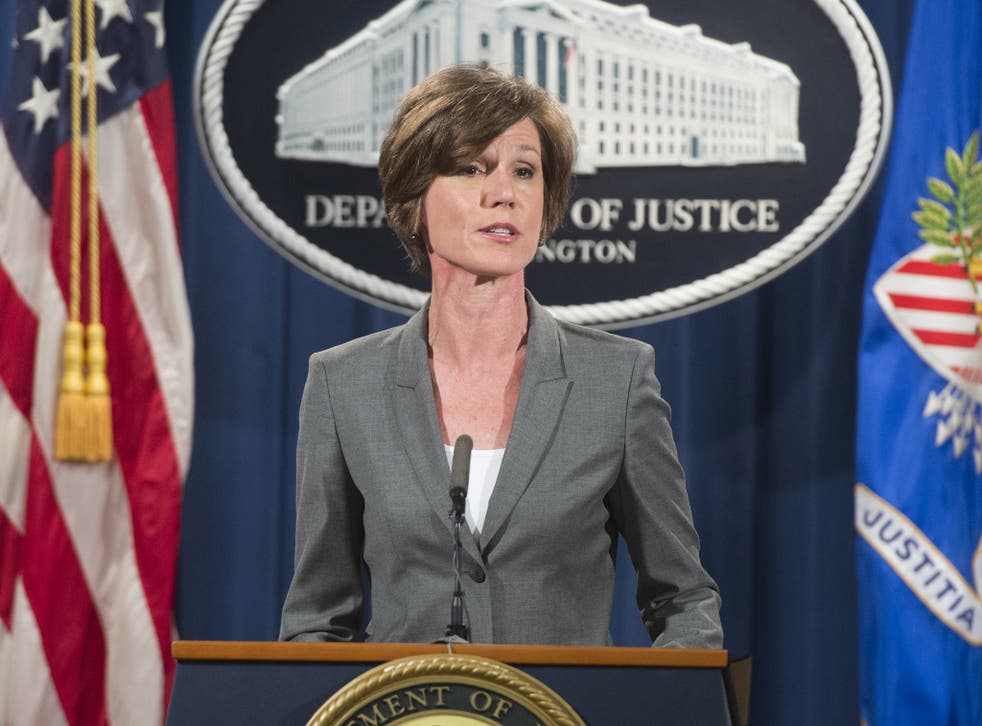 Acting Attorney General Sally Yates ordered the Justice Department not to defend President Donald Trump's executive order on immigration from Muslim-majority countries in court.
The executive order, signed by Mr Trump late last week, sparked massive protests at airports across the country. The administration suffered its first loss in federal court when US Judge Ann Donnelly blocked part of the order that would have resulted in the deportation of refugees and others detained at airports back to their countries.
"I am responsible for ensuring that the positions we take in court remain consistent with the institution's solemn obligation to always seek justice and stand for what's right," she said in a letter to DoJ lawyers.
"At the present, I am not convinced that the defence of the executive order is consistent with these responsibilities, nor am I convinced that the executive order is lawful."
The controversial orders Donald Trump has already issued

Show all 9
Ms Yates was the Deputy Attorney General appointed by President Barack Obama, and is overseeing the department as Mr Trump's nominee for the role, Jeff Sessions, awaits Senate confirmation.
Once Mr Sessions receives approval, he will likely overturn the directive and pursue the Trump administration's agenda.
Protests across American airports in response to Trump's immigration ban
"For as long as I am the acting attorney general," she added, "the Department of Justice will not present arguments in defence of the executive order, unless and until I become convinced that it is appropriate to do so."
The Trump administration fired Ms Yates later in the evening.
"The acting Attorney General ... has betrayed the Department of Justice by refusing to enforce a legal order designed to protect the citizens of the United States," the White House said in a statement.
Their reaction is consistent with statements made earlier in the day by White House press secretary Sean Spicer.
During the daily press briefing, Mr Spicer said that government officials who did not agree with the President's orders, should leave their posts – in reference to a draft memo from US diplomats condemning the executive order.
"[A]ny government official who doesn't understand the President's goals in this and exactly what it was," he told reporters, "they should either get with the programme, or they can go."
The letter from Ms Yates comes as the Council on American-Islamic Relations filed a major lawsuit against the Trump administration regarding the ban on travel from seven majority-Muslim countries.
"Our First Amendment is under attack," said Shereef Akeel, co-counselor who filed the lawsuit, told reporters. "We, as attorneys, are foot soldiers of the American Constitution and took an oath to protect all from being targeted by the government because of their faith."