How British people can fight Donald Trump's 'Muslim ban' starting now
Protesters across the US have travelled to international travel terminals as unrest spills over across the pond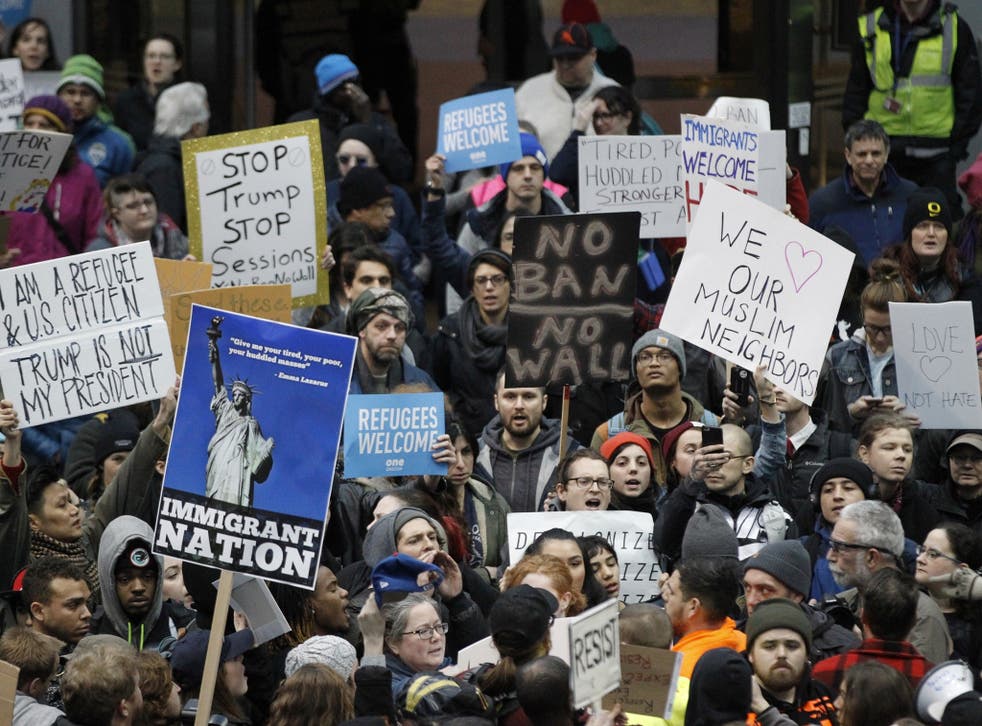 Donald Trump's executive order limiting immigration from seven Muslim-majority countries and suspending refugee settlement has sparked confusion and anger across America.
Refugees, green card and visa holders have been blocked from boarding US-bound flights or detained in arrivals.
Protesters swarmed international travel terminals and took to the streets denouncing the measures, which have suspended refugee resettlement for 120 days, barred Syrian refugees indefinitely and banned entry of nationals from Iraq, Syria, Iran, Sudan, Libya, Somalia, and Yemen for 90 days.
As unrest grows in the US, public outrage is spilling over across the pond. A petition calling on Theresa May to axe Mr Trump's planned state visit to the UK reached one million signatures over the weekend.
Many in Europe are taking to social media to ask how they can help fight the measures, which many have labelled a thinly veiled "Muslim ban."
Humanitarian groups have started to act as soon as the order was implemented, and many still require urgent funding to continue challenging the measures in court.
The American Civil Liberties Union (ACLU) gained an early victory as federal judges in New York and Virginia ordered stays on the deportations for people with valid visas.
"We have no doubt that the motivation behind the executive order was discriminatory. This was a Muslim ban wrapped in a paper-thin national security rationale," ACLU executive director Anthony Romero said in a statement.
Following the court ruling, donations started pouring in to the ACLU, who said it received more than $24.1 million (£19m) from supporters over the weekend - the Union receives around $4 million (£3.2m) in a normal year. The group plans to increase its staffing with the increased funds.
The Union is now calling for more "Guardians of Liberty" to help fund future action to protect "people's constitutional rights."
"President Trump's war on equality is already taking a terrible human toll. Help us protect the rights of refugees and immigrants — and everyone across America," the organisation wrote on its website.
"With your help, we will continue to take action when Trump or his administration run roughshod over ethical norms or trample on people's constitutional rights."
You can donate to the ACLU here.
Join our new commenting forum
Join thought-provoking conversations, follow other Independent readers and see their replies