Donald Trump 'Muslim ban': Dozens of Rabbis arrested after protesting outside Trump Tower
Rabbi says language used to prevent Jewish refugees coming to America in the 1920s is now being directed towards Muslims
Caroline Mortimer
Tuesday 07 February 2017 10:19 Comments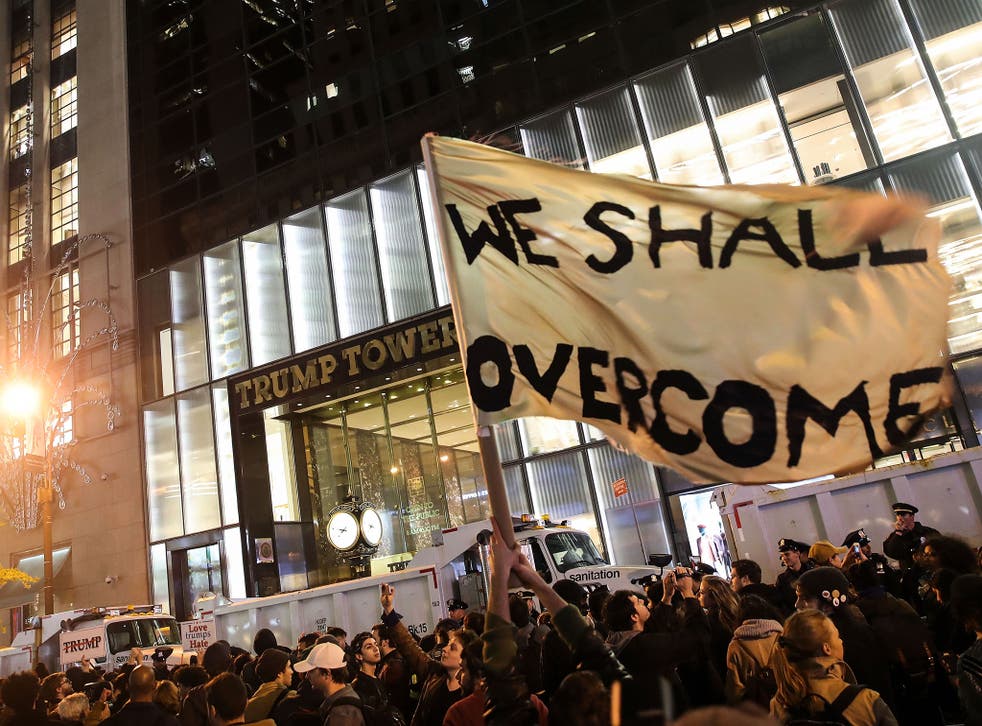 Dozens of rabbis and rabbinical students have been arrested following a protest against the US travel ban outside Trump Tower in Manhattan.
A crowd of around 200 people blocked the street outside the hotel to protest against President Donald Trump's executive order temporarily banning refugees and cancelling visas from seven Muslim-majority countries.
The crowd waved placards saying "welcome refugees" while hitting drums and tambourines at around 7pm on Monday evening in the latest demonstration outside Mr Trump's former home.
Nineteen rabbis and rabbinical students affiliated with the liberal Jewish group, T'ruah, were arrested after deliberately blocking traffic to pray following a march through the city's Upper West Side.
Rabbi Jill Jacobs told the New York Times the protest was designed to show many Jewish people opposed the ban.
She said: "We remember our history, and we remember that the borders of this country closed to us in 1924 with very catastrophic consequences during the Holocaust.
"We know that some of the language that's being used now to stop Muslims from coming in is the same language that was used to stop Jewish refugees from coming."
The ban, which has since been suspended, prevented any citizen from Iran, Sudan, Iraq, Syria, Libya, Somalia and Yemen from entering the US for 90 days even if they had a valid visa or green card.
New York City bodegas strike to protest Trump's travel ban

Show all 27
It was blocked by a federal judge last week and the ninth US Circuit Court of Appeals in San Francisco refused to reinstate it – instead ordering both sides to submit more arguments over the coming days.
Mr Trump, who argues the ban is not unconstitutional because as President he has the power to decide matters of national security, condemned the "so-called" judge who ordered the stay saying he had "essentially taken law enforcement away from our country".
He said the decision was "ridiculous" and would be "overturned".
Register for free to continue reading
Registration is a free and easy way to support our truly independent journalism
By registering, you will also enjoy limited access to Premium articles, exclusive newsletters, commenting, and virtual events with our leading journalists
Already have an account? sign in
Join our new commenting forum
Join thought-provoking conversations, follow other Independent readers and see their replies