Donald Trump says he will have 'something new next week' to replace travel ban after court defeat
The White House is working on a new executive order using language that they believe the courts will favour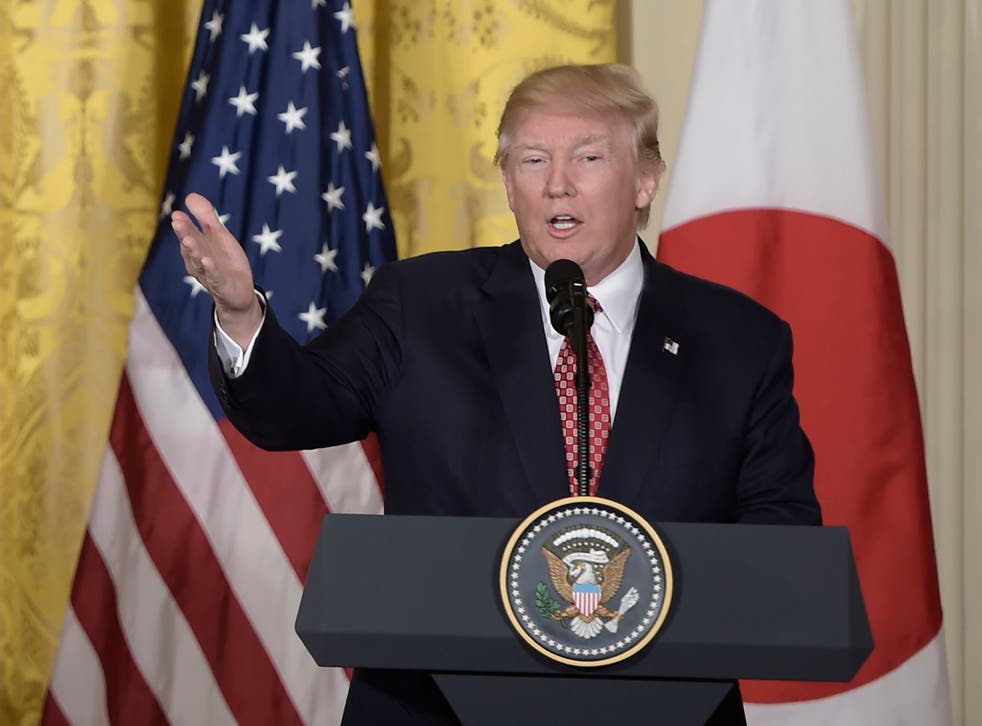 A day after a federal appeals court rejected his executive order to ban travel from seven majority-Muslim countries, President Donald Trump said he will introduce "something new" to replace the controversial order.
Mr Trump suffered the embarrassing defeat after the 9th Circuit Court of Appeals' unanimous decision to pause the President's executive order. In response to his second federal court loss in less than a week, Mr Trump furiously told the court he would "SEE YOU IN COURT," via Twitter.
During a joint press conference with Japanese Prime Minister Shinzo Abe, Mr Trump told reporters that he would announce new security measures as soon as next week. It remains unclear if the new measures would be separate from the controversial executive order that currently hangs in limbo.
"Safety is one of the reasons I'm standing here today, the security of our country," Mr Trump said at a joint press conference with Japanese Prime Minister Shinzo Abe. "So, we'll be doing something very rapidly having to do with additional security for our country. You'll be seeing that sometime next week."
He added: "We will continue to go through the court process, and ultimately I have no doubt that we'll win that particular case."
Mr Trump did not provide particulars to how he would reintroduce his order or provide these extra security measures.
Earlier Friday, the White House confirmed to NBC that they were drafting a new executive order that would use language that the courts would eventually favour.
New York City bodegas strike to protest Trump's travel ban

Show all 27
Citing what he's learned during his first weeks as president, Mr Trump said: "There are tremendous threats to our country. We will not allow that to happen, I can tell you that right now."
The executive order is the product of Mr Trump's hard-line immigration rhetoric that began during his campaign. He initially announced the idea as a "total and complete shutdown of Muslims entering the United States", described in a statement that is still on the Trump campaign website.
After a critical backlash, Mr Trump shifted the apparent shutdown to include so-called "extreme vetting" when processing refugees from Muslim-majority coming to the US – despite the fact that refugees already go through a rigorous vetting process involving multiple US agencies.
Trump reacts to travel ban ruling
Manifested as an executive order, the travel ban singled out immigrants, refugees, and travellers from seven countries – Iraq, Iran, Yemen, Syria, Libya, Sudan, and Somalia – originally identified by the Obama administration in a 2015 revision to the visa waiver programme. The programme allowed refugees from 38 countries to enter the US without visas for up to 90 days. President Obama excluded the seven countries from that list, but did not outright ban migration from those areas.
Mr Trump has insisted that, despite his campaign rhetoric, the ban is simply about national security.
"This is not about religion," he said. "This is about terror and keeping our country safe. There are over 40 different countries worldwide that are majority-Muslim that are not affected by this order."
Still, former New York City mayor Rudy Giuliani said that Mr Trump had come to him for advice about how to enact a "Muslim ban" seeking "the right way to do it legally".
"The States have offered evidence of numerous statements by the President about his intent to implement a 'Muslim ban' as well as evidence they claim suggests that the Executive Order was intended to be that ban," the 9th Circuit court said in its ruling.
"Although we agree that 'the Government's interest in combating terrorism is an urgent objective of the highest order'," they added, "the Government has done little more than reiterate that fact."
Indeed, no immigrants or refugees from the seven countries have carried out an attack on US soil. Additionally, none of the 9/11 hijackers originated from the countries listed in Mr Trump's order.
The halt of the executive order earned major praise from civil liberties groups across the country.
"The appeals court's refusal to reinstate the Muslim ban is correct," ACLU Immigrant Rights Project director Omar Jadwat told The Indpendent. "The government's erratic and chaotic attempts to enforce this unconstitutional ban have taken a tremendous toll on innocent individuals, our country's values, and our standing in the world.
"We will keep fighting this un-American executive order until it is permanently dismantled."
Register for free to continue reading
Registration is a free and easy way to support our truly independent journalism
By registering, you will also enjoy limited access to Premium articles, exclusive newsletters, commenting, and virtual events with our leading journalists
Already have an account? sign in