Donald Trump's 'Muslim travel ban' denounced by relatives of 9/11 victims
'The administration is trying to exploit our pain'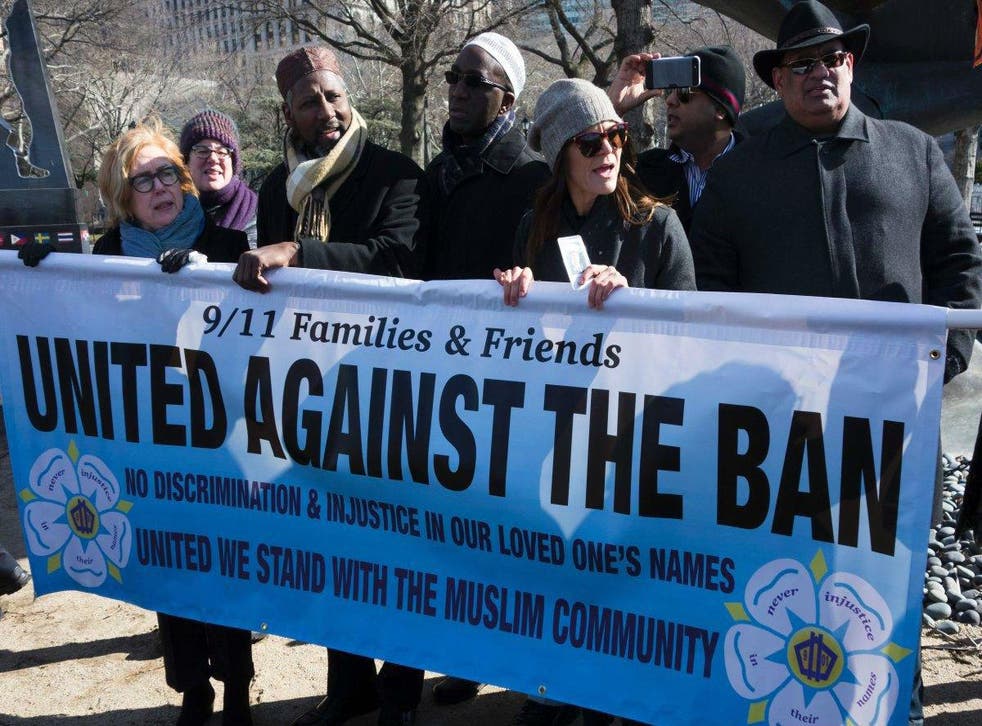 Relatives of some of those who died in the 9/11 attacks have denounced Donald Trump's Muslim travel ban - condemning the president's use of the Al-Qaeda assault on New York and Washington to justify his order.
Gathering at New York's Battery Park, half-a-mile from where the Twin Towers were destroyed, around ten people who had friends or relatives who died there, said Mr Trump was simply spreading fear.
Terry McGovern, whose mother died in the South Tower, wore her mother's earrings for the rally, telling the New York Daily News: "I felt sick to my stomach to see that he lists 9/11 [as a rationale for the ban]. My mother would have hated this – the use of her death to justify banning people."
She added: "I think there's just a fear, and I think that they probably aren't paying attention to where the terrorists on 9/11 were actually from, and I don't think they're understanding that we're talking about children and people who want to come to this country for the same reason we all come to this country."
Man who Trump called on stage at rally salutes cardboard cutout of president every day
Mr Trump's executive order banning travel to the US for people from seven predominantly Muslim countries, received widespread condemnation from rights campaigners and ordinary citizens. It also halted the country's refugee resettlement programme.
A federal appeals court in San Francisco has refused to reinstate the order after a judge in Seattle blocked it. The White House has said it is considering whether to launch a further legal challenge, or introduce a separate order.
Talat Hamdani, whose son - a police officer - killed while responding to the attack, said at Thursday's event that Mr Trump was using the spectre of 9/11 to achieve his political ends.
"The current administration is trying to exploit our pain," said Ms Hamdani.
"They are vultures. They are picking on the blood of 9/11. It is immoral and unethical. This country was founded by immigrants."
Join our new commenting forum
Join thought-provoking conversations, follow other Independent readers and see their replies