Donald Trump considers mobilising 100,000 National Guard troops to round up undocumented immigrants
If carried out, states would have final say on whether or not troops are actually deployed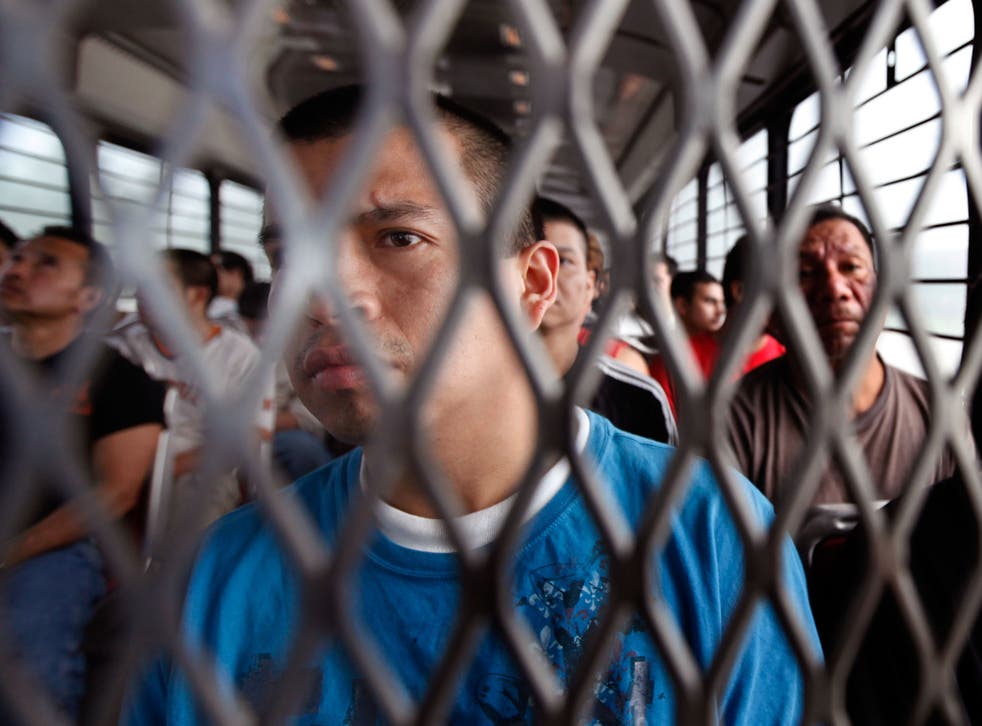 Donald Trump's administration is considering mobilising as many as 100,000 National Guard troops to round up undocumented immigrants, it has been reported.
The Associated Press obtained a draft memo that calls for the unprecedented militarisation of the US immigration enforcement. But if implemented, governors in 11 states included in the draft memo would have final say on whether troops are actually deployed.
The draft memo, written by Department of Homeland Security Secretary John Kelly, includes four states that border Mexico – Texas, New Mexico, Arizona, and California – but extends to seven contiguous states – Louisiana, Arkansas, Oklahoma, Colorado, Utah, Nevada, and Oregon.
States like California would be unlikely to comply with the Trump administration should it actually call for the deployment of National Guard troops for immigration enforcement.
The controversial orders Donald Trump has already issued

Show all 9
Last month, the President signed two executive orders pertaining to the southern border with Mexico. The first directed the construction of a wall in the region, despite the existence of some 700 miles of barrier already in place. The second boosted the number of Border Patrol agents and immigration enforcement officers who carry out raids and deportations.
White House Press Secretary Sean Spicer denied the report as "100 per cent false" on Twitter, but could not say that the subject was never a topic of discussion within the administration.
"I don't know what could potentially be out there, but I know that there is no effort to do what is potentially suggested," he said. "It is not a White House document."
The acting press secretary for the DHS also denied the report, saying: "The Department is not considering mobilising the National Guard."
But it remains unclear whether the White House will carry out this order as reported, as the administration has become notorious for attempting to discredit news stories that cast a unfavourable light on the President, writing them off as "fake".
Mr Trump launched his campaign with particular focus on immigrants from Mexico, criminalising them with broad brushstrokes. In his now infamous June 2015 campaign announcement, he referred to Mexican immigrants as rapists and drug traffickers, solidified with his vow to build a wall along the already-militarised southern border.
In the first month of Mr Trump's administration, immigration enforcement officers carried out the first large-scale enforcement of Mr Trump's executive order to take action against undocumented people in the US.
Raids took place last week in and around New York, Los Angeles, North Carolina, South Carolina, Atlanta and Chicago, immigration officials confirmed – with more than a third of those detained in the Los Angeles area being deported to Mexico.
Democratic Texas Rep Joaquin Castro condemned the draft and called it "disturbing".
Implementing the President's Border Security and Immigration Enforcement [draft memo] by Indy USA on Scribd
"I'm hoping that it's not true, but you get five different answers on controversial issues depending on who you ask [in the Trump administration]," he said during a conference call with reporters. "So it's hard to know when Sean Spicer's denial is actual policy.
"The President needs to address this; the President needs to be clear about his intentions and whether he intends to use the National Guard as immigration agents."
Mr Castro explained that, following a meeting with ICE, it was hard to "not conclude that Donald Trump has started his mass deportation plan". In the meeting ICE officials referred to the President's executive order to crack down on undocumented immigrants and acknowledged that it was a much broader mandate than President Barack Obama's.
Donald Trump wants import tax to pay for Mexico wall
"They seemed determined to go after as many people as possible because of the language of the executive order," he said. "And the ICE director was very clear that they were going to follow that message."
Immigrants who face the threat of removal have the right to due process. A mass deportation operation would likely still require full removal proceedings, leading to mass incarceration and increase the likelihood of erroneous detentions. Mr Trump's actions could lead to an increase in immigration detention populations from about 45,000 daily to three million.
Christian Ramirez, the director of the Southern Border Communities Coalition and human rights director for Alliance San Diego, expressed concern about the panic that will stem from this report, as well as the fear that Mr Trump has already generated in immigrant communities along the US-Mexico border.
"Any talk about deploying military personnel to our communities is not only of great concern to border residents who have been living under the boot of border militarisation for generations, but it should be of great concern to our democracy," he told The Independent.
"Having military personnel enforce civilian laws runs counter to basic principles of democratic societies and we should be concerned with the notion of this being contemplated by this administration."
Still, Mr Ramirez explained immigrant communities along the border were already heavily policed by the Border Patrol, the largest law enforcement agency in the country.
Mr Trump's enforcement efforts are made possible by infrastructure that has already been fortified by previous administrations. The Obama administration was fiercely criticised by immigrant rights groups for its part in ramping up immigration enforcement in the US.
Under Obama, ICE carried out some 2.5 million deportations between 2009 and 2015.
"When it comes to the actual enforcement, we had gross cases of human rights violations along the southern border under Obama," Mr Ramirez said.
"I think what is clear is that President Trump inherited a massive deportation machine and has control of the largest law enforcement agency in the country, which Congress granted these absolute powers to look the other way when it comes to protecting our Constitutional rights.
"What is clearly different is that, unlike the previous administration, the Trump administration has been using a whole lot of hate speech and hyperbolic rhetoric when referring to the border region, immigrants, and refugees – and language has a real impact on communities."
Register for free to continue reading
Registration is a free and easy way to support our truly independent journalism
By registering, you will also enjoy limited access to Premium articles, exclusive newsletters, commenting, and virtual events with our leading journalists
Already have an account? sign in