Donald Trump brags about electoral college victory while answering question on anti-Semitism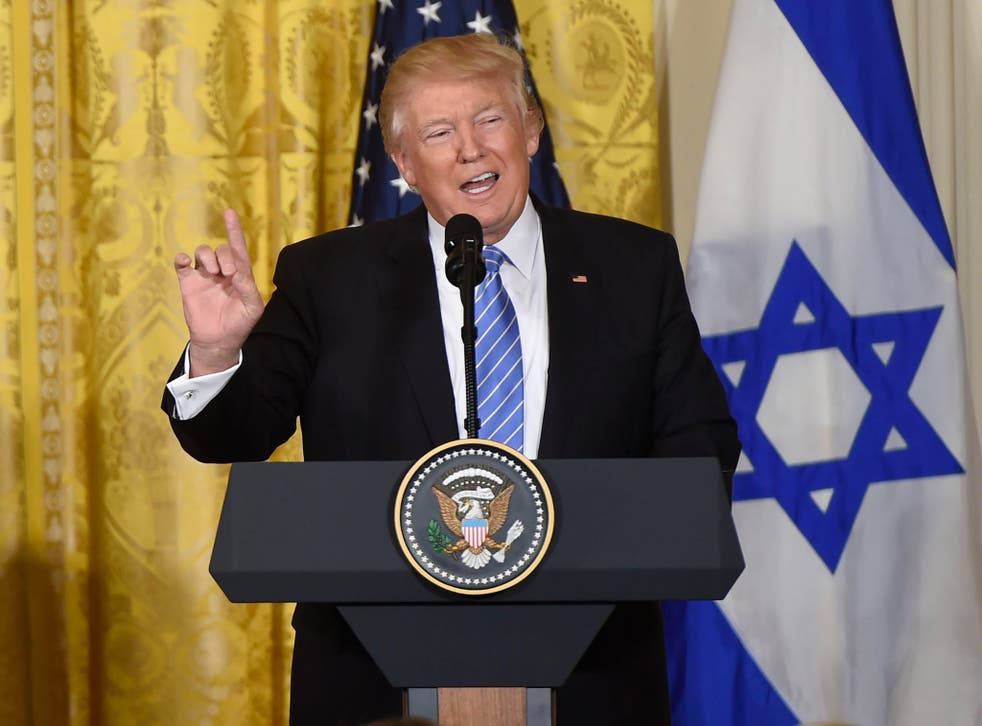 President Donald Trump did not denounce the reported rise in anti-Semitism in the during his press conference with Israeli Prime Minister Benjamin Netanyahu. Instead, he took the opportunity to boast about his election win.
In his first appearance with the Prime Minister since becoming President, Mr Trump blamed longstanding divisions amongst Americans for racialised tensions that grew through his campaign and in the aftermath of his unexpected rise to the White House.
"We are very honoured by the victory that we had," Mr Trump said in response to an Israeli reporter's question. "Three-hundred and six electoral college votes. We were not supposed to crack 220. …
"And there's tremendous enthusiasm out there."
Anti-extremist groups, including the Southern Poverty Law Centre and the Anti-Defamation League, have reported a dramatic increase in reported instances of hate crimes, as well as the rise in white supremacist groups over the past year.
The controversial orders Donald Trump has already issued

Show all 9
Despite the apparent rise and visibility of white supremacists, the Trump administration has rebranded an Obama-era effort to combat all violent extremism – but focus solely on radical Islamists and not scrutinise dangerous white supremacist ideologues.
"We're going to do everything in our power to stop long-simmering racism and every other thing that's going on, because a lot of bad things have been taking place over a long period of time," Mr Trump said.
He added: "One of the reasons I won the election is we have a very, very divided nation – very divided. And hopefully, I'll be able to do something about that."
The Trump administration drew criticism from Jewish groups late last month when it released a statement to memorialise victims of the Holocaust, but failed to mention Jews – 6 million of whom were killed by the Nazis.
"The administration's omission of the Jewish people in a Holocaust remembrance statement is a historical mistake," Republican Sen Susan Collins said in response.
But Press Secretary Sean Spicer accused critics of "nitpicking" the President.
"I mean, the President went out of his way to recognise the Holocaust and the suffering that went through it and the people that were affected by it and the loss of life and to make sure that America never forgets what so many people went through, whether they were Jews or Gypsies, gays, disability, priests," he said.